The Japanese Defense Ministry has asked the US Air Force to temporarily ground its F-16 Fighting Falcons after one of them dropped an external fuel tank in a residential area during an "in-flight emergency".
The incident took place in Aomori Prefecture on November 30 that sparked safety concerns. The Defense Ministry said it has requested that F-16 fighter operations be halted until the safety issue is addressed.
The aircraft belonged to the US Air Force's 35th Fighter Wing, based at Misawa Air Base (MSJ). The incident happened during a training flight with another F-16 fighter jet.  
The Japan Defense Ministry will ask the @usairforce to temporarily ground its F-16 Fighting Falcons after one dropped an external fuel tank onto a coastal town during an in-flight emergency (by @JosephDitzler and @HanaKusumoto). https://t.co/zTSsFAIPxr

— Stars and Stripes (@starsandstripes) December 2, 2021
The 35th Fighter Wing first stated that the pilot dumped the fuel tanks in an unpopulated area near Mt. Iwaki in Aomori Prefecture before it landed in an airport.
Local authorities, on the other hand, refuted this version, claiming that debris and fluids were discovered on a road. The USAF wing later said in another statement dated December 1, 2021, that one of the fuel tanks appeared to have landed in an open public location in Fukaura town of Aomori prefecture.
Defense Minister Nobuo Kishi told reporters that he takes the situation "very seriously" and has directed ministry personnel to work closely with the US to gather and evaluate information to guarantee that all necessary steps are taken. 
"Our pilot acted immediately and in accordance with established protocols to reduce the risk of injury and potential damage," said Col. Timothy Murphy, deputy commander of the 35th Fighter Wing.
"We appreciate our Japanese partners' and local community leaders' patience as we conduct an extensive investigation to establish the root cause of this incident."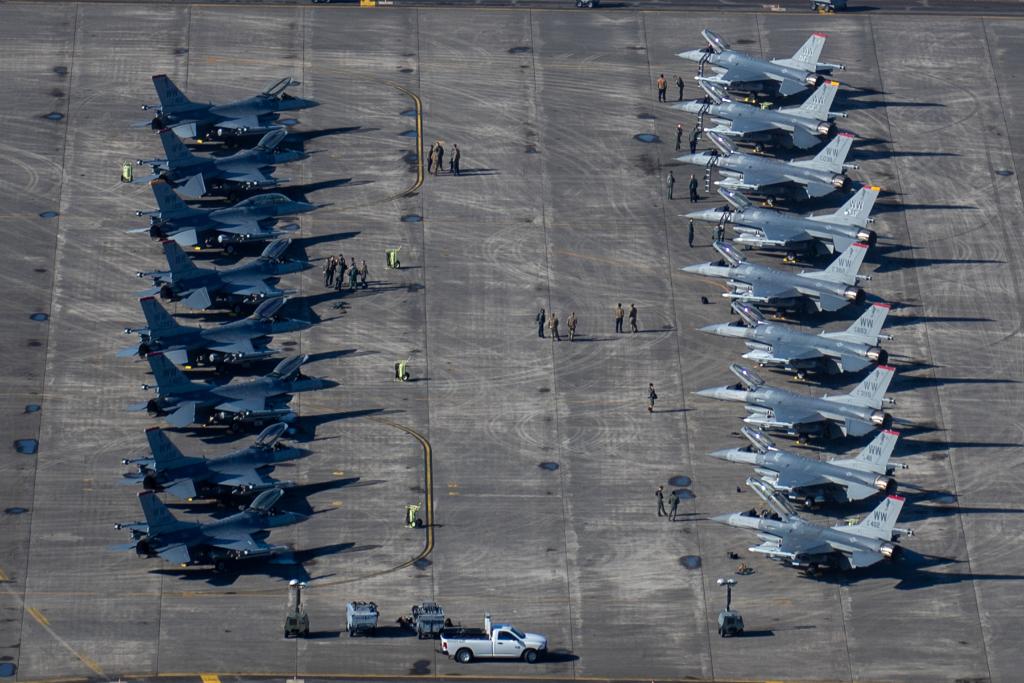 Police found one-meter long objects outside Fukaura town hall, which is located in a residential area. The road was apparently splashed with what was later identified as aviation fuel. The debris was verified to be fragments of a fuel tank, with the location of the other tank's landing still unclear.
Shingo Mimura, the governor of the Aomori prefecture, said his administration would also lodge a strong protest with the US military over the incident. "I'm taking this extremely seriously since it involves a large amount of volatile fuel and the possibility for a catastrophic disaster."
According to the local authorities, Aomori Airport reopened on December 1 morning after the emergency landing caused the airport's lone runway to close, impacting several domestic flights.
Anti-US Military Sentiments Growing?
Following the incident, thousands of Japanese staged a protest against the US military presence in Okinawa. In the past few year, a series of mishaps involving American military aircraft has been reported by Japan, resulting in resentment against US armed forces stationed in the Asian country.
In 2015, an F-16 fighter jet dropped its fuel tanks into the Sea of Japan off Aomori Prefecture, while another F-16 fighter dumped its fuel tanks into a lake near the Misawa base in 2018. 
In 2017, a school student was injured in Okinawa when a metal window frame fell from a US military helicopter. A week before that, a part of another American combat helicopter had fallen on a school roof, but no one was wounded. 
All CH-53 helicopters at the Futenma station were then grounded for safety checks. Brig. Gen. Paul Rock, who then supervised Marine Corps locations in the Pacific region, also paid a visit to the prefectural authorities to express regret over the situation. 
Early this year, a metal military container containing fuel and other materials fell into the sea off Irisuna Island in Okinawa, Japan's southernmost prefecture, according to the US Marine Corps in Japan. These incidents have irked the local people in Japan and shown the US military in poor light.