Rafael Advanced Defense Systems and Hensoldt have joined forces to equip the German Air Force (Luftwaffe) with electronic warfare (EW) capabilities. 
The Israeli and German defense contractors signed an exclusive teaming agreement in Tel Aviv on October 18 to combine Rafael's Sky Shield airborne electronic warfare (EW) pod with Hensoldt's Kalaetron Attack technology.
Once developed, the Luftwaffe will use the pod to turn its Eurofighter Typhoon into an electronic attack platform.
"Our companies are experts in airborne electronic warfare and combine the latest technology with battle-proven equipment," said Thomas Müller, CEO of Hensoldt.
Rafael's President and CEO, Yoav Har-Even, said: "Our new partnership with Hensoldt is a significant milestone in expanding Rafael's strategic investments in Germany. This collaboration directly results from Rafael's strategy to apply localization and ensure local sovereignty.
The electronic warfare capability for the German Eurofighter Typhoon is scheduled for delivery by 2028.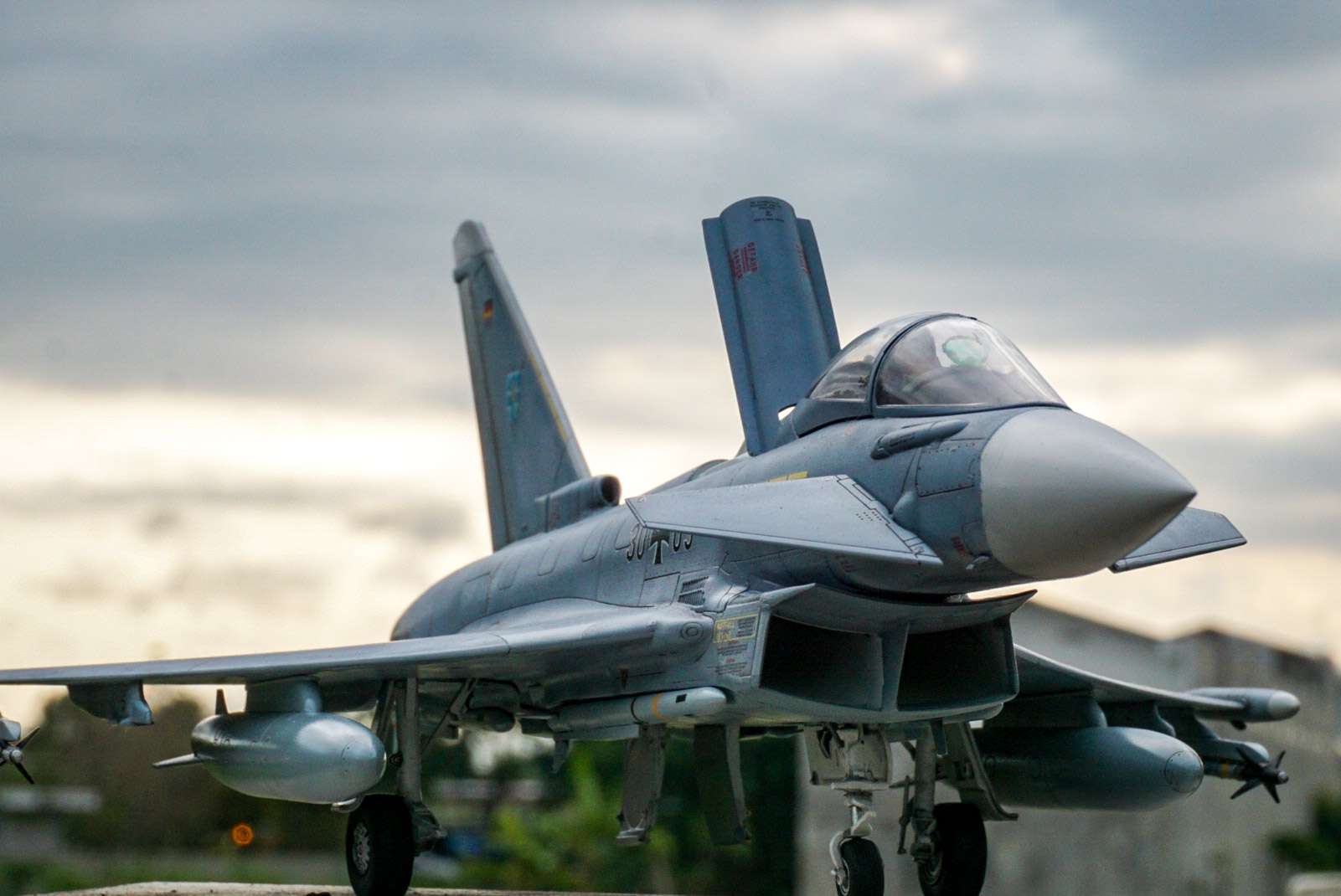 The Sky Shield Electronic Attack Pod
Rafael develops Sky Shield as an escort jammer system covering frequencies from one to 18GHz. It consists of a digital interferometer signal detection system, a digital radio frequency memory (DRFM) technique generator, and modular solid-state steering transmitters (ESAT) for jamming.
When Rafael first announced the completion of the development of its new-generation Sky Shield family of electronic attack (EA) pods, the Israeli company also stated that the system was already undergoing flight trials on a 4.5-generation fighter aircraft for an undisclosed customer.
Notably, the Sky Shield uses the same interface as Rafael's Litening targeting pod, which Eurofighter Typhoon uses, reducing integration time and costs.
Also, Rafael is known to have been working on Sky Shield in two weight configurations – 350 kilograms and 700 kilograms – but the company has not specified which configuration of the Sky Shield Electronic Attack [EA] Pod will be supplied or if it will be a whole new solution.
The compact size of the Sky Shield pod allows it to be incorporated into a wide range of aircraft, including small, medium, and large combat aircraft. Sky Shield is an independent system with an extensive database of played situations from which the aircraft's operator can reprogram or choose.
The system provides considerable strength in a 360-degree radius over a wide range of frequencies. With outstanding direction-finding accuracy, the digital receiver can trace complex emitters.
Sky Shield reportedly protects not just a single aircraft but an entire fighter formation. The system provides an EW shield to prevent enemies from targeting friendly forces. It is said to be effective against modern-day advanced radar threats and capable of dealing with dense electromagnetic environments.
Potent close support and escort jamming systems like Sky Shield and the Litening Pod can detect and neutralize the adversary's radar signals, enabling fighter jets to quickly suppress or destroy surface-to-air missile (SAM) batteries and clear the air-denial axis.
Also, being an off-board jammer, Sky Shield can operate as the final jamming phase in case the enemy fires a SAM toward an aircraft. The X Guard Fibre Optic Towed Decoy can interrupt the signal and redirect it in another direction, allowing the strike package to drop freefall bombs on high-value enemy targets.
The Sky Shield jammers use fast-switching multi-beam array transmitters (MBAT), enabling them to jam and deceive multiple threats simultaneously.
Kalaetron Attack
Launched in 2021, Hensoldt's Kalaetron Attack technology is a jamming system combined with artificial intelligence (AI), digitization, and Active Electronically Scanning Array (AESA) technologies.
The system utilizes an entirely digitized broadband sensor and effector, a polarizable electronic jammer, and components constructed using artificial intelligence and metallic 3D printing.
It can either be used in active mode to jam radar threats with a wide frequency band or as a reconnaissance sensor in passive mode. Hensoldt claims that the Kalaetron Attack can detect and jam the latest air defense radars using precisely directed jamming signals.
The system's effectiveness and responsiveness are attributed to AI technology, which allows the classification of unknown threats in the field and the fast evaluation of large amounts of data.
The use of 3D metallic printing allows the Kalaetron Attack package to be made small enough to be accommodated in standard airborne pods, and it can also be scaled for sea and land applications.