Israeli Prime Minister Benjamin Netanyahu recently indicated on multiple occasions that he might provide Ukraine with many weapons, including Israel's famous Iron Dome air defense system.
In an interview with the French LCI channel on February 5, Netanyahu said that his government is exploring the possibility of supplying Ukraine with an Iron Dome air defense system.
However, he also noted that Israel has to review its options while factoring in its interests in the region, based on which "Israel's contribution may be in other areas," Netanyahu said.
In particular, Netanyahu said Israel does not want to jeopardize its relations with Russia, highlighting the "close operational proximity" between the Israeli and Russian military operations in Syria.
"We are studying this question according to our national interest. We have other considerations. In particular, the very close operational proximity between the Israeli Air Force and the Russian Air Force. Their planes operate in Syrian airspace, and we have avoided confrontation so far. We do not want a military confrontation with Russia," Netanyahu explained.
Shortly before that, Netanyahu also said that he would consider taking on the role of a mediator between Ukraine and Russia if asked by two countries, in particular the United States.
"If I'm asked by both sides, and frankly if the United States asks me because I think you can't have too many cooks in the kitchen…but I'm not pushing myself in it," said Netanyahu when asked by CNN if he would mediate between Ukraine and Russia.
Ukraine had asked Netanyahu's predecessor, Naftali Bennett, to mediate with Russia in March 2022. However, the diplomatic efforts did not yield any success.
Israel had been providing Ukraine with humanitarian aid since the onset of the Russian invasion in February last year. However, the country has come under fire for not sending weapons to Ukraine because Tel Aviv does not want to disturb its relations with Russia.
Netanyahu had promised during his election campaign that he would consider supplying weapons to Ukraine if elected.
Iron Dome System
Iron Dome is a mobile air defense system developed by Israel's Rafael Advanced Defense Systems and Israel Aerospace Industries. It can intercept short-range rockets, artillery, and unmanned aerial vehicles (UAVs).
The system comprises the Tamir interceptor and its launcher, combat management, and control (BMC) system, and an ELM 2084 multi-mission radar (MMR). It can locate and intercept targets up to a range of 70 kilometers.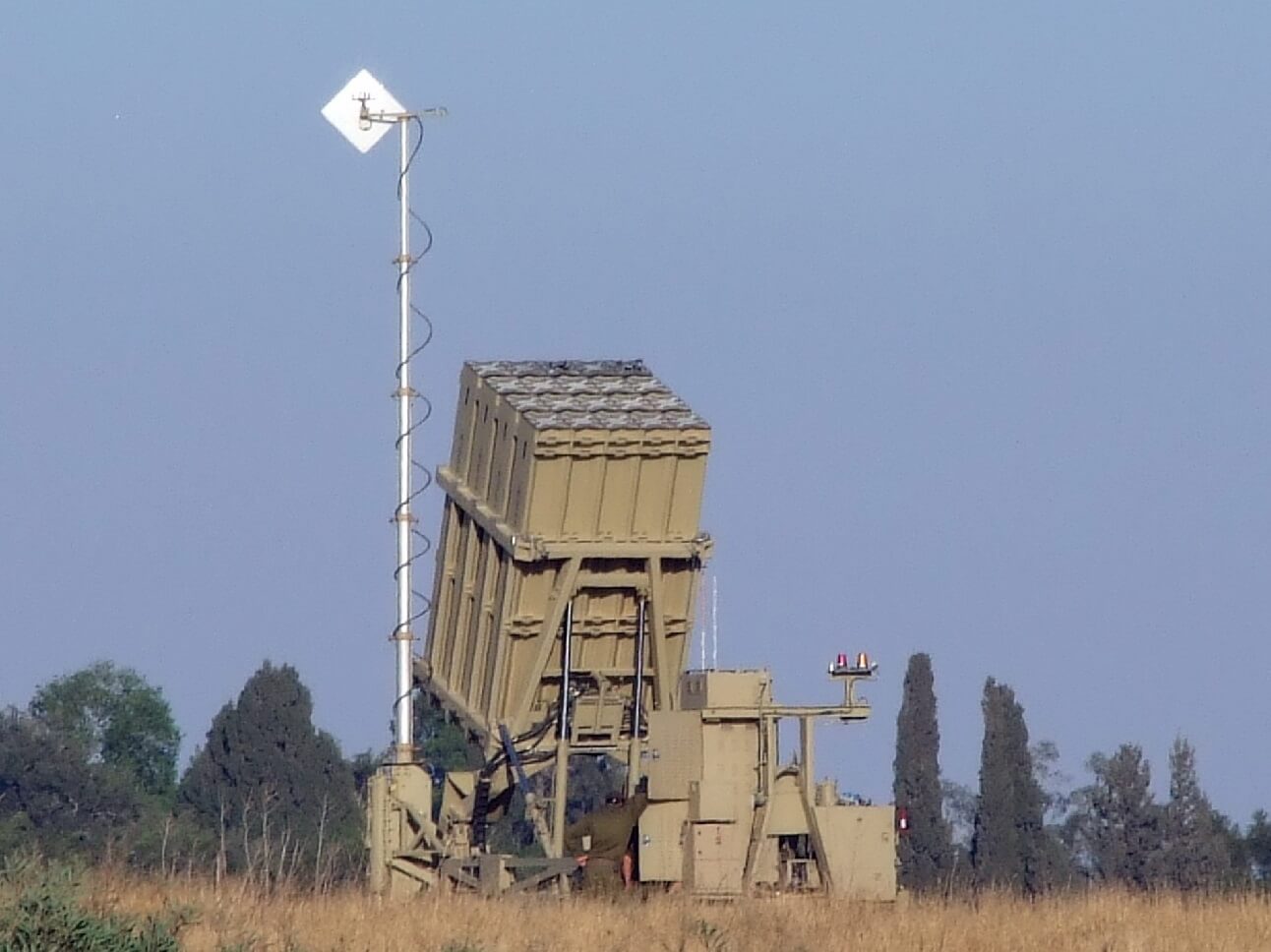 The Tamir interceptor is three meters in length, 0.16 meters in width, and weighs 90 kilograms. It is controlled using a command data link and an active radar seeker on board, and it is armed with a high-explosive blast-fragmentation payload to destroy incoming threats.
As earlier reported by EurAsian Times, the Iron Dome battery consists of three to four stationary launchers with a combined 20 Tamir missiles and a battlefield radar system. Each battery can defend an area of roughly 155 square kilometers with an effectiveness of 90 percent.
The Iron Dome constitutes the lowest tier of Israel's multi-layered air defense system, joined by the mid-range David's Sling and the long-range Arrow-2 and Arrow-3 missile systems.
Iron Dome has been protecting Israeli communities under persistent threat for over a decade, and very successfully so. Initially, the system was used to engage short-range rocket threats from the Gaza Strip, but later, it was upgraded to counter various emerging threats.
For example, in May 2021, the Israeli Defense Forces (IDF) announced that the Tamir missile from its Iron Dome system had intercepted a Hamas UAV, marking the first instance of intercepting a drone.
That said, experts believe that because of the logistical and technological limitations of the Iron Dome system, sending it to Ukraine will not have any meaningful impact on the way the ongoing conflict in the country is proceeding.
Technological And Logistical Difficulties 
According to Tal Inbar, a senior research fellow at the US-based Missile Defense Advocacy Alliance, the Iron Dome could probably intercept some Russian munitions like the Grad rockets, however, considering the large land mass of Ukraine and the variety of Russia's projectiles – numerous ballistic and cruise missiles – supplying Iron Dome batteries to Ukraine is not very practical.
"The larger the country is, you need a much larger number of radars and interceptors. Israeli is a small country, which is an advantage to missile defense. That's not the case in Ukraine," Inbar said.
Furthermore, Inbar also pointed out some logistical difficulties that stand in the way of such a provision which include the complexity of implementing a system like Iron Dome, which would be a long process, "so even if Israel was willing … the time to make it operational is not so short."
Apart from that, the IDF has a limited supply of Tamir interceptors. The development of the Iron Dome system and the manufacturing of its interceptor missiles are funded with financial aid from the US government for Israel.
From 2011 to 2021, the US contributed US$1.6 billion to the Iron Dome defense system. The US Congress allocated the latest financial assistance of $1 billion only in March 2022 to replenish the missiles spent during the 11-day fighting with Hamas, which saw the Palestinian group firing over 4,300 rockets at Israel, with Iron Dome reportedly having intercepted 90 percent of those heading to populated areas.
Russians Could 'Misuse' Iron Dome
Also, there are legitimate security reasons, because of which the Israeli government is unlikely to provide Ukraine with an Iron Dome system, as outlined by the Israeli Brigadier General (Res.) Jacob Nagel in an op-ed published by The National Interest.
According to Nagel, Israel harbors fears that if any of the Iron Dome systems are captured by Russia on the Ukrainian battlefield, they could be sent to Iran for analysis, which could enable the Iranian regime to find ways to counter these systems, thereby benefiting Iran's proxies such as the Lebanese Hezbollah, Hamas, and Palestinian Islamic Jihad, in future confrontations with Israel.
"The outgoing Israeli government made it clear that this was not a risk it was willing to take. The new government will probably say the same," wrote Nagel, who previously served as Prime Minister Benjamin Netanyahu's national security advisor.
Nagel further wrote that Israel wants to avoid triggering a harsh response from Russia, which maintains a massive presence in Syria. Israel conducts regular military operations to curb Iran's efforts to smuggle advanced weapons to Hezbollah in Lebanon.
However, recent reports citing Israeli and Western officials indicate that Russia is drawing down its forces in Syria, particularly its sophisticated air defense systems like S-300, which have been a significant threat to Israeli Air Force operations.
Apparently, the Russian military is struggling to maintain Syrian systems because of the lack of spare parts due to the ongoing war in Ukraine. Some of these systems are slated for redeployment in Ukraine.
Based on this, reports have also suggested a potential upgrade to Israel's level of support for Ukraine. However, Nagel does not think this will change Jerusalem's position.
"The Russians are not leaving Syria. Whether Israel likes it or not, the Russian military presence is probably a long-term issue with which Israel must contend," Nagel wrote.
Shortly after Netanyahu's interview with CNN, Maria Zakharova, the Russian Foreign Ministry spokesperson, issued a warning saying, "anyone speculating about sending any weapons to Ukraine is escalating the conflict; don't try to provoke us."