Iran's unique Product 358, an 'anti-aircraft drone,' was used in the current war in the Middle East. Hezbollah used it to shoot down an Israeli drone on October 28 but was shot down by a Patriot missile itself, according to reports.
This comes amid increased tensions in West Asia over the Israel-Hamas war, as even Hezbollah, the Lebanon-based Shia group, threatens to intervene militarily if Tel Aviv launches a ground invasion of Gaza.
EurAsian Times report first talked about Product 358, in a larger context, about enhancing Russo-Iranian defense industrial ties that have been made the cornerstone of their traditionally strong, strategically tight relations. 
This should be seen in the backdrop of cheap Hamas drones destroying a few Israeli Merkava tanks, forcing them to install protective overhead cages on the turret, and the Iron Dome system widely reported to be overwhelmed by Hamas's unguided rockets. 
Drone Versus Drone Versus Missile
A thread on X (formerly Twitter) by Encyclopedia of Syrian Military (ESM) showed the debris being picked up by unidentified individuals. 
"The air defense missile that was fired at the Israeli drone is a hybrid anti-slow-moving aircraft missile, coded 358, and it is an Iranian missile. It previously appeared with the Houthis and in Iraq by the Popular Mobilization Forces. And recently, Iran showed it off. At one of the local military exhibitions," it said in the post.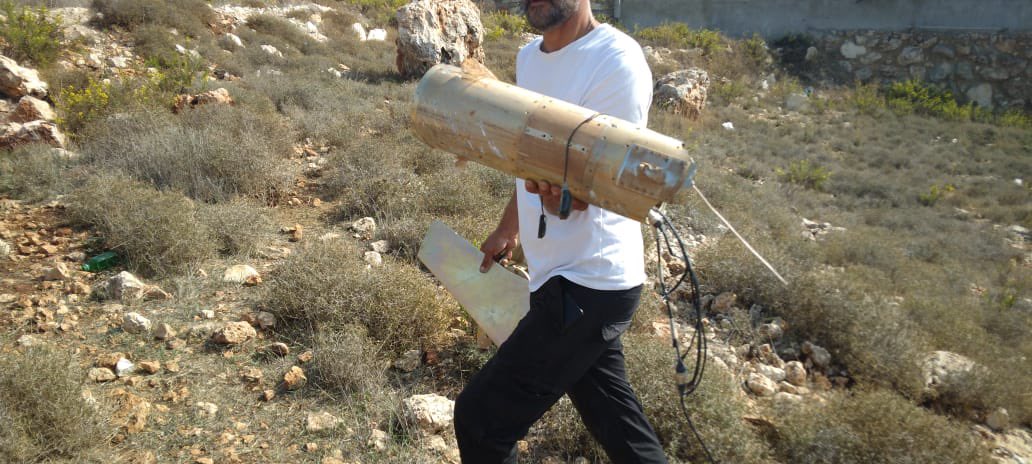 It was this exhibition that Defense Minister Sergei Shoigu visited, where Russia and Iran laid the foundation of their new defense industrial cooperation. ESM subsequently explained that it was easy for a Patriot missile with a speed of 3,500 kilometers per hour to intercept a drone with a speed of 800 to 900 km. 
"A micro-jet SAM being intercepted by a SAMWild times! And yes, of course, 358 would always be at risk of interception if advanced systems like Iron Dome are (still) nearby. No surprise on that," Pataramesh, another Iran military affairs handle, said.
Unlike the slow-moving, autonomous, and propeller-driven Shahed drones that do not emit any radio-frequency emissions for seekers in Man-Portable Air Defense (MANPAD) or bigger SAMs to lock on to, the Product 358 is instead an easy target. It has a consistent radio link with the ground controller and a microjet exhaust. 
Shot Down But Still A Threat
Even if the Iranian arguments are considered rationalizations to defend the drone's failure, an unmistakable fact that stands out is the disproportionate cost-to-benefit ratio. 
According to the Center for Strategic and International Studies (CSIS), a full Patriot missile battery costs around US$1.1 billion. Broken down, the singular system, including the radar and the launcher, comes to US$400 million, while all the missiles are worth US$690 million. The cost of a single rocket is estimated at US$4.1 million. 
The Iranian Product 358, going by the electrical, electronic, and mechanical components used based on its design and intended role, shouldn't be upwards of US$50,000. The whopping 195 percent price difference between a cheap, mass-manufactured Product 358 and an astronomically priced and 'hard-to-replenish' Patriot missile inflicts financial pain that can have a bearing on the battlefield. 
Iran Might Have Sufficient Inventory
Iran and Hezbollah have promised intervention if Israel launched a ground offensive in Gaza, which Tehran has coincidentally been prepared for. 
Going by Lebanon-based Hamas leader Ali Barakeh and National Security Council (NSC) spokesperson John Kirby's statements, Iran was unaware of the Hamas plan to attack. But it can still be said to be in a general war-ready yet not fully-mobilized state. 
It has attained a general sophistication in formidable indigenous ballistic missiles and drone programs, flaunted in regular military exercises amidst permanently elevated tensions with Israel over the last few years.
This indicates its defense industry had been seeing a somewhat persistent activity, just under war footing levels, to ensure a steady supply of weapons in case a conflict does break out. Moreover, it is hard for Tehran to miss this lesson, as this has been the primary takeaway for all military observers from Russia's war in Ukraine. 
Israeli intelligence would have been the first to notice unusually high Iranian defense production and guess an impending strike. It has demonstrated this deep sleeper network that has helped it to assassinate targets like nuclear scientist Mohsen Fakhrizadeh. Drone strikes on Iranian military factories and sabotage of its nuclear facilities bare the other tools available before Mossad.  
صاروخ الدفاع الجوي الذي اطلق على الطائرة دون طيار الاسرائيلية هو الصاروخ الهجين المضاد للطائرات البطيئة الحركة (كالدرونات و المروحيات) المرمز بـ 358 و هو صاروخ ايراني..سبق و ظهر لدى الحوثيين و في العراق من قبل الحشد الشعبي..و مؤخراً استعرضته ايران في احد المعارض العسكرية المحلية pic.twitter.com/9iP3TM1tq1

— Encyclopedia of Syrian military (@Syr_Mil_Wik) October 28, 2023
After the Hamas attack, Iran must have rapidly addressed defense production issues, which would have seen a considerable stockpile of Product 358 drones. If not a large inventory, it would certainly be enough to force Israel to expend its Iron Dome or Patriot batteries, especially if launched in coordination with Hamas and Hezbollah rocket attacks. 
The point of this section is to prove that Iran did not plan for the war but wouldn't find it challenging to prepare for one and is industrially in a slightly better position than Israel. Tactically, too, when Product 358 does see action, neither can Israel conserve its surface-to-air missiles (SAM), lest it lose its costly surveillance drones or helicopters.