Iran has sent a very strong signal of offense to Israel and its allies as tensions mount between the two. As calls in Tel Aviv for a strike on Iran's nuclear facilities grow louder, Tehran has taken upon itself to respond with the same alacrity.
MusT Read: Armed With Stealth F-35 Jets, Israeli Strike On Iranian Nuclear Facility Stalled By One Key US Weaponry?
Iran conducted a war drill in the Persian Gulf, in what could be seen as a demonstration of power and preparedness, in case its nuclear facilities were attacked.
At the end of five days of military training exercise, Iran's Islamic Revolutionary Guard Corps (IRGC) fired 16 surface-to-surface ballistic missiles, which military officials said, were a warning to the arch-enemy Israel, reported Al Jazeera.
The missiles fired during the exercise across the country's south on December 24 were named Emad, Ghadr, Sejjil, Zalzal, Dezful, and Zolfaghar, according to the official IRNA news agency. Their ranges varied from 350 kilometers to 2,000 kilometers (220-1,250 miles).
IRGC Chief Salami says the Revolutionary Guards' war games, which ended on Friday, "had a very clear message: a serious, real … warning to threats by the Zionist regime's authorities to beware of their mistakes."
The drills included firing ballistic and cruise missiles.

— Iran International English (@IranIntl_En) December 24, 2021
At the conclusion of the exercises, the state television showed missiles destroying a target that resembled Israel's Dimona nuclear reactor.
"The Revolutionary Guards successfully simulated hitting this crucial center of the Zionist regime in its missile exercise through a replica of the Dimona atomic facility," news agency Tasnim was quoted as saying by Haaretz.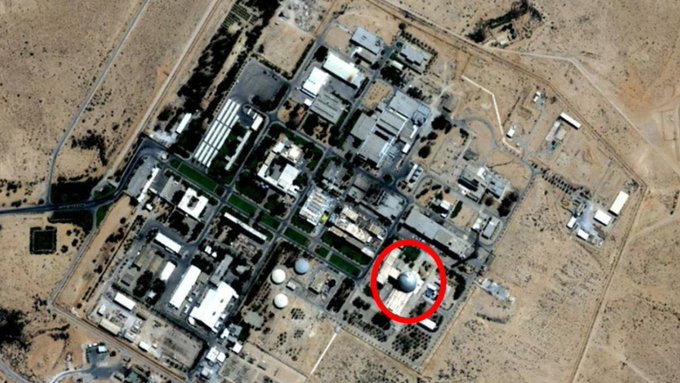 Earlier this week, the Revolutionary Guards were reported to have fired cruise missiles of unspecified range and attack drones had successfully hit their targets across the country's south. However, later state television broadcast footage of missile launches, drone flights, and a ship that detonated after frogmen put mines on board.
These war drills hold prominence given their timing. They come in the backdrop of Israel's warning that "it could attack Iran's nuclear facilities tomorrow if it needed to".
Meanwhile, the Defense Minister of Israel has threatened Iran with strikes on its nuclear facilities in no ambiguous terms. Israel considers Iran's nuclear program a threat to its own security.
As the talks to revive the nuclear deal have hit a deadlock between the United States and Iran, the calls for a strike have become shriller in Israel, much to the detriment of its arch-foe, Iran.
Iran 'Hits Back'
The Iranian military drills, called Payambar-e-Azam, or "Great Prophet", began on December 20 in the provinces of Bushehr, Hormozgan, and Khuzestan, all of which border the Persian Gulf.
"The military drill is a significant message to officials of the Zionist regime," IRGC chief Major General Hossein Salami warned. "If they make even the tiniest error, their hand will be severed."
Iranian defence forces launched 17 ballistic #missile test attacks on the second day of the five-day 'Payambar-e Azam 17' drills in the southwest of #Iran near the #PersianGulf on Tuesday. pic.twitter.com/PE069a30Vx

— Ruptly (@Ruptly) December 22, 2021
The drills come even as a meeting was held between US National Security Advisor Jake Sullivan and Israeli Prime Minister Naftali Bennett amid Israel's opposition to efforts to revive the stalled Iran nuclear deal.
The meetings have reportedly resulted in the American call for a "common strategy" between the US and Israel to deal with Iran. Israel had earlier warned that it would strike Iran if it did not return to the deal as has been proposed by the United States.
The recent talks, currently in their seventh round, ended in a stalemate. However, the discussions are expected to resume towards the end of the month.
Iran has had to bear the brunt of sanctions after the former American President Donald Trump unilaterally walked out of the deal. Worse, Trump ordered the assassination of Qasem Soleimani, a top commander of the Iranian military.
Even though the Joe Biden administration has been holding talks with the Iranian side, it has mostly remained non-committal to Tehran's demand of complete removal of the sanctions.
"These drills were prepared in response to threats made by the Zionist regime in recent days," Iran's Armed forces Chief of staff, Major General Mohammad Bagheri told the state media.
"Sixteen missiles were fired at the specified target, destroying it. Hundreds of Iranian missiles capable of killing a country that ever dared to strike Iran were deployed in this drill," he added.
Eye For An Eye
Israel has long viewed Iran's nuclear program as a threat and has lobbied the US and the international community to take a tougher stance. Iran, however, maintains that its nuclear program is for peaceful purposes, said an Israeli publication The Times of Israel.
Although Israel is not a party to the Vienna talks, it has threatened to use force if diplomacy fails, and the US has stated that "alternatives" are being prepared.
According to a senior US official, Israeli and American military chiefs are planning to discuss possible military drills to rehearse striking Iranian nuclear sites in the event that nuclear talks fail.
Israel is said to have approved a budget of NIS 5 billion ($1.5 billion) for military preparations in the event of a strike against Iran's nuclear program. It includes financing for a variety of planes, intelligence-gathering drones, and specialized munitions required for an attack on heavily protected underground facilities.
However, Israel would require the US' approval and assistance in the event of a strike. Washington has refused to expedite the sale of KC-46 refueling tankers to Israel- a system it would need if it were to send its F-35 fighters for a strike on nuclear weapons.
As the deal that was originally signed to curtail Iran's nuclear program in return for lifting sanctions over it, hangs in a balance, the calls of aggression and threats are expected to see an upward trajectory. A mutually agreed deal could, however, bring back a semblance of normalcy in the region. The future talks will present a clearer picture of which way the region is headed after years of turbulence.