Amid rising tensions in the Middle East with the rise of Iran's military power, the Islamic Republic has dropped another bombshell as it announced equipping its Damavand-2 destroyer with a hypersonic missile.
Iranian Navy Commander Rear Admiral Shahram Irani announced on July 3 that a hypersonic missile would be installed on Iran's homegrown Damavand-2 destroyer, which is slated to be inducted into service soon, Iranian Press TV reported.
Irani said the Damavand-2 destroyer would be equipped with "defensive and offensive missiles. "All defensive equipment installed on Damavand-2 destroyer is completely up-to-date," he stated. As per previous reports, the Damavand-2 destroyer will join the Navy's northern fleet in the Caspian Sea.
The Commander added, "All the equipment installed on all other destroyers will be updated over time." The announcement comes less than a month after Iran unveiled its first-ever hypersonic missile, 'Fattah,' developed by IRGC Aerospace Force specialists.
The Naval Commander did not specify whether the hypersonic missile planned to be equipped on the Damavand-2 destroyer would be a variant of the Fattah hypersonic ballistic missile or a different missile altogether. EurAsian Times awaits additional details.
#Iran's Navy Commander says that Iranian destroyer Damavand 2 will be equipped with hypersonic #missiles. pic.twitter.com/ZEEUBKwJwy

— Iran Nuances (@IranNuances) July 3, 2023
The Fattah missile, unveiled in the first week of June 2023, reportedly has a range of 1,400 kilometers (870 miles), can travel at speeds of up to Mach 15 (5,145 meters or 16,880 feet per second), and uses solid propellants to enable high maneuverability, as previously reported by EurAsian Times.
Although Western commentators dismissed the unveiling of a hypersonic missile as harmless, Tehran has been insinuating a strike on its primary adversary in the region, Israel.
For instance, soon after unveiling its first hypersonic missile, Iran erected a very provocative billboard in the capital Tehran that featured the Fattah missile along with a chilling message that read, "400 Seconds to Tel Aviv," directly threatening Israel's largest city.
Iran's state TV stated the missile could bypass even the most advanced anti-ballistic missile systems of the United States and the "Zionist regime," including Israel's Iron Dome defense system.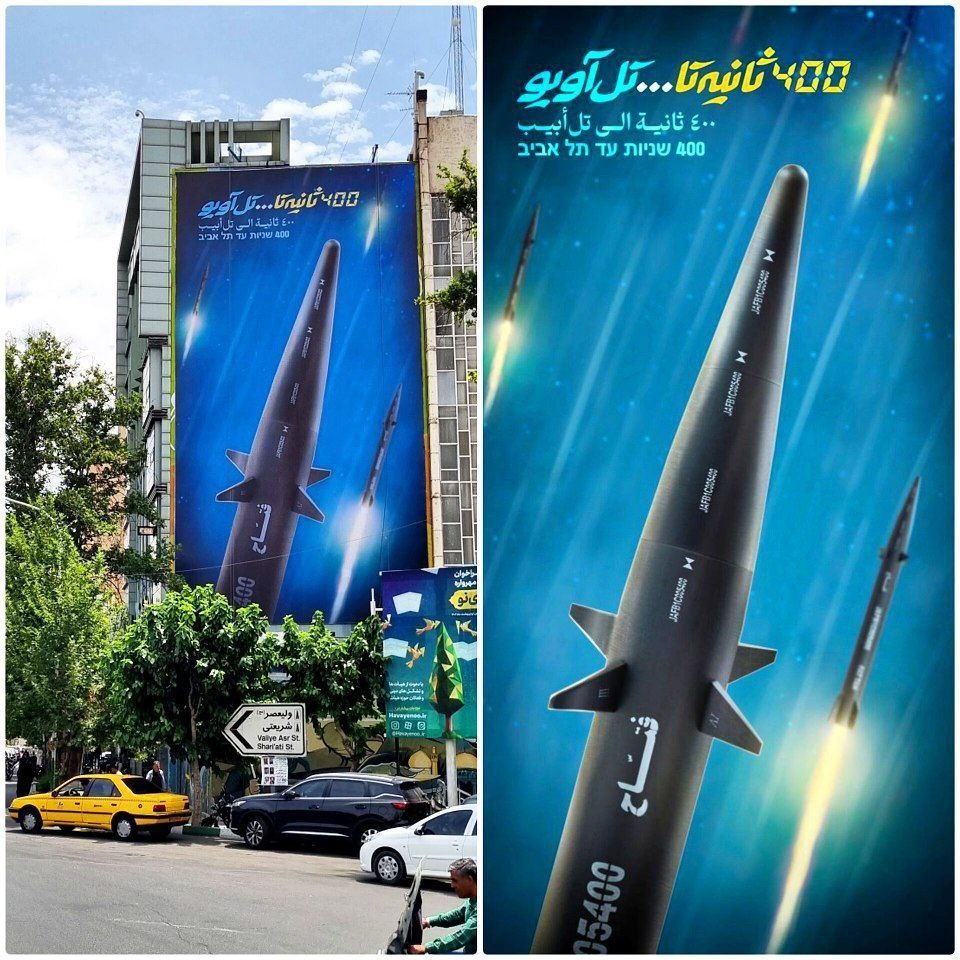 This caused tensions to escalate in the region, with an angry verbal retaliation. Israeli Defense Minister Yoav Gallant dismissed the claims saying, "I hear our enemies boasting about weapons they are developing. We have an even better response to any such development — whether on land, in the air, or the maritime arena, including both defensive and offensive means."
Israeli defense manufacturer Rafael Advanced Defense Systems announced on June 14 that it was developing a new interceptor missile called Sky Sonic, targeted exclusively at the hypersonic threat, in an oblique reference to Iranian claims of developing a hypersonic missile.
Speaking on a video, he warned Tehran sternly, saying, "We will know how to protect the citizens of Israel and strike our enemies with a crushing blow if, God forbid, they start a war against us."
The unveiling of the hypersonic missile sent alarm bells ringing, with Western officials and military experts admitting that Iran has the largest missile program in the entire region, which ultimately poses a threat to the United States and its allies in the region.
Having said that, while the unveiling Fattah missile caused a frenzy in the region, the news about having a hypersonic missile presented a further threat to Iran's adversaries. Tensions have been steadily rising between Iran's Revolutionary Guards Navy and the navies of other Western countries, with minor confrontations between vessels of the two sides becoming more regular.
It is intriguing that the United States, on its part, has also planned to equip its Zumwalt-class frigates with hypersonic missiles. According to service officials, the US Navy intends to perform a hypersonic missile test shot off the guided-missile destroyer USS Zumwalt (DDG-1000) in December 2025.
Iran, on its part, has not given a schedule as to when its Damavand-2 destroyer will be equipped with hypersonic missiles.
Damavand-2 Destroyer Is Coming Soon!
The Iranian media stated on July 3 that owing to the collaboration between the Iranian Defense Ministry, the Iranian Navy, and knowledge-based firms, Iran's domestic Damavand-2, an upgraded version of Jamaran destroyer, has been outfitted with brand-new radar and missile systems, as well as propulsion and weaponry systems.
The deputy head of the Marine Industries Organization (MIO) and counselor to the Iranian defense minister on marine industries, Manouchehr Alipour, claimed that the nation's professionals have become proficient in designing and producing destroyers.
"It took 12 years to build the first Jamaran-class destroyer. Later, the Damavand-1 was built in eight years, and Dena was delivered to the Navy after six years. We hope to deliver the Damavand-2 [to the Navy] in a much shorter time. We manufactured Damavand's initial hull in four years, but the process [to build] the Damavand-2 took [only] 11 months," he noted.
"The reason for the amazing reduction in the time needed for designing the hull and building the destroyers was that we became proficient in designing and engineering destroyers and their equipment."
In March 2015, the 100-meter-long destroyer Damavand-1, which weighs more than 1,300 tons, formally joined the Iranian Navy's northern force. But three years later, as the frigate was moored in the Caspian town of Bandar Anzali, it struck a seawall and sank.
It was rescued from the water and put back into service. According to recent images, it is outfitted with a 76mm cannon and an anti-ship cruise missile launcher.
Last year in May, reports indicated that Iran was in the process of the final testing of the Damavand class destroyers, which are also expected to join the Navy soon.
The Damavand vessels can carry helicopters, anti-ship and surface-to-air missiles, torpedoes, advanced cannons, and anti-aircraft guns. The ship is also equipped with electronic warfare equipment. If they are equipped with a hypersonic missile, as claimed by Iran, the destroyers will be even more lethal.