As Iranian drones continue to hog the limelight with their combat success against Ukrainian targets, Tehran recently conducted an Electronic Warfare exercise showcasing the EW capabilities of its Unmanned Aerial Combat Vehicles.
The electronic warfare exercise featured an electronic pod attached to the Kaman-12 MALE UAV and a set of Ababil-3N UAVs with unidentified external sensors.
The drills were held in Isfahan and overseen by the strategic electronic warfare units of the Islamic Republic of Iran Army, Mehr News Agency reported.
The Iranian Air Force officially unveiled the production line of a domestically-manufactured unmanned combat aerial vehicle named Kaman-12 in 2019. This UAV can fly at 200 kilometers per hour for ten continuous hours.
It is a 450-kilogram UAV with a payload capacity of 100 kilograms. It can use an airstrip as short as 400 meters and covers a 1,000-kilometer combat radius.
In contrast, Ababil-3 UAV unveiled in 2014. It can relay photographs concurrently to ground control stations or any other platform, has an 8-hour flying time, and has a 250-kilometer range.
It has an entirely composite fuselage with a 15,000-foot ceiling. The drone features a front-facing camera and a spinning 360-degree camera with thermal imaging and night vision under the fuselage.
Kaman-12 MALE with electronic warfare pods & Ababil-3N UAVs with unidentified external sensors during Artesh electronic warfare exercises

These were apparently coordinated with ground based systems & dedicated EW Boeing-707s pic.twitter.com/LX6PJ6Ljwe

— Iran Defense|نیروهای مسلح جمهوری اسلامی ایران (@IranDefense) October 27, 2022
According to visuals doing rounds on Twitter, both the UAVs were coordinated with ground-based systems and dedicated EW Boeing-707s. The Boeing 707 is a military cargo warplane repurposed by the Iranian Air Force for electronic warfare operations.
The Kaman-12 could be seen having an Electronic Warfare pod attached to it using duct tape. Earlier, a Jerusalem Post report had also noted that the Iranian Air Force was using these pods for electronic warfare.
The report stated that pods were not new or unique and that countries like the US and Israel have been using them for a long time.
EurAsian Times reached out to an OSINT military analyst and Iran watcher who did not wish to be named. He said, "the duct tape has been used for fixing the cables atop the UAV, but the antennas are already mounted."
He further stated that "the power generation of small drones like the Kaman-12 and Ababil-3 is not enough for serious jamming input. They could be used for jamming mobile phones at best or low-power and short-range, but that's about it.
The Ababil-3 is not a MALE UAV, and while the Kaman-12 is bigger, it still does not have the power required to do serious big-scale jamming."
Pic of anti-missile laser weapon system in the electronic warfare exercise of the #Iran|ian army pic.twitter.com/8NmwiF2je2

— Middle East Update (@islamicworldupd) October 27, 2022
Another intriguing image became a matter of discussion in the drills that thrilled military watchers. The Iranian forces reportedly deployed a laser-based system that could shoot down UAVs and missiles.
This is significant as Iran had announced in March 2022 that it had developed a laser cannon named 'Sateb' that could shoot down aerial targets using laser beams, as previously reported by Iran International. EurAsian Times could not independently verify these claims.
Not just electronic warfare pods, the Iranians have made a significant breakthrough by unveiling an electronic warfare system that is comparable to a system operational in its partner country, Russia.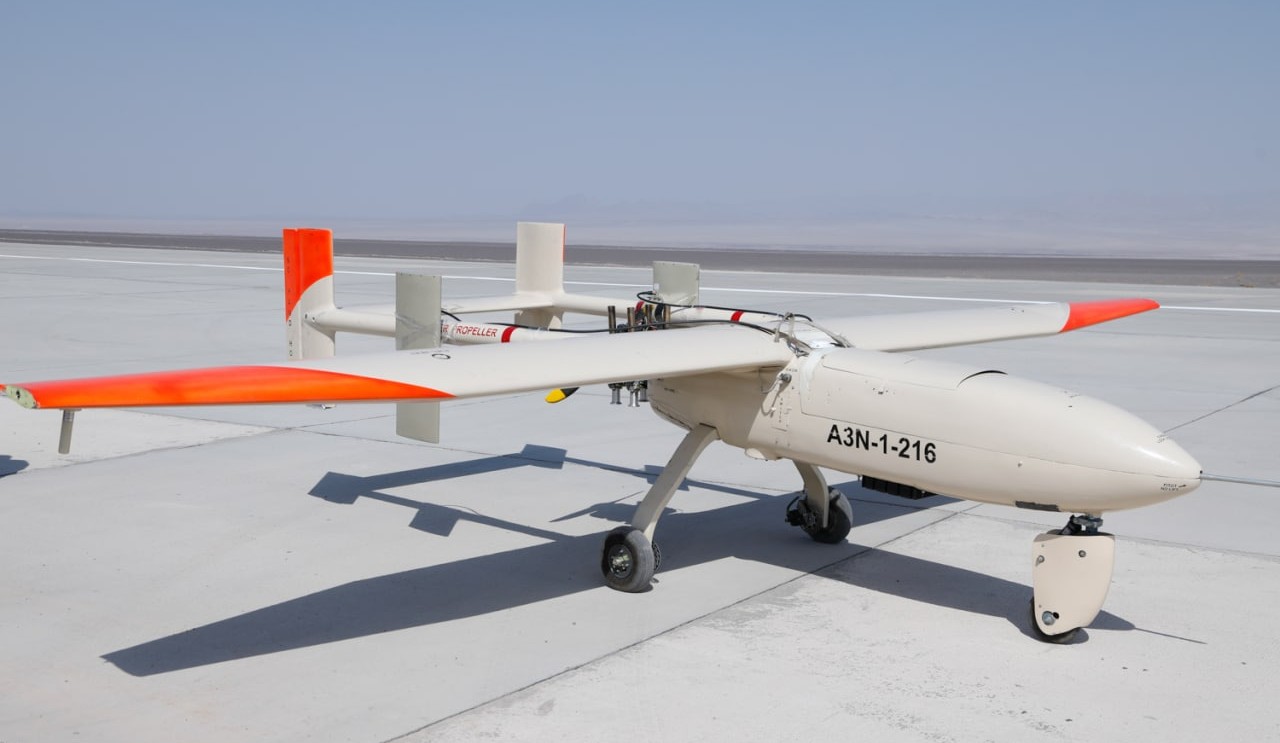 Iran's 400-Kilometer EW System
Iran has now come up with ultra-long-range electronic warfare systems that could be comparable to the Russian Krasukhas.
A hostile reconnaissance aircraft was jammed at a distance of 400 kilometers, according to the deputy defense minister of Iran, who emphasized the nation's significant advancements in the field of air defense, Tasnim News Agency reported.
The Krasukha is a mobile, ground-based, electronic warfare (EW) system designed primarily for targets such as airborne radio-electronics (such as UAVs) and airborne systems guided by radar.
The system comes in multiple variants, and according to reports, Russian forces in Syria were supported with Krasukha jammers, which prevented small US surveillance drones from getting GPS satellite signals.
Afshin Naderi Sharif, the Iranian defense minister's deputy for industry and research matters, claimed that recent advancements in local air defense forces have made it difficult for hostile flying objects to enter the nation's airspace undetected.
"We have been able to jam the enemy's reconnaissance aircraft at a distance of 400 kilometers. The enemy is also aware that such know-how has been gained by the defense industry of the Islamic Republic and has been institutionalized," he added.
?? Irans new ground-based jammer uses a Krasukha-4 inspired antenna setting

➡️ With this system Iran enters the phase of serious, modern electronic warfare

Previously, older SPN-4 based jammer and at least two shorter range power indigenous antenna settings were shown pic.twitter.com/xhNbRR4y9j

— Patarames (@Pataramesh) March 4, 2022
Earlier, military OSINT analysts had stated that Iran was using ground-based electronic warfare systems with Krasukha-4-inspired antenna settings. Previously, the military used older SPN-4-based jammers.
Further, in 2021, Brigadier Shahrokh Shahram, a senior Iranian Defense Ministry official, stated that the production and development of electronic warfare equipment had grown by five times that year.
Previously, Iran had electronic warfare systems of only a short range, capable of suppressing targets at distances of up to 50-80 kilometers. This has increased several notches despite the sanctions and economic isolation imposed on the country.