The head of Iran's armed forces has announced that Tehran has developed an incredibly sophisticated ballistic missile that can attack warships and aircraft carriers from a distance of 1,500 kilometers.
According to Major General Mohammad Hossein Bagheri, the missile has been successfully tested and is being mass-produced. 
Taking pride in the accomplishment, Bagheri claimed that Iran is now one of just three nations in the world to have perfected the technology necessary to make such missiles.
According to the military chief, the new ballistic missile will provide safety in the waters surrounding Iran, and hostile sea targets will no longer be safe at 1,500 kilometers.
"By having such a missile, considerable security with a radius of over 1000 kilometers will be created at seas around us," he noted. 
He further claimed that the "missile streaks in outer space with a speed of Mach 8 (hypersonic speed)" and is capable of hitting targets moving targets with pinpoint accuracy. 
He alleged that in such a scenario, opposing aircraft carriers and warships would no longer be safe even if they were 1,500 kilometers away. The senior general stated that these accomplishments were attained by talented youth. 
The Islamic Revolution Guards Corps Aerospace Force claimed in November 2022 that it had developed a hypersonic ballistic missile that could defeat highly developed air defense systems. The ballistic missile can maneuver both below and beyond the Earth's atmosphere and has a high velocity.
At the time, Islamic Revolution Guards Corps (IRGC) Aerospace Commander Brigadier General Amir Ali Hajizadeh said that the hypersonic missile could travel at Mach 12-13 and conduct exoatmospheric maneuvering. 
He stated that the projectile's maneuverability is made possible by an engine that ignites within 500 kilometers (310 miles) or less of the target's location.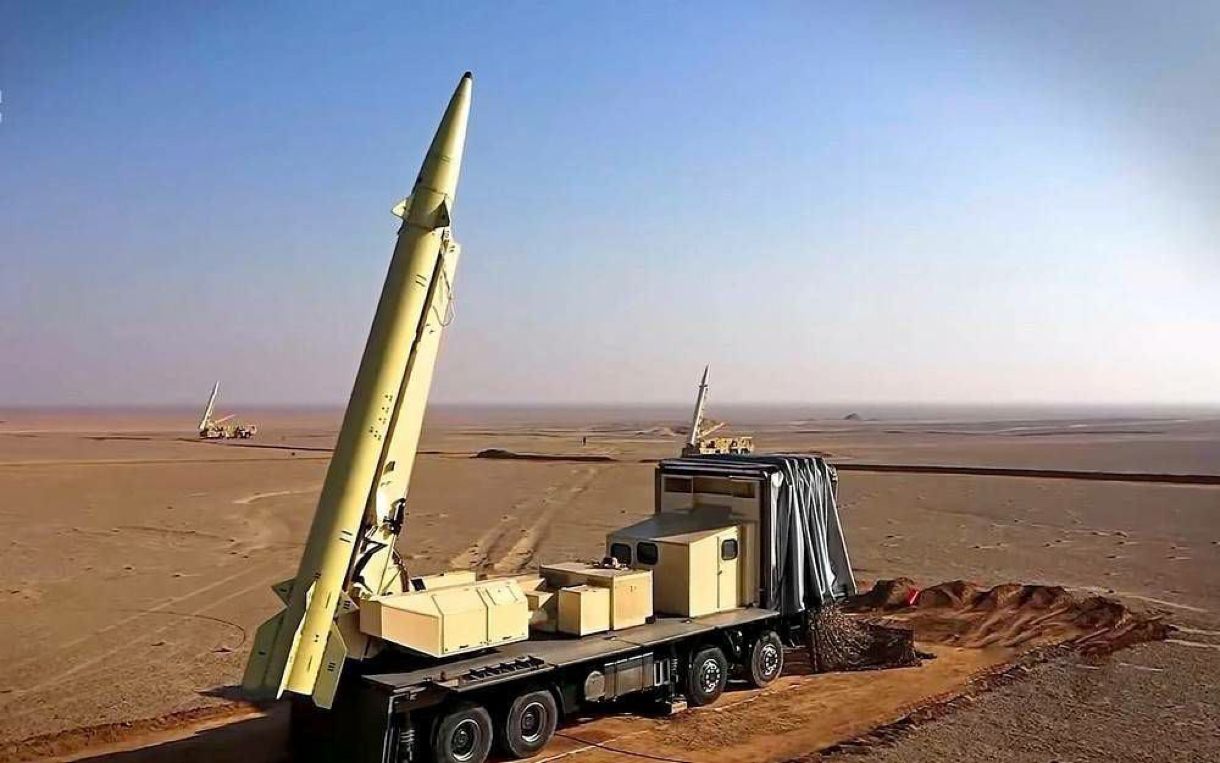 Iran's Ballistic Missile Program
Iran has made significant strides in producing various military hardware in recent years, including advanced drones. 
A recent study on the Islamic Republic's missile program revealed that Tehran had launched at least 228 ballistic missiles since reaching its nuclear agreement with world powers in 2015. 
The report "Arsenal: Assessing the Islamic Republic of Iran's Ballistic Missile Program" said that Iran launched over 100 ballistic missiles in 2022 alone, more than three times as many as it did in 2021.
The paper, which was authored by Behnam Ben Taleblu, a Senior Fellow at the Foundation for Defense of Democracies in Washington, noted that ballistic missile tests are a part of military exercises, drills, and flight tests. 
The 2022 launches include a ballistic missile attack in Iraq that claimed the life of an American citizen. Taleblu pointed out that as Iran's ballistic missile capabilities advance, the regime might be more likely to use them.
As per the report, the Middle Eastern nation has expanded its underground facilities and storage depots while enhancing its fundamental capabilities, including missile range, precision, and mobility. 
The report noted that as underground missile depots are developed, advances in ballistic missile precision, range, mobility, warhead design, and survivability suggest that the world's foremost state supporter of terrorism will soon be able to launch more destructive long-range strikes.
According to the report, ballistic missiles give Tehran the ability to threaten and deter its enemies. These capabilities make up for Iran's shortcomings in conventional warfare and leave the door open for nuclear weapons.
The Islamic Republic may pursue its revisionist foreign policy with ballistic missiles without worrying about military retaliation. This could result in more irresponsible actions, including employing its arsenal on the battlefield.
The report also highlighted Iran's threats to Gulf states, Israel, and the US military by supplying ballistic missiles to its proxies in Iraq, Syria, Lebanon, and Yemen. 
According to the assessment, Iran is not likely to curtail its missile program without sustained pressure. The regime will undoubtedly prevail over the West at the negotiating table if the West lacks cohesion and resolve. 
The report suggests that Washington should implement policies that impede, dissuade, devalue, and, when necessary, thwart Iran's missile program using diplomatic, informational, military, and economic measures.