Russia appears to have upgraded its Pantsir-S1 air defense systems to counter the US-supplied HIMARS rockets that have wreaked havoc on the Russian military.
---

Russian Military Reluctant To Accept 1st Tranche Of 'Cutting-Edge' T-14 Armata Tanks Due To Its 'Poor Condition': UK
The US-supplied HIMARS system has proven to be a "game changer" in Ukraine's fight against the Russian invasion. Therefore, Russia has proactively sought upgrades to its air defense system to counter it.  
In a video released by the Ministry of Defense, a Russian rocket launcher commander claimed that Pantsir-S1 surface-to-air missile systems have been upgraded and received new software to intercept HIMARS rockets "most effectively."
The news was reported by the state-run media outlet TASS on January 25. The commander with the call sign "Baron" from Russia's Western Military District said they achieved the goals of protecting military sites and civilian infrastructure. 
The Pantsir-S1 air defense systems' distinctive aspect is its capacity to strike various aerial targets with a 360-degree view, including drones, helicopters, MLRS, and aircraft, the Russian commander added. 
Russian MoD Propaganda

360-degree protection

Pantsir-S1 air defence missile system crews continue destroying Ukrainian unmanned aerial vehicles. pic.twitter.com/NzZ7mpEsfF

— David Kime (@CyberRealms1) January 25, 2023
The system is capable of engaging targets while marching. The Russian air defense system has been employed in Ukraine to intercept a range of threats, including Tochka-U [ballistic missiles] and Bayraktar drones. 
"A HIMARS is an altitude target and has its ballistics. Due to its high speed, it is necessary to react quickly to make a decision. These [Pantsir] vehicles have been upgraded to engage this target," he explained.
The latest revelations align with an earlier story by the EurAsian Times. In December 2022, it was reported that Russian air defense personnel had acquired new software to detect and shoot down HIMARS multiple launch rocket system (MLRS) missiles. 
At the time, Russian defense experts claimed that HIMARS rockets could be gunned down with near-perfect accuracy with the introduction of new software.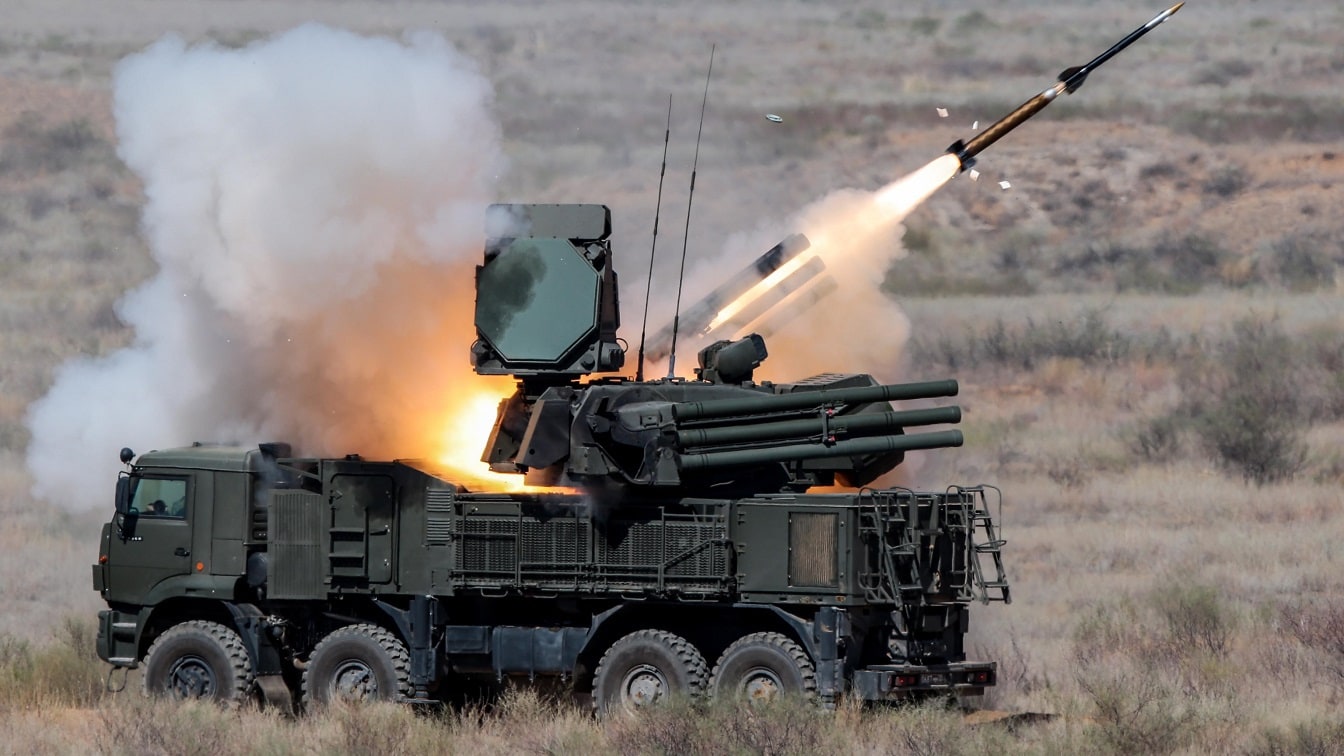 A few days ago, Moscow was seen putting Pantsir air defense systems on the roofs of some defense and administrative buildings in the capital. That move implied that Kyiv was preparing to attack the Russian capital. 
Nevertheless, the Pantsir surface-to-air missile system can detect both relatively small targets, like 30x30cm drones, which the enemy frequently uses for reconnaissance and kamikaze missions, as well as large moving threats in the sky, like cruise and ballistic missiles, helicopters, aircraft, or Soviet and Western MLRS projectiles. 
The Pantsir is also equipped with a thermal imager. Thus, anti-aircraft gunners can also determine whether explosives with striking components are attached to the plastic covering of these flying objects.
The Pantsir can detect and track tens of targets. It is armed with two coaxial anti-aircraft cannons with a maximum fire rate of 5,000 rounds per minute and 12 surface-to-air missiles. 
Russia Producing Thrice As Many Patriot-Type Rockets
Vladimir Putin, the president of Russia, has described Russian air defense systems as some of the "best in the world." Putin evaluated the country's air defense systems during a meeting with Vyacheslav Gladkov, the governor of Belgorod Oblast. 
"Anything can happen, but in general, the system is operating properly. The practical combat performance has proved that Russia's air defense system is one of the best in the world," Putin said. 
The Russian president remarked that the production of missiles for air defense in Russia is comparable to world volumes and praised Russian air defense systems as being modern and reliable. 
"I have already said that the United States manufactures rockets for Patriot systems. We manufacture thrice as many such rockets. More than thrice," he stated. 
Meanwhile, Deputy Chairman of the Russian Security Council, Dmitry Medvedev, alleged that since the beginning of the year, Russian troops had received thousands of units of the most in-demand weaponry and equipment. 
The statement was made during a meeting of the Russian Military-Industrial Commission's working group in charge of manufacturing the most important categories of armaments and military equipment. 
The working group meeting occurred during a visit to the Kalashnikov facility in Izhevsk. Later, the deputy chairman said on his Telegram channel that MIC enterprises were increasing their shipments of loitering munitions and reconnaissance and strike drones to the Russian Armed Forces to meet the demands of the "special military operation."
Putin moved Dmitry Medvedev to the position of his first deputy on the Military-Industrial Commission in December. On January 10, Medvedev announced the formation of a working group within the Commission to oversee the production of needed weapons.