The Indian Army will receive 118 homegrown Arjun MK1-A tanks as part of a mammoth procurement deal. But does this defense deal make sense in the face of an emerging need for lightweight tanks?
India's Ministry of Defence (MoD) placed an ₹7,523-crore order for 118 tanks with the Heavy Vehicles Factory (HVF), located in Avadi in the southern Indian city of Chennai.
The MK 1-A is an upgraded variant of the existing Arjun platform and is expected to possess superior firepower, maneuverability, and survivability. It will boast 72 new features with more domestically manufactured content.
"The Ministry of Defence (MoD) placed an order with Heavy Vehicles Factory (HVF), Avadi, Chennai for supply of 118 Main Battle Tanks (MBTs) Arjun Mk-1A for the Indian Army on September 23. The order, worth ₹7,523 crore, will provide a further boost to the 'Make in India' initiative in the defense sector and is a big step towards achieving Atma Nirbhar Bharat," according to an MoD statement.
The Defence Research and Development Organisation (DRDO) has upgraded the Indian Army's Arjun, which serves as its in-house MBT. "The MK-1A is equipped with accurate and superior firepower, all-terrain mobility, and invincible multi-layered protection provided by an array of advanced technology systems.
It can take on the enemy during day and night conditions and in both static and dynamic modes," MoD said.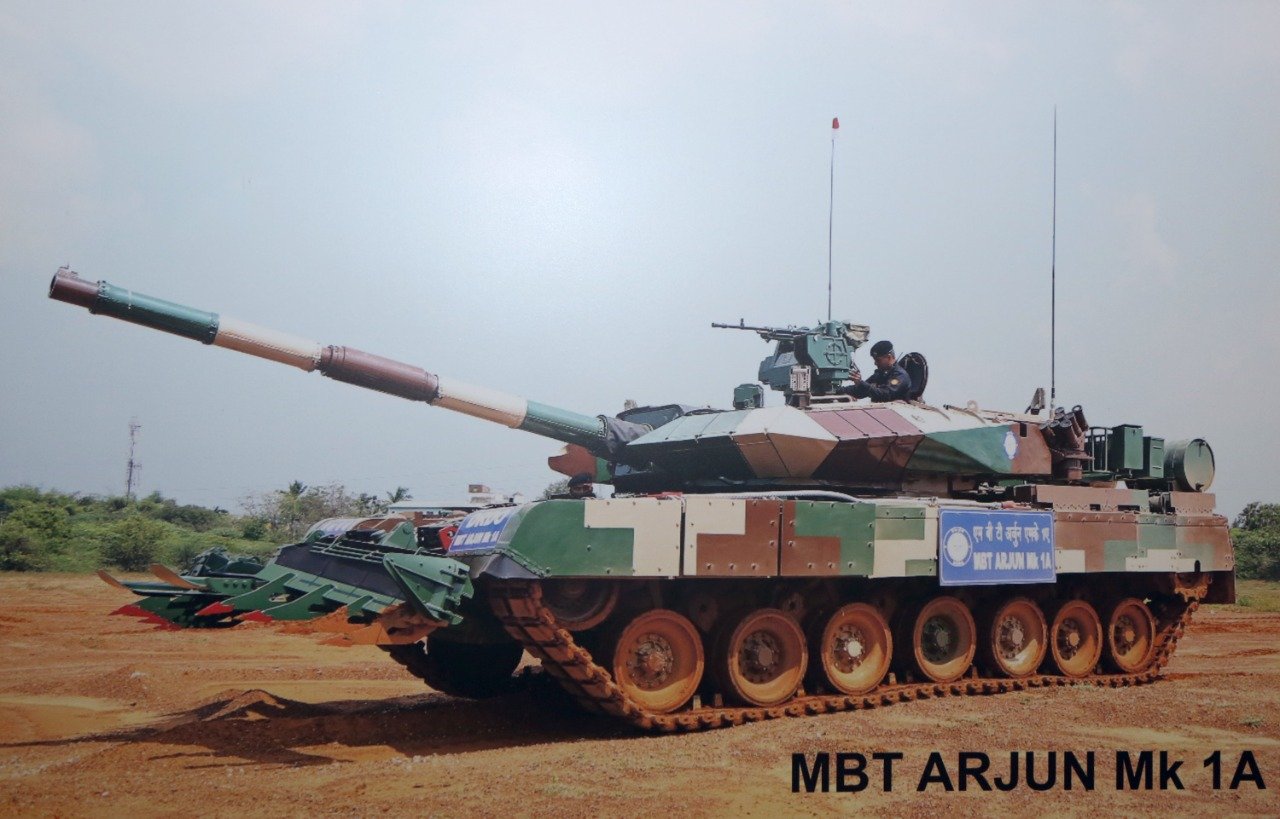 The MoD was confident that this development would bolster indigenous defense manufacturing by opening up opportunities to over 200 vendors and Micro, Small, Medium Enterprises (MSME) and bringing employment opportunities to over 8,000 people. "This will be a flagship project showcasing the indigenous capability in cutting edge defense technologies," the MoD stated.
This Arjun variant is believed to have been completed within two years by the Combat Vehicles Research and Development Establishment (CVRDE), along with other DRDO laboratories.
"The development activities commenced from June 2010 and the tank was fielded for user trials in June 2012. It took only two years to develop and field the MBT Arjun Mk-1A for user trials from the user requirement.
An extensive trial evaluation was conducted in various phases covering 7000 plus kms (both in DRDO and user trials) of the automotive and substantial firing of various ammunition during 2012-2015," the MoD said.
How Does The Arjun Fare?
A former Additional Director-General of Army's Mechanised Forces, who did not wish to be named, shared his insight about the platform. According to him, the merits of the Arjun MK1A are its accurate fire control system and mobility. However, there are many drawbacks as well.
More than 70% of the imported components are not truly 'Made in India' as is being touted. Spare parts management is suspect as imports remain a time-consuming affair. The life cycle of a tank goes up to 40 to 50 years with upgrades. However, as time passes, spare parts become expensive and difficult to procure.
The Indian Army had initially raised objections over the Arjun tank citing several concerns. Firstly, the tank was far too heavy. The existing train racks and tank transporters were not capable of transporting this 62-ton Mark 1 tank. Secondly, this heavy tank was not suitable for obstacle-ridden terrain. Thirdly, the ammunition was of poor quality and segregated.
There had been no ammunition for the main gun for a long time. "Hopefully, they would have resolved this, with this new variant. Fourthly, the assault bridge had to be redesigned which has been done. Lastly, this tank cannot be airlifted to Ladakh," the former Army officer said.
A similar concern was echoed calls some Indian defense analysts who stress the need for a lightweight tank to be used in high altitude areas such as eastern Ladakh.
Hon'ble Prime Minister Shri Narendra Modi handed over DRDO developed Main Battle Tank Arjun Mk 1A to Chief of the Army Staff during a function held at Chennai today. #AatmaNirbharBharat @PMOIndia @narendramodi @adgpi @DefenceMinIndia pic.twitter.com/vqNbbi0H8M

— DRDO (@DRDO_India) February 14, 2021
When asked about the advantages of this new Arjun variant, the former ADG MF said the DRDO has designed this tank over a span of four decades, which gives them some experience in tank research and development.
This will help DRDO to build upon the experience and work for the Future Ready Combat Vehicle (FRCV). He opined that the user should be fully involved in this project, which was not the case with the Mk 1 variant, leading to many problems.
The Weight Dilemma
The June 2020 Galwan Valley incident had prompted the Indian Army to focus on lightweight tanks, which can be operated at high altitudes in eastern Ladakh. Yet, nothing much has happened in terms of procurement, barring a few indications about India's interest in the Russian Sprut-SDM1 lightweight (LW) tank and the T-14 Armata.
China deployed its Type-15 light tank along the Line of Actual Control, the country's de facto border with India. This tank, also known as the ZTZ-15 or VT5, is meant for operations on the Tibet-Qingdao Plateau and the Gobi Desert. Type-15 is highly maneuverable and can be operated on the high-altitude terrain where it is currently deployed, The EurAsian Times reported earlier.
According to Lieutenant General PR Shankar (Retd), former Director-General of Artillery, "The current Sino-Indian standoff has highlighted the lack of a suitable tank for high altitudes.
The tank is required not only for defending our territory but also for carrying out any offensive into China. Unless we pose a credible offensive threat to China, our territory will always be subject to salami slicing. Having a light tank in adequate numbers in Eastern Ladakh and Sikkim is mandatory."
However, the sole emphasis on the need to procure light tanks was argued by military analyst Neil John who said – "Yes, we need light tanks, we need medium tanks, we need anything that provides us the ability to deter the enemy. But it is not as if the same size fits all. We need role-based displacement of equipment, just the way guns and engineers are utilized."
"Remember the T-90, the T-72, the T-55 and the Arjuns are all used in different roles in different terrain configurations. So light tanks only are hara-kiri," he added.
Should Indian Army Be Worried About Arjun Tanks?
Is the Indian Army happy with this contract? Prakash Nanda, consulting editor of the EurAsian Times says it has no reason to be unhappy as its senior officers had given the tank a clearance more than a year ago after the MBT had undergone numerous trials.
And what is more important, the tank comes with some features that the Army itself had sought.
So much so that according to V. Balamurugan, director of the Combat Vehicles Research and Development Establishment(CVRDE), "The tank comes with 14 major improvements that the Army has sought, which will make it the most potent and self-protective tank in the Army's inventory."
It is said that compared to its earlier version Arjun 1, the Mark 1-A boasts an improved gunner sight (a 120mm main gun), fitted with automated target tracking capabilities. This allows the tank's crew to locate and track mobile targets automatically, enabling attack even when the MBT is moving.
It also incorporates day-and-night stabilized sights. Besides, it is integrated with thermobaric and penetration-cum-blast ammunition, in addition to the conventional fin-stabilized armor-piercing discarding sabot and high explosive squash head ammunition.
It has been reported that the Arjun Mark 1A can run at a maximum road speed of 58 km/h and 40 km/h in cross country with a maximum cruising range of 500 km. It can negotiate a gradient of 30% and a vertical step of 910 mm. It can cross natural or man-made trenches 2,430 mm wide. The tank can cross a water obstacle of 1.4 m depth without preparation and 2.15 m with a kit.
Secondly, if the Arjun Mark-1A, which is widely regarded as India's response to the Russian-made T-90S 'Bhishma' tanks that currently form the bulk of India's armored vehicle regiments, is so potent, why is it that the Army has placed a Rs 20,000 crore order for the manufacture of 464 T-90S tanks to add to the 1,191 Bhishma tanks already inducted?
The above two are troubling questions, given the not-so-rosy history of Arjun, which has seen numerous changes in design and been over-budget and long-delayed. It was planned in 1972 and the DRDO started the work on it in 1974. It was to be a 40-ton vehicle, small enough to be strategically mobile and capable of being shuttled on internal lines (roads and railroads) to the borders.
But when in 2009, 35 years after it was originally conceived, Arjun was "ready" for production, its weight turned out to be 62 tons. It had other shortcomings too, which the Army did point out.
And yet, the Army was persuaded (pressured?) to buy 124 of them, with the last batch being procured in 2013. However, by mid-2015, two years after the purchase was complete, nearly 75 percent of the Arjun force was inoperable due to technical problems.
A 2016 report from the Comptroller and Auditor General of India noted that most of the tanks had not been in operation since 2013 due to a lack of spare parts. And the DRDO, in 2017, informed that it had imported spare parts to repair any faults that had sidelined 75 percent of the Arjun tanks
Side by side, all these years (after 2010), the DRDO declared that it would work for Arjun 2 where many shortcomings of the Arjun 1 would be rectified with additional features. In 2014, the Union Cabinet decided to procure 118 of these, but the proposal was formally cleared by the DAC (Defence Acquisition Council) only in 2018, with Arjun 2 being rechristened now Arjun Mark 1A.
But the Army said that even this version did not meet all its requirements like the ability to fire a missile from its main gun and battlefield management system. Besides, the Army, which had found problems with the 62-ton weight of version 1, had to cope with the 68-ton weight with the latest version of 1A.  It was only in 2020 that the Army gave its final "clearance".
In 2018, this author had a detailed discussion with the then DRDO Chairman Dr. S Christopher. On asked about the weight problem, he had counter-questioned why was it that people were not enquiring as to what our bridges are not good enough to withstand the passage of 70-ton tanks.
He had also taken great pains to explain that people often question the DRDO when things went wrong without realizing that the DRDO's job is only designing whereas the manufacturing was done by the OFBs, which were not under his control as these do not belong to the DRDO and operate under the domain of the Secretary, Defence Production.
He also had said that for qualitative improvement, there should be joint productions with the private sector as the government ones are not worried about the losses and delays.
However, Dr. Christopher was proud that in many field trials, the Arjun had fared better than even the T-90s and that the indigenous products had the greatest advantage in the sense that one could do product improvement on the system and follow what is called spiral methods of development.
His point was that unless you get bulk orders from your armed forces, there will be lesser chances of quality improvement. And this is something that China does well. It goes for large quantities of arms that are the high-volume, low-cost version(s) of the foreign products.
Here, the idea is that even if inferior in quality and performance to the foreign products, these low-cost lower-tech versions can be used by the Chinese forces in "high volume" to neutralize the qualitative gap. And in the process, you will learn lessons to improve your product.
Viewed thus, the procurement of Arjun Mark 1 A is understandable, but what remains confusing are the widely shared apprehensions that it is the "last order" for the Arjun series.
Aritra Banerjee is a defense journalist who has worked in both online and print media. He has laid an emphasis on issues related to military human resources, tactical psychology, military-media relations, professional military education, and combat fitness. He can be reached on email: aritrareporter@gmail.com.
With Invaluable Inputs From Prakash Nanda