After the recent incursions by Chinese jets, Malaysia has accelerated efforts to acquire a new light combat aircraft and released a tender. India's HAL Tejas is in the race for the contract, along with several other foreign platforms.
Kuala Lumpur's renewed interest in procuring the LCA comes in the wake of a major Chinese aerial incursion into the Malaysian maritime territory in the South China Sea.
Indian LCA Tejas Or Pakistani JF-17: Who Is Winning The Malaysian Fighter Jet Contract?
Malaysia's Defence Ministry has issued tenders for 18 Fighters Lead-In Trainer-Light Combat Aircraft (FLIT-LCA) to replace its older fleet of aircraft, reported Defence News. At present, the Southeast Asian country operates 18 BAE Hawk-108 and 208 light combat aircraft and seven Aermacchi MB-339CM trainers.
According to the Capability 55 plan of the Royal Malaysian Air Force (RMAF), "the service is to have three squadrons of FLIT-LCAs". For the RMAF, a squadron typically comprises 18 aircraft. The deadline for the tender issued is September 22.
In December 2018, Malaysia had issued a request for information for its FLIT-LCA program, receiving responses from eight foreign platforms — Boeing T-7 Red Hawk, KAI FA-50 of South Korea, Leonardo M-346 Master of Italy, HAL Tejas of India, the China-Pakistan PAC JF-17 Thunder, Hongdu L-15 of China, Yakolev Yak-130 of Russia and Vodochody L-39 NG of the Czech Aero.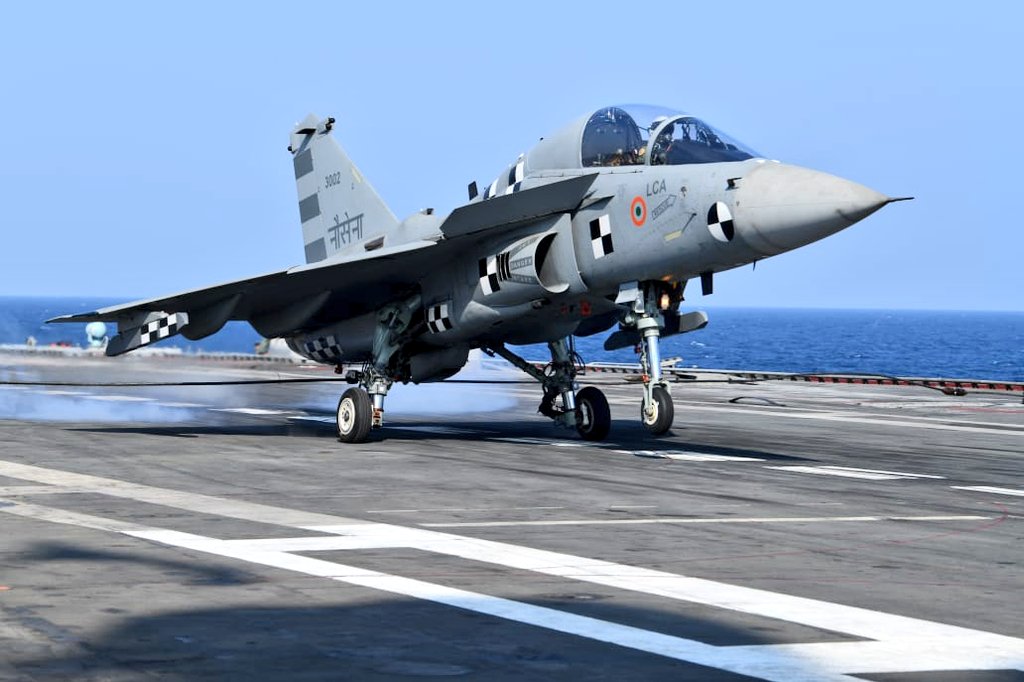 Last year, Malaysian Air Force Chief, Gen. Tan Sri Datuk Seri Ackbal Abdul Samad, said that the country would not upgrade RMAF's aging Fleet of Hawks, which entered the service in the mid-1990s. However, Malaysian attempts at modernizing its military arsenal have hit financial hurdles.
According to the report, the RMAF has been unable to replace its MiG-29 Fulcrum interceptors and has expressed its interest in acquiring some Hornets from Kuwait.
India's LCA Tejas 
In April, The EurAsian Times reported that the LCA Tejas, manufactured by India's state-owned Hindustan Aeronautics Limited (HAL), has been shortlisted as a contender for the contract of 36 new Light Combat Aircraft along with KAI FA-50 and JF-17 .
This is being viewed by experts as the first potential sale of made-in India aircraft, the report mentioned.
A Malaysian team is expected to visit Bengaluru for a tour of the LCA production facilities. The team may be given access to the test infrastructure and a demonstration of the fighter's combat capabilities, according to reports.
The LCA Tejas is equipped with advanced avionics and weapon systems. The MK 1A version of the Tejas is outfitted with modern AESA radar and new avionics. It can be customized to integrate various weaponry.
The Indian Air Force has also signed a contract for the acquisition of 83 Tejas Mark 1-A fighters, in addition to an earlier order of 40 LCAs in two batches.
Earlier, at the 2019 Langkawi International Maritime and Aerospace Exhibition (LIMA-2019), the Tejas had generated a great deal of interest, The EurAsian Times had also reported.
#LIMA2019 : Flying readily captures the imagination of everyone, indeed display flying, epitomises daring, adventure & glamour associated with fighter flying.
The show commenced on 26 Mar 19, glimpses of #Tejas at Malaysia on 1st day of LIMA-19.@chedetofficial@SpokespersonMoD pic.twitter.com/QJ7KI5Olet

— Indian Air Force (@IAF_MCC) March 27, 2019
Tejas Spreading Its Wings
Last year, Indian news magazine The Week reported that India had offered the Lead-in Fighter Trainer (LIFT) variant of the HAL Tejas in response to the US Navy's Request for Information (RFI) for a jet trainer. The US reportedly is looking for a replacement for its Boeing T-45 Goshawk.
It was reported that the LIFT variant of the LCA Tejas is expected to be based on the MK-1A variant already ordered by the Indian Air Force.
10 Reasons Why India's LCA Tejas Could Be 'Shot-Down' By Pakistan's JF-17 Thunder In Global Arms Market?
"We have done all the work in-house," HAL chairperson R. Madhavan was quoted in the report. "The same platform can be used to mimic any other platform. All that needs to be done is put in the flying characteristics and things will change to the selected aircraft. For example, if they have Rafale characteristics, to the pilot it will seem like he is flying Rafale, which will help in the advanced training process."
In 2016, the Indian Navy conducted carrier trials of the naval variant of the Tejas but rejected the aircraft as being too heavy. The Navy reportedly wanted an aircraft that may be used as a twin-engine deck-based fighter (TEDBF) in the future. The service is keen to procure around 57 jets at a cost of $9.6 billion, though the number of jets was later reduced to 36.
The LCA-Tejas is going to be the backbone of the IAF fighter fleet in years to come. LCA-Tejas incorporates a large number of new technologies many of which were never attempted in India. The indigenous content of LCA-Tejas is 50% in Mk1A variant which will be enhanced to 60%.

— Rajnath Singh (@rajnathsingh) January 13, 2021
This year, HAL was given a contract to manufacture 83 LCA Tejas fighters for the Indian Air Force. HAL Chairperson said, "As per the contract, we are to start delivery of LCA by 36 months from today. The first delivery will be by March 2024; there will be a delivery of two aircraft which will be ramped up to 16. Total supply time, post first delivery is 6 years."
The Print reported that India is looking at the export potential of the LCA Tejas, at an estimated cost of Rs 309 crore per aircraft given countries from Southeast Asia and the Middle East have shown interest in procuring the India-made aircraft.
After Rafales, Upgraded LCA Tejas Will Be Next Addition To The Indian Air Force
HAL is also reportedly looking to set up logistics bases in Sri Lanka, Indonesia, Vietnam, and Malaysia to boost the chances of the countries buying India's indigenous aircraft.
Malaysia's Conflict With China  
Malaysia's renewed interest in procuring a fighter jet follows the Chinese aerial incursion into the areas near the disputed shoals in the South China Sea, which are administered by Malaysia.
According to the Malaysian Air Force, a formation of 16 Chinese PLAAF aircraft including Y-20 and Ilyushin I1-76 airlifters were sighted within 60 nautical miles (69 miles) off Malaysia's coast on May 31.
China Admits Its Top Air Force Pilots Defeated By 'Adversaries' In Fighter Jet Dogfight
The Chinese aircraft reportedly approached in a "tactical formation" and was first detected by air defense radar in the eastern Malaysian state of Sarawak.
It released a map showing the PLAAF jets flying past the Luconia Shoals and then turning back to the areas near James Shoal, both of these maritime features are inside the exclusive economic zone of Malaysia.
However, on its part, China also claims ownership of the Shoals, as they are located "within China's so-called nine-dash line".
Royal Malaysian Air Force says 16(!) PLAAF aircraft flew up to 60nm into Malaysia's EEZ on 31st May, with Labuan-based RMAF 6 Skuadron Hawks intercepting and taking this photo of a Y-20 transport

Details via .@marhalimabas pic.twitter.com/gR5vsk9yyo

— Mike Yeo 杨启铭 is fully vaccinated (@TheBaseLeg) June 1, 2021
The RMAF described the presence of PLAAF aircraft near disputed shoals as "a serious matter that threatens national security and aviation safety", with the Malaysian Foreign Minister stating that the country will issue a diplomatic protest against the overflight.
In its statement to Singapore's Channel News Asia, the Chinese embassy in Malaysia said the aircraft were conducting overflights in accordance with international law, stressing that they did not enter Malaysia's territorial airspace.
READ MORE