The IAF has the opportunity to equip its IL-76 transport aircraft and Su-30MKI fighters with drones that could conduct aerial surveillance and return or destroy adversary targets with kamikaze attacks.
---
Development of such drones has been underway in Russia for over a year. On October 15, 2022, Izvestia reported, quoting a source in the military-industrial complex, that the Russian military transport aircraft Il-76MD-90 will be able to carry up to eight Molniya modular drones that perform tasks such as surveillance, attack, electronic warfare (EW), target designation, etc.
The development presents an opportunity for the IAF to convert some of its IL-76 aircraft into drone motherships.
Jumping On The New Generation Air Dominance (NGAD) Bandwagon
India hopes to realize a home-built 5th gen fighter – AMCA (Advanced Medium Combat Aircraft) – in 2035, nearly 30 years after the first 5th gen fighter – F-22 – entered squadron service in the US in 2005.
Meanwhile, the world's leading powers are working on developing 6th gen fighters that could enter operational service around the same time as India's AMCA.
India may not build its 6th gen fighter before the century's second half. Still, there is a window of opportunity for India to embrace concepts related to 6th gen fighters within the next five years.
In a recent analysis, we discussed how the 6th gen fighter concept has evolved from a standalone system to be the pivotal component of a system of systems concepts known as the NGAD.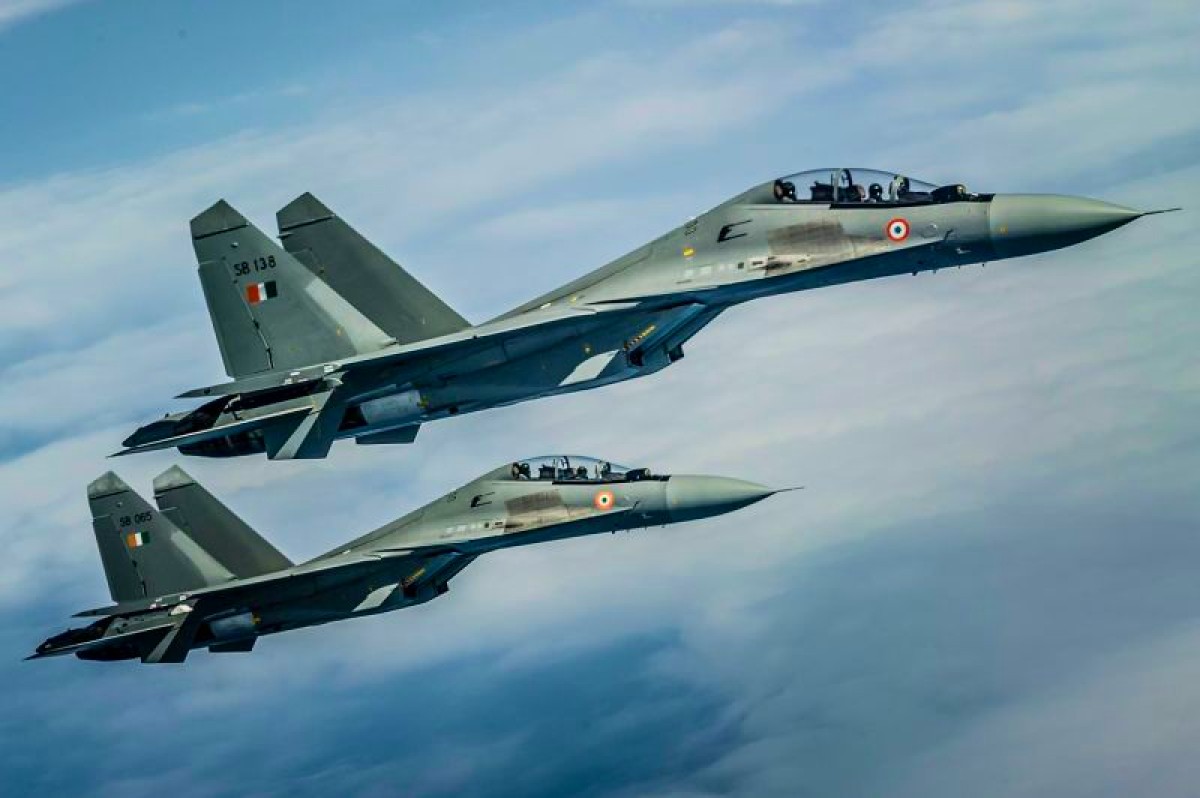 The NGAD concept combines advances in fighter aircraft technology with advances in AI and microprocessing, treating them as discrete functionalitIes in a system-of-systems. Advances in AI & micro processing are not tied to advances in fighter aircraft technology.
In the NGAD, the Collaborative Combat Aircraft (CCA) represents advances in AI & microprocessing, while the 6th gen fighter represents advances in fighter aircraft technology.
Countries like India, which have the technological base and human expertise to make rapid strides in AI & micro processing but not the industrial base to make rapid strides in fighter aircraft technology, can jump on the NGAD concept bandwagon even with their existing 4th gen fighters and transport aircraft.
Molniya (Lightening) Drones
Molniya drones are small drones that can be carried by transport or fighter aircraft. Molniya is being developed by Kronshtadt Company which specializes in creating high-end military drones – their existing products include Orion and Inokhodets-RU (Sirius) reconnaissance & attack drones. They are also developing the Grom (Thunder) loyal wingman attack drone.
According to the Izvestia source, a tactical fighter aircraft like the Su-30MKI could carry three Molniya drones, and the Il-76MD-90 would carry up to eight.
On the eve of the Army-2021 forum, Kronstadt General Director Sergei Bogatikov reportedly said that his company is developing a project for a Molniya attack and reconnaissance UAV flying carrier based on the Il-76 heavy military transport aircraft.
"The possibility of basing "Lightening" on the Il-76 is envisaged," Bogatikov said.
Molniya Concept
Molniya drones are modular; they can be configured for attack, reconnaissance, target designation, EW, or some other special task. Drones equipped for surveillance and EW will return after their mission, while attack drones are kamikaze drones.
According to Kronshtadt, Molniya is optimized for use in a drone swarm.
"Molniya drones constantly exchange data among themselves. It is possible to alter an assignment for each member of the swarm. They can transfer leader roles and are interchangeable. Artificial intelligence allows a group of drones to fulfill its assignment without constant communications with the carrier aircraft," the company specified.
Molniya Specifications
Molniya drones are shaped much like low observable (LO) cruise missiles, with an elongated fuselage, a jet engine, and a folding wing. They are reportedly 1.5-meter long, with a 1.2-meter wing span and a 600–700 kph speed. The warhead is estimated to be 5-7 kilograms. A combat radius of several hundred kilometers is claimed.
CCA vs. Molniya
Conceptually there is a lot of similarity between the NGAD CCA and Molniya drones.
Autonomy
Both CCA and Molniya are being developed to operate autonomously. They will not require remote piloting. Instead, they will autonomously execute tasks assigned to them. In reconnaissance mode, they will not stream all the data they generate. Instead, they will recognize objects of interest and stream data only about them.
Modularity
Like the CCA, Molniya drones would be configured for their tasked role through modular section swaps.
HAL's Combat Teaming System
At Aero India 2021 in Bengaluru, HAL unveiled its futuristic Combat Air Teaming System (CATS), displaying models of the system components.
The CATS concept is similar to the Molniya concept. It envisions a mothership and four stealthy autonomous CATS Warrior drones: CATS Hunter, CATS Alpha-S, and CATS Infinity.
CATS Hunter would be a cruise missile carried by the mother ship. Hunter would penetrate contested airspace on release to carry out strikes.
CATS Alpha-S would be a glider that would carry – four, eight, sixteen, or twenty-four propeller-driven swarm drones – and release them 50 to 100 kilometers into the enemy territory.
These 24 drones, around 25 kilograms, could carry smaller drones weighing 5 kilograms each that can go deeper into the enemy territory to strike.
CATS Infinity would be a high-altitude solar-powered long-endurance UAV to provide satellite-like ISR coverage. The drone would cruise at around 70,000 feet in height for about two to three months, gathering intelligence.
As last reported, HAL's CATS concept lacks modularity.
While HAL's endeavor must be supported to the hilt, it needs to be realistic about the HAL development timeline based on its record. The time to embrace manned-unmanned collaborative combat is now, not later. It would be prudent for the IAF to tactically absorb the concept by sourcing such drones from wherever they may be available.
Vijainder K Thakur is a retired IAF Jaguar pilot. He is also an author, software architect, entrepreneur, and military analyst. 
Reach out to the author at vkthakur (at) gmail.com