Arch rivals and major stakeholders in the South Asian region, India and Pakistan, have remained in the top 10 defense importer list for years. However, with the help of their respective military allies, Russia and China, they aim to transcend to the exporters' league.
India, for one, is selling its weapon systems developed indigenously or in partnership with Russia on a war footing. According to the Swedish Think Tank Stockholm International Peace Research Institute (SIPRI), India retained the position of the world's largest arms importer for five years between 2018-22.
Similarly, Pakistan also strung along and redeemed its place in the world's top 10 largest arms importers besides India. As per the SIPRI data from 2021, Pakistan ranked 10th in the world among the largest arms importers for 2016-20.
For several decades, India has continued to purchase widely from its most trusted military partner Russia and some purchases from a few Western countries. On the contrary, Pakistan bought most of its equipment from the West until China emerged as its biggest and most strategic ally.
Both New Delhi and Islamabad are using their defense partnerships with Moscow and Beijing to develop and export their weaponry.
India Is Selling Its Most Precious Missile & How!
Bolstering the policy of becoming a defense exporter under the current administration, India is aggressively pitching the BrahMos supersonic cruise missile.
Developed by BrahMos Aerospace, a joint venture between India and Russia, BrahMos has been projected as the most significant item in the defense export list. This is not without reason. With no luck debuting the indigenously developed LCA Tejas fighter jet, the attention has shifted somewhat to BrahMos.
As recently examined by EurAsian Times, Russian-technology-based Indian weapons like BrahMos are finding takers in South East Asia. In January 2022, India enclosed a US$375 million contract to supply three BrahMos ground-based anti-ship missile systems to the Philippines.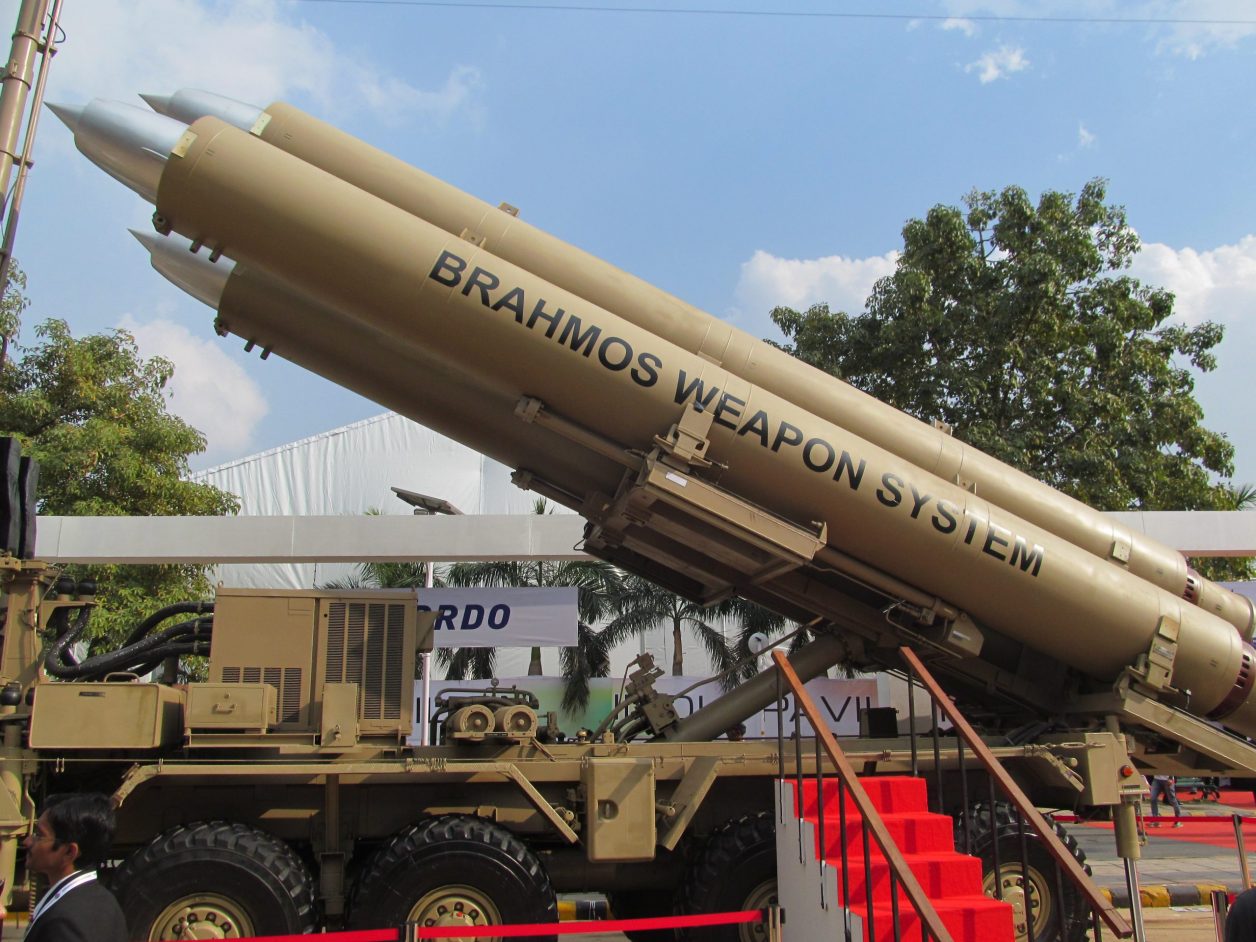 The company's chief executive told the media earlier this year that BrahMos Aerospace was working out a plan to finalize a deal this year to sell Indonesia supersonic cruise missiles for at least $200 million.
Besides that, EurAsian Times reported last month that India has officially started talks with Vietnam to sell off the supersonic cruise missile.
The South-East Asian nations, embroiled in a fierce territorial dispute with China, have been looking to purchase Indian defense equipment to avoid the Sino-US rivalry. This is where the BrahMos missiles have gained prominence.
Meanwhile, India is holding talks with Argentina to boost their bilateral defense ties, amid the South American nation showing interest in acquiring LCA Tejas aircraft. The country is also exploring BrahMos missiles and has shown initial interest in Indo-Russian cruise missiles.
Pakistan's JF-17 Has Export Customers
A recent set of reports that have not been officially confirmed indicates that Iraq might be looking to procure JF-17 'Thunder' Block III fighters for its Air Force. The negotiations have been taking place for at least two years.
The JF-17 Thunder lightweight multirole combat aircraft is jointly developed and produced by the Pakistan Aeronautical Complex (PAC) and China's Chengdu Aircraft Corporation (CAC).
The Block III model is equipped with advanced avionics, flight control systems, and an active electronically scanned array (AESA) radar, among other enhancements.
After Nigeria and Myanmar, there are speculations that Iraq could acquire JF-17 combat aircraft. Pakistan also operates JF-17s.
The Block III variant has been projected as a very potent multirole fighter jet by both China and Pakistan, despite having troubles that have caused skepticism about the utility of this jointly developed combat aircraft.
For instance, in November 2022, Myanmar grounded the aircraft owing to structural flaws and technical problems.
While China enjoys being the senior partner in developing this aircraft, Pakistan has done well to leverage its reputation as the exporter of this advanced fighter jet, often pitted against the Indian LCA Tejas.
Indian BrahMos vs Pakistani JF-17
When asked how the two South Asian countries were trying to turn from importers of arms to exporters, the former Financial Advisor (Acquisition) of the Ministry of Defense, Amit Cowshish, told EurAsian Times, "To my mind, it matters little purely from the point of view of an exporter whether the product is indigenously designed and developed or co-developed with the help of another country, as long as major customers are willing to buy it."
Pakistani media earlier reported that the country's share in the arms export market was growing. Trade data compiled by the International Trade Center (ITC) stated that Pakistan exported arms and ammunition worth US$3.8 million in 2021.
At the time of the 11th International Defense Exhi­bition and Seminar (IDEAS) 2022 held in December 2022, the publication quoted several players in the Pakistani arms industry as saying that the country's export potential had seen an unprecedented tick, with an emphasis on the Middle Eastern region.
However, Cowshish told us that Pakistan was trailing behind India regarding exports. "Pakistan is way behind India. Its export to Myanmar and Nigeria notwithstanding. These countries are not major buyers. Numbers also matter. India has an edge here because it has had Russia as the co-development partner, which, at least till recently, was next only to the US in military technology. Pakistan's partner China is yet to catch up even with Russia in so far as major platforms are concerned. Things may, of course, change in the years to come," he said.
A similar view was projected by Indian Army veteran Major General Harsha Kakar (retd) and military commentator, who told the EurAsian Times that "India is looking beyond just BrahMos. Indian defense companies export much more. A company in Kanpur (a city in Uttar Pradesh, India) exports defense equipment to over 100 countries.
"Zen Technologies bagged a US$250 million order yesterday. India is also looking at exporting its Tejas aircraft. Indian market is bound to be better mainly because of its after-sales service, global reputation, and influence. Pakistan is banking on Chinese influence, which is waning."
Since this referred to the equipment quality, we probed the expert further. "Chinese influence is waning on account of the quality of products. You had stated the fleet is grounded. Is Malaysia the only country to face poor Chinese quality? Many more in the same situation," he explained.
Philippines-based military analyst Miguel Miranda, who keeps a watchful eye on the South Asian region, told the EurAsian Times: "I think not enough credit is given to India and Pakistan as arms exporters. Pakistan's 'armaments sector' has been exporting weaponry and equipment since the 1980s, and during the 2010s, local production finally reached a level where big contracts could be arranged with friendly countries. On the other hand, India has accelerated its diplomatic outreach to help arms exports since 2020, and the results so far are very promising."
This brings us back to the rivalry and adversity between India and Pakistan. For instance, a Pakistani publication called 'Pakistan Policy' wrote in March last year: "In 2021, Pakistan's defense exports exceeded those of neighbor and archrival India, according to the Stockholm International Peace Research Institute (SIPRI), which tracks global arms transfers."
Miguel, however, added to his comments by saying: "The JF-17's perceived faults aren't as grave as some imagine. Fighter jets and their maintenance are complicated and rely on global suppliers. The JF-17 isn't an exception.
India is still smoothing the way for more arms exports. This will be gradual because diplomacy is more important than the actual military product…and when it comes to purely 'military product,' India's manufacturers have much to offer. One sector where India has somehow dashed its prospects is military drones since not enough is being manufactured for foreign buyers and a recognizable homegrown 'champion' hasn't emerged yet."
Even though the Indian government has set a lofty goal of US$5 billion for India's defense exports to be accomplished by 2024–2025 from its current US$1.5 billion, media sources earlier suggested that the BrahMos supersonic missile alone can reach US$3 billion by 2026.
In contrast, Pakistan is using its bonhomie with states in the Middle East, coupled with China's burgeoning influence in the region, to sell the JF-17.
One thing about that aircraft is that it is a cheap multirole aircraft that participates in all tenders and has positioned itself as a cheaper alternative to the same-generation aircraft of the West.
Contact the author at sakshi.tiwari9555 (at) gmail.com