In December, Russian President Vladimir Putin met Indian PM Narendra Modi in Delhi for the 21st Annual India-Russia Summit. This was the only in-person meeting Putin had attended other than the one with US President Joe Biden.
The development assumed significance because it came at a time when there was some apprehension about the country's ties with the US. Another dimension to this visit is that Putin arrived in India when the Sino-Indian border standoff entered its second winter with no immediate breakthrough in sight.
Deteriorating Relations With China
Indo-China relations have been through some ups and several downs over the course of the past few decades. The landmark Panchsheel Agreement signed in 1954 had pointed towards an era of peaceful coexistence for the two nations. However, that quickly changed with the Sino-Indian war in 1962.
After that, it was only with the visit of then Indian PM Rajiv Gandhi in 1988 that the two Asian giants started talking to each other in friendly terms. A decade later, these relations took yet another dip after India conducted nuclear tests and singled out China as the top security threat. Then there was the 74-day long border stand-off at Doklam in 2017.
The talks that followed the Doklam crisis painted a hopeful picture. In November 2018, it was reported that India and China had agreed to expand bilateral exchanges involving top military officials.
The proclaimed objective was to strengthen communication between the two armies. New Delhi and Beijing had decided to enhance reciprocal high-level visits and joint training exercises for these huge militaries.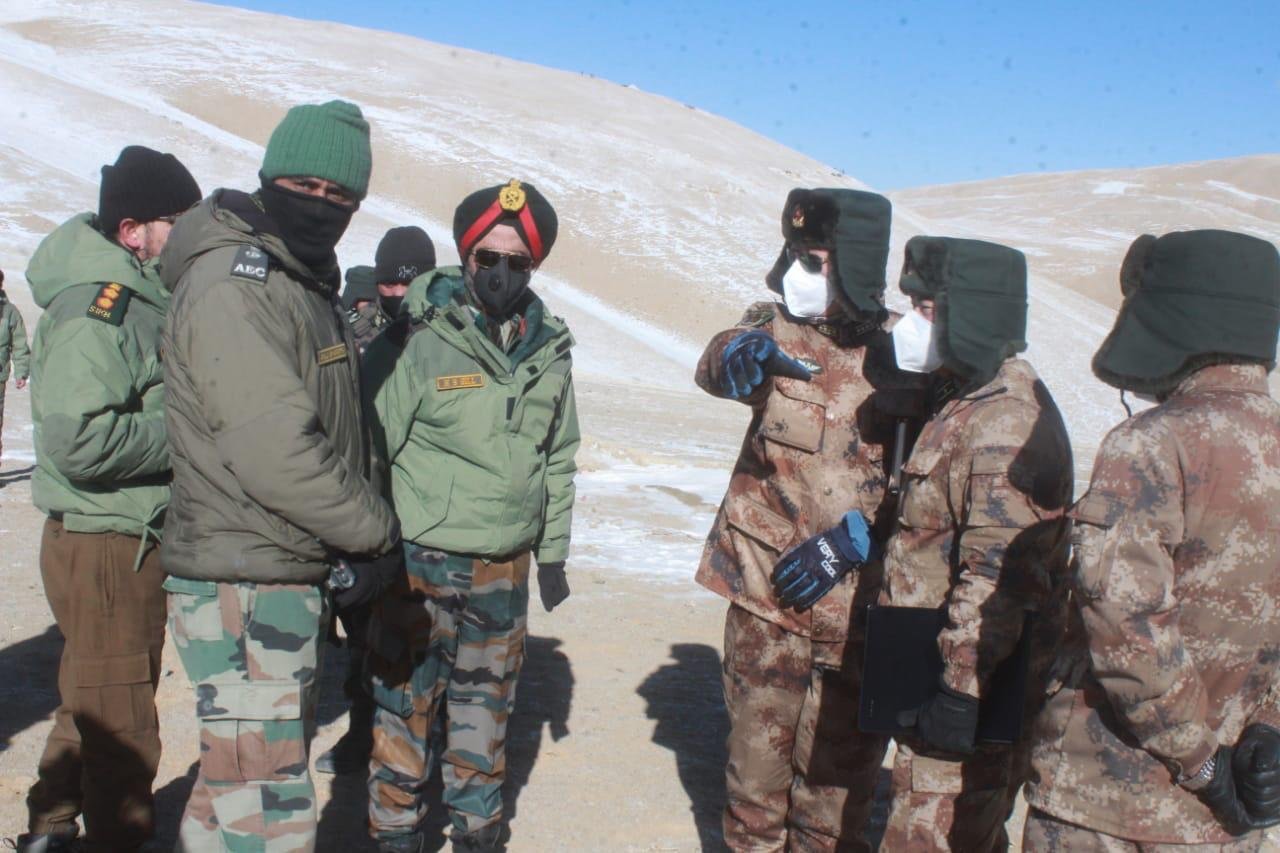 Prior to this, during an informal summit between Modi and Chinese President Xi Jinping held in Wuhan in April that year, the two leaders had agreed to expand and implement confidence-building measures between their nations' defense forces to avoid a Doklam-type situation and ease military tensions.
In 2019, after a summit between the two leaders in Chennai, China's People's Liberation Army (PLA) noted that its ties with the Indian military are "improving", owing to the efforts of PM Modi and President Xi.
By December that year, the two sides were on good enough terms to have held the 8th round of their Hand-in-Hand joint exercise focusing on counter-terrorism joint training. The drills were successfully concluded in Shillong, Meghalaya.
"This joint training is to implement the consensus of the national and military leaders of the two countries and to strengthen the friendship of their troops and to promote regional peace and stability," Defense spokesperson Col. Wu had told the media then.
"Through their joint training, the two sides improved their capabilities to jointly address security threats and conduct diversified military missions. The exercises and training showed the determination of the two sides to fight terrorism and to protect stability in the region. It also helped to strengthen mutual trust and cooperation between the two militaries," he had added.
However, the hope of peace and cooperation seemed to be short-lived. In June last year, the Galwan valley clash happened in which 20 Indian soldiers and reportedly 4 Chinese PLA personnel lost their lives. This was the worst border clash between the two neighbors in as many decades
A huge military build-up on both sides followed. Both the countries moved troops, heavy artillery, and other military assets to the border. Since then, the view that China could be a potential ally of India has taken a backseat. In fact, India deepened its relationship with the US in an attempt to counter the dragon in the region.
Hiccups With The US
India's military relationship with the US has strengthened considerably. In fact, as of February this year, it was reported that India-US defense trade had grown significantly in a short span and stood at $21 billion.
India has also signed the Logistics Exchange Memorandum of Agreement (LEMOA), Communications Compatibility and Security Agreement (COMCASA), Industrial Security Annex, and the Basic Exchange and Cooperation Agreement (BECA) to facilitate military-to-military cooperation with the US. The two countries are also part of the Quad alliance.
However, some issues involving military acquisitions have cropped up. This includes the delivery of the MQ-9B Predator drones and the Russian S-400 missile defense system. The US has delayed the delivery of the former and has been frowning about India acquiring the latter.
Especially with the drone, there has been a substantial delay in the acquisition, despite PM Modi meeting the manufacturer, General Atomics' Chief Executive Officer Vivek Lall during his US visit.
The Indian military is still developing indigenous combat drones and has at least a decade of technological asymmetry with Pakistan in combat drone technology and is significantly behind China, too.
Another such instance came to light in October when India's External Affairs Minister S. Jaishankar revealed that India was not taken into confidence on all aspects of the contract signed by the US and the Taliban last year.
He said, "I think to some degree, we'll all be justified in having levels of concern. And to some degree, the jury is still out. When I say levels of concern, there were commitments, which were made by the Taliban at Doha…The US knows that best, we were not taken into confidence on various aspects of that."
Being kept out of the loop brought uncertainty over India's years of engagement and investment in the war-torn nation. New Delhi had invested around $3 billion in various infrastructure projects in Afghanistan over the past several years.
When asked if these examples point towards US' sliding reliability as an ally for India, Moscow-based American geopolitical analyst Andrew Korybko said, "That is an accurate assessment. The US unilaterally complicated its military-strategic relations with India after mistreating its partner as a vassal state, which is a habit of those who formulate its policies."
"If India was envisioned by them as playing an exceptional role in attempting to contain China, then it follows that the country should have also been treated exceptionally- as in respected as an equal partner, unlike other US allies," Korybko told The EurAsian Times.
He added this implied that the US should not have politicized military-technical issues and tried to give itself an advantage through its hegemonic actions that came at the expense of Indian sovereignty.
He noted that this shows that "American decision-makers and strategists truly don't understand India. They arrogantly assumed that it could be pushed around, blatantly disrespected, and utterly dominated like all of the US' others that it de facto mistreats as vassals."
There are other problems associated with a US-India alliance, as well. The first is that the United States' domestic governing architecture restricts the extent to which it can militarily support New Delhi — especially in case of a potential escalation between China and India.
The other key factor constraining the US is its social condition and institutional reality. Its social conditions are related to its ambivalence about the continued exercise of military power. Even if a potential Sino-Indian military conflict is not too long, it would still be costly and risky. US citizens might be hesitant to dive into any such venture.
It might be in light of these doubts about the role of the US as an ally that India is inching closer towards Russia. "This unfortunate experience does have a silver lining, though. It got India to respect Russia more than ever since that historical partner has never done any of the things to India over the decades that the US did in the span of just a few short years," Korybko highlighted.
Reviving Relations With Russia
India and Russia are forming tighter bonds despite pressures from the US. When Putin visited India in the first week of December, he seemed to have indicated that Moscow can handle the relationships with New Delhi and Beijing independent of each other.
His visit is believed to be an effort to repair the damage that has occurred over the last couple of years, as Russia and India have drifted apart.
Not only did the two countries also hold the inaugural round of a 2+2 Ministerial Dialogue, but they also had the Inter-Governmental Commission on Military & Military-Technical Cooperation hold a meeting during the visit.
Both the countries' officials rejected the USA's pressure to downgrade their close defense ties. New Delhi and Moscow agreed to extend military and technical cooperation for another decade. Significantly, both nations noted that they would proceed with the delivery of S-400 surface-to-air missile systems to India.
The US had urged India not to go ahead with the deal, warning that it could jeopardize US-India relations in the future. India going along with the S-400 systems, despite the threat of US' CAATSA sanctions seems to be a kind of reassurance about the endurance of the India-Russia relationship, analysts believe.
Indian Defense Minister Rajnath Singh talked of greater military-technical collaboration with Russia. He included the mention of advanced research and co-production of defense equipment, to help India meet its "legitimate, real and immediate" defense requirements.
Another key development during Putin's visit was that the two nations signed 28 MoUs on several different areas. Among these was an existing agreement for the joint production of around 600,000 AK-203 assault rifles at a manufacturing facility in Uttar Pradesh.
There was also an extended pact on military cooperation for 10 years from 2021 to 2031. Russia is still India's primary arms supplier, maintaining dominance over about 70 percent of the Indian defense inventory.
However, challenges in this allyship still remain as China is a key strategic partner of Russia and a primary threat to India. Consequently, India has developed closer ties with the West — creating wrinkles in the India-Russia relationship.
On this, Korybko said that Russia's cooperation with China and India is equally strategic but takes different forms. "Moscow's bilateral ties with one don't undermine the other, including in the security domain, since Russia sells them similar equipment in order to maintain the balance of power between them and thus reduce the chances of either gaining an edge over the other." According to him, such ties play into "Russia's 21st-century grand strategy" wherein it aims to become "the supreme balancing force in Eurasia."
These intentions notwithstanding, Russia's sale of sophisticated arms such as the advanced Kilo-class submarines and Su-35 fighter jets to China continues to be a source of worry to India.