OPED by Air Marshal Anil Chopra (Retired)
A MiG-21 aircraft of the Indian Air Force (IAF) crashed near Suratgarh during a routine training sortie on May 8 morning. The pilot ejected safely, sustaining minor injuries, however, three civilians got killed on the ground.
An inquiry has been constituted to ascertain the cause of the accident, informed the IAF. Every MiG-21 accident generates debate and anger in the nation, and retention of the aging aircraft has been blamed for fatalities.
Yes, the aircraft was inducted in the early 1960s. It was an ace aircraft of its time and has given excellent services worldwide, and pilots who have flown it speak highly of this great design.
The MiG-21 'Bison' currently flown by IAF was upgraded in 2000.
Every aircraft flown by the IAF is fully fly-worthy and certified, and the airframe and engine have sufficient residual life. The Indian government has already declared the retirement of all MiG-21 variants by 2025.
Iconic Design Of MiG-21
The Mikoyan-Gurevich MiG-21 was designed as supersonic jet interceptor aircraft. Soviets wanted to fill the sky with thousands of simple, lightweight, reliable jets. Over 60 countries across four continents have flown the MiG-21, and it still serves many nations 68 years after its maiden flight on June 16, 1955.
It made aviation records and became the most-produced supersonic jet aircraft in aviation history (11,496), the most-produced combat aircraft after the Korean War, and has had the longest production run of a combat aircraft (1959-2013, including F-7 variants), compared with McDonnell Douglas F-15 (1972–present), and the Lockheed Martin F-16 (1973-present).
MiG-21's baby brother, the transonic MiG-15, holds the all-time jet record with around 18,000 units produced.
MiG-21's simple controls, engine, weapons, and avionics were typical of Soviet-era military designs. The delta wing was excellent for a fast-climbing interceptor. Given a skilled pilot and capable missiles, the aircraft could give a good account of itself against contemporary fighters.
The aircraft often faced low production and maintenance costs, making it a favorite of many nations. The American F-4 Phantom cost was several times higher than MiG-21. The airplane was, thereafter, updated and modified in India, Israel, and Romania and reverse-engineered by the Chinese.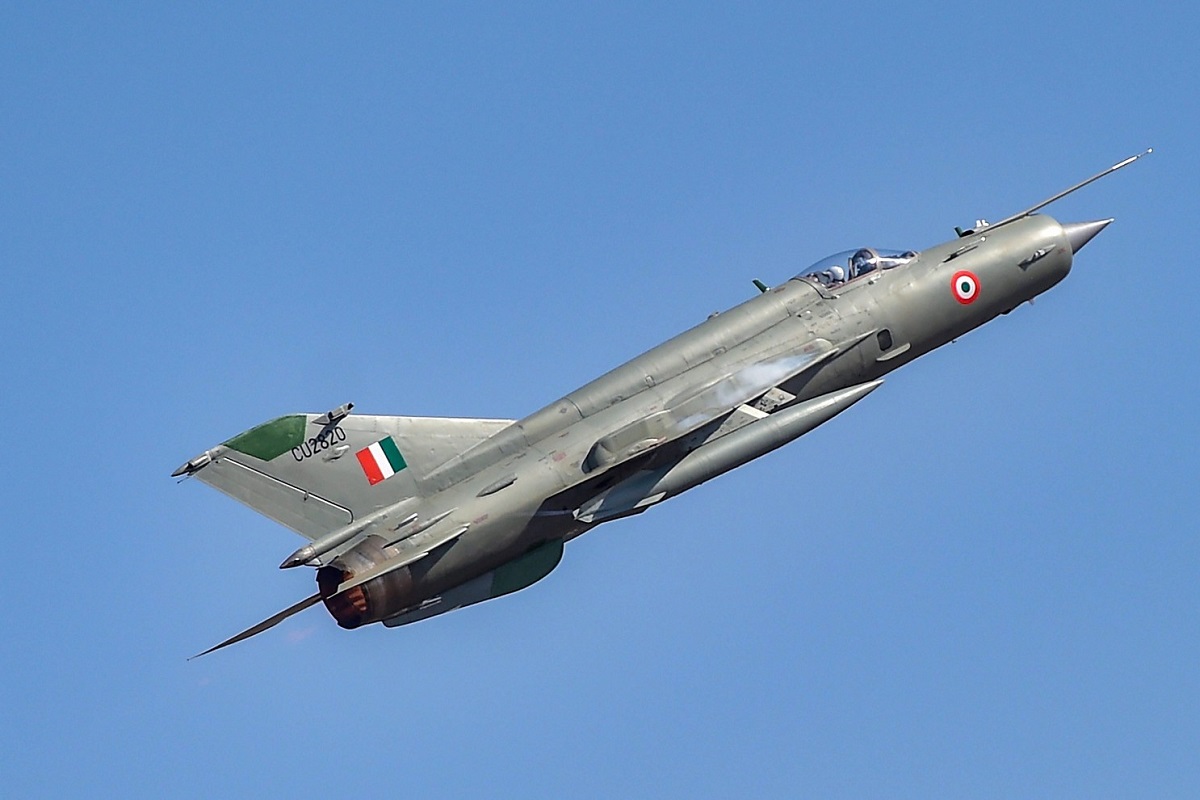 Great Operational Beginning In IAF
In 1964, the MiG-21 became the first supersonic fighter jet to enter service with the IAF. IAF inducted more than 1,200 MiG-21 fighter variants. Meanwhile, factories were set up at Nasik (aircraft), Hyderabad (Avionics), and Koraput (engines) with Soviet assistance.
While MiG-21s that were still under induction had significant operational participation in the 1965 Indo-Pakistan war, they were put to the real test during the 1971 Bangladesh Liberation War.
This war witnessed the first supersonic air combat in the subcontinent when an Indian MiG-21FL claimed a Pakistan Air Force (PAF) F-104A Starfighter with its GSh-23 twin-barrel 23mm cannon.
By the end of the hostilities, the IAF MiG-21FLs had claimed four PAF F-104s, two Shenyang F-6S, and one PAF Lockheed C-130 Hercules.
According to one Western military analyst, the MiG-21FLs had clearly "won" the much-anticipated air combat between the MiG-21FL and the F-104A Starfighter. In the eastern sector, MiG-21s continuously struck both the two runways near Dacca (Dhaka) and carried out the final strike over Governor House, paving the way for surrender.
On August 10, 1999, two MiG-21FLs of the IAF intercepted and shot down Pakistan's Naval Air Arms Atlantic maritime patrol aircraft with an R-60 missile after it entered Indian airspace for surveillance.
Ultimately IAF's MiG-21s were upgraded and christened "Bison." It had a MiG-29 bubble canopy and wrap-around windscreen; far more capable radar; a helmet-mounted weapon's sight; and beyond-visual-range, fire-and-forget missile capability. These and other modifications increased the airplane's operational capability four-fold.
MiG-21 Operational Action Elsewhere
In the 1965 Indo-Pak war, there was no air combat engagement involving MiG-21. The first-ever MiG-21 aerial victory came in 1966 over Vietnam, when a North Vietnamese pilot shot down an American Ryan Firebee surveillance drone. MiG-21s thereafter saw much action in Vietnam and the Arab-Israeli wars.
Despite US F-4 Phantoms having massive firepower, good onboard radar, and better speed and acceleration, F-4s suffered higher losses. It led the US Navy to create its Naval Fighter Weapons School (TOPGUN) in March 1969. The USAF quickly began Dissimilar Air Combat Training (DACT) in a program called "Red Flag."
MiG-21s were operated by most Arab nations and were used in Arab-Israeli wars. Many MiG-21s were lost due to better operational tactics employed by Israel. MiG-21s also saw action in Libya and elsewhere in Africa. MiG-21s have reportedly scored around 240 aerial victories to date.
MiG-21 Variants Still Flying
A total of 11,496 MiG-21s were produced globally. This included 10,645 produced in the USSR, 840 in India, and 194 in Czechoslovakia. In addition, China produced over 2,400 Chengdu J-7, a variant of MiG-21, in the period 1965-2013. MiG-21 variants continue to be flown by many air forces, notable among them are the PLA Air Force (PLAAF), which has around 350 J-7s (MiG-21 variant) and J-8s (a J-7 derivative), according to the Military Balance 2022.
They have plans to retire them from operational service later in 2023 but may continue to use them in training and may mothball the rest for possible use in an operational contingency.
Pakistan has been the largest non-Chinese operator of the F-7, having procured around 120 F-7P and 60 F-7PG. The Pakistan Air Force (PAF) has phased out most of its F-7P aircraft. Around 50 F-7PG aircraft remain in service, mainly used for operational conversion.
IAF has around three squadrons of MiG 21 'Bison' that got inducted after the upgrade in 2000. Other Asian and African countries still operate some F-7 variants in smaller numbers.
In Praise Of MiG-21
The MiG-21 has been called the AK-47 of airplanes. "Rock-solid airframe," noted a former MiG-21 ground technician. "Really, the thing only needs to be topped off with fluids, and it just goes and goes."
When the US Air Force operated MiG-21s as adversary aircraft combat trainers, they found them to be, in the words of one crew chief, "Just like your family car. As long as it's full of fuel, you pull it out of the garage and start it up."
Maintenance typically consisted of changing the oil, brakes, and tires after every 50 sorties.
"With a set of home socket wrenches and screwdrivers, you could get a lot of maintenance done on the little jet," said another crew chief. Even more important is that a MiG-21bis could be had for US$500,000. A second-hand F-16C could cost a small country US$15 million.
There were around 44 privately owned MiG-21s in the USA. Also, Draken International, an American provider of tactical fighter aircraft for contract air services, had acquired 30 MiG-21bis/UM, mostly ex-Polish, and was last known to be still operating them.
Comparative Accident Rate
For a very long time, the MiG-21 was the dominant numerical type in the IAF. MiG accidents received a significant share of public and media attention. Many times some were unclear on the difference between MiG-21, MiG-23, MiG-27, or MiG-29.
A MiG was a MiG, they understood. From this grew the idea that the MiG-21 was a flying coffin, an unfair description, as one will see from statistical analysis.
India's Air Chief Marshals BS Dhanoa and RKS Bhadauria flew the MiG-21 solo just before their retirement not so long back, showcasing their confidence in the aircraft and its safety.
Dr. Shiv Shastry, an aviation researcher, used well-documented open-source aircraft accident data to look at the MiG-21 records and compared them with other aircraft of yesteryears. Figure 1 below shows the total numbers and peacetime losses of different types.
The MiG-21 variants have been in service for 60 years. When one calculates the percentage of aircraft (from the total in service) of each type lost per year of service, some facts emerge, as seen in Figure 2 below. It indicates the percentage of total fleet lost per year.
It can be seen that during peacetime, the average number of MiG-21 losses, despite sheer numbers and years of operation, is lower than most fleets. It must also be noted that the MiG-21 sorties were much shorter in duration. The MiG-21 has not been as unsafe as often projected to be.
The IAF calculates its accident rate by number of accidents per 10,000 hours. The accident rate of the IAF has been steadily decreasing and is currently at near record lows.
The major causes of accidents have been human error, either by the operator or support service provider, and technical defects. The IAF has joint quality audits with Hindustan Aeronautics Ltd (HAL) to reduce accidents due to technical defects.
The IAF has been striving hard to achieve a high degree of safety while meeting the organizational objectives. The issues related to flight safety are being monitored at the level of the Chief of the Air Staff himself.
Accurate evaluation of risks present and their effective management appears to be paying dividends. IAF's accident rate is comparable to the most advanced air forces in the world.
Great Era, Time To Retire Gracefully
The B-52 Stratofortress first flew in 1952, remains in service today, and will be flying for 100 years until 2052. New C-130s continued to roll off the production line based on a design that became operational in 1954. But those are bombers and transport aircraft; they don't fight one another.
Fighters face a special longevity problem because they must compete directly with newer models.
Thus, very few fighters have had long life spans in production or service. Indian MiG-21 Bison has served well. There may never be a 100-year-old fighter serving. Seventy years would be a ripe age for MiG-21 to retire in 2025.
India must be patient and let the professionals in IAF take the final call keeping the safety and defense of the nation in mind. MiG-21 will remain one of the iconic fighters of the supersonic age and continue to get a place of pride in aviation museums.
Air Marshal Anil Chopra (Retired) is an Indian Air Force veteran fighter test pilot and is currently the Director-General of the Center for Air Power Studies in New Delhi. He has been decorated with gallantry and distinguished service medals while serving in the IAF for 40 years. He tweets

@Chopsyturvey