The Indian and French Air Forces recently conducted the second edition of Exercise Desert Knight over the Western Seaboard, involving fighter jets of both countries in spectacular formations.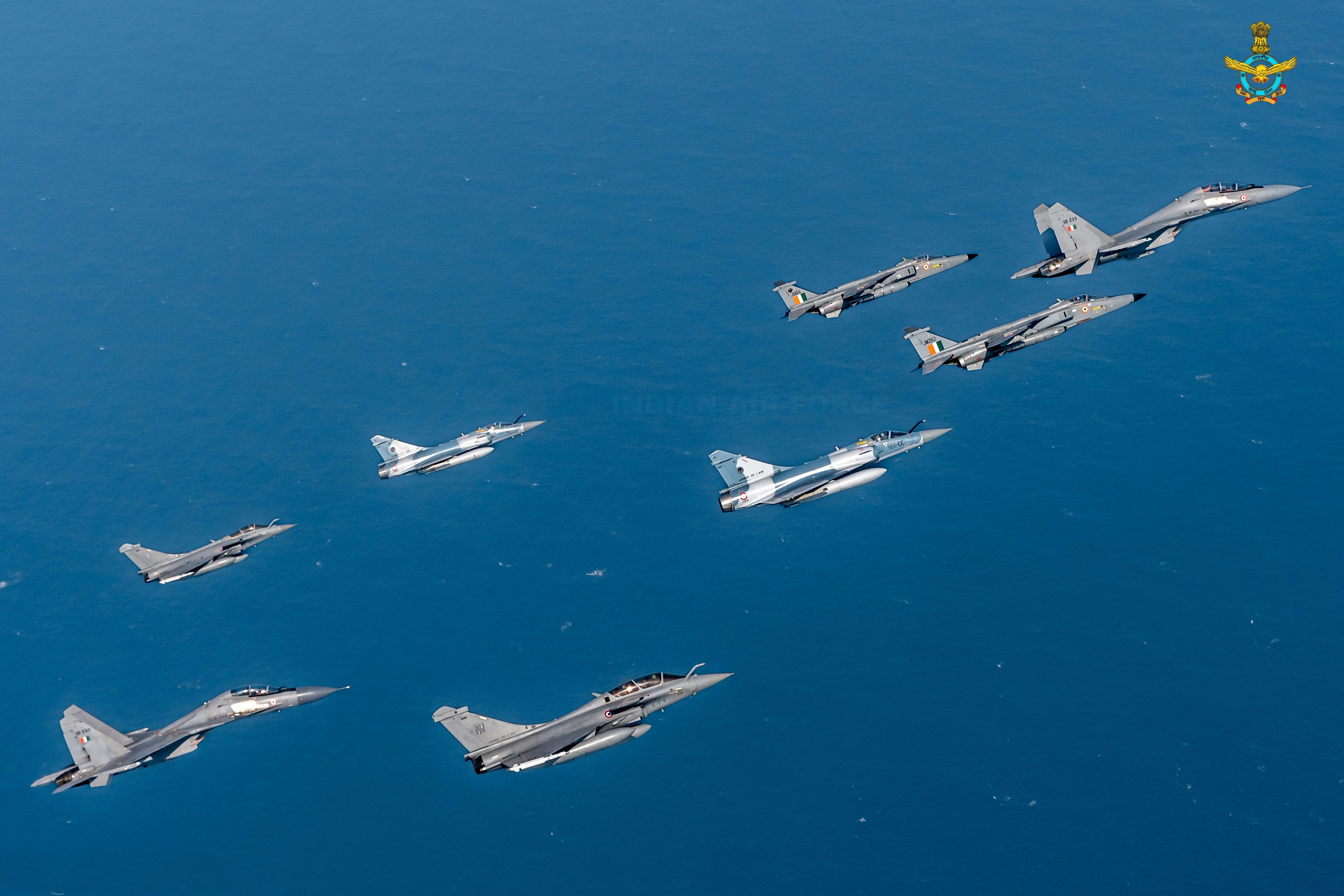 Informing about the exercise and sharing photos, the Indian Air Force tweeted "Distance is just a test of how far a friendship can travel," signaling the close ties between New Delhi and Paris forged in recent years.
France has emerged as India's second-largest arms supplier between 2016-2020, with an increment of a whopping 709% compared to 2010-2015, according to global arms trade watchdog SIPRI. This is also attributed to the Rafale deal and associated infrastructure and munitions.
With a hashtag of #FriendsAcrossContinents, the IAF added "@IAF_MCC & @Armee_de_lair aircraft participated in a Large Force Engagement exercise over the Western Seaboard, furthering mutual cooperation and friendly ties."
"Distance is just a test of how far friendship can travel."@IAF_MCC & @Armee_de_lair aircraft participated in a Large Force Engagement exercise over the Western Seaboard, furthering mutual cooperation and friendly ties.#FriendsAcrossContinents pic.twitter.com/FiAy9b5eY7

— Indian Air Force (@IAF_MCC) November 18, 2021
France deployed its Mirage-2000 and Rafale fighter aircraft, while the Su-30MKI and Jaguar represented the Indian Air Force in the exercise.
The first edition of the Desert Knight took place earlier this year in January over the skies of Jodhpur in India's Rajasthan and was a part of the French air force "SkyRos" deployment that aimed to increase the French influence in the region.
Interestingly, the Indian and French armies are also engaged in the sixth edition of joint military exercise "SHAKTI-2021" at the Southeastern French port town of Frejus. The exercise is aimed at cooperation and mutual understanding of each others' practices on counter-terrorism operations in semi-urban terrain.
Exercise #SHAKTI2021 #IndianArmy contingent will participate in the 6th Edition of India–France joint military exercise 'EX-SHAKTI 2021', being conducted at #Frejus #France from 15 to 26 Nov 21.#IndiaFranceFriendship pic.twitter.com/yuZcaD19OQ

— ADG PI – INDIAN ARMY (@adgpi) November 12, 2021
An Indian Army is represented by Gorkha Rifles while their French counterparts have fielded troops from the 21st Marine Infantry Regiment of the 6th Light Armoured Brigade. The previous edition of the SHAKTI exercise was conducted at Mahajan Field Firing Ranges in Rajasthan.
More Rafales For Indian Air Force
The Indian Air Force's ambitions to incorporate Rafale fighter jets into its fleet is now coming to completion. On Thursday, the French ambassador to India, Emmanuel Lenain announced that the IAF will receive its last Rafale by May 2022, completing the order of 36 aircraft signed in 2015.
The Rafale deal made global headlines and attracted controversy in India until the apex court investigated and quashed the allegations in 2018. Nevertheless, the deal progressed and the first Rafale entered into Indian service in July 2020, at a time the country's armed forces were engaged in a bitter standoff with the Chinese military in Eastern Ladakh.
The Indian Air Force had an initial requirement of 126 multi-role fighters, however, as the process got stuck, New Delhi decided to acquire 36 Rafale jets from France an Inter-Governmental Agreement.
The requirement for multi-role fighters still remains as more and more MiGs and Jaguars are scheduled to be retired.  So what next for the Indian Air Force?
Indian Air Force – The Way Ahead
The Indian Air Force plans to operate 42 Squadrons by 2035, deploying over 450 aircraft for deployment along the troubled Northern and Western borders of the country.
The IAF along with Defense Research & Development Organisation (DRDO) and Hindustan Aeronautics Limited (HAL) have been working on various projects.
Due to budgetary and domestic technological constraints, the primary focus of current modernization and upgrades is to replace aircraft purchased from the Soviet Union that currently form the backbone of the Indian Air Force.
The modernization process started with the age-old MiG-21 supersonic interceptor aircraft upgraded to "Bison" standard; MiG-29 to UPG standard and DARIN upgrades for the Jaguar fleet. Development of Electronic Warfare suites, radar, and other sensors is also being done in parallel to complement these projects.
Acquisitions
"In the next 15 years, 83 LCAs (Tejas) are IAF's primary focus, followed by LCA Mark 2 will come in we are looking at close to 100 of those, that makes it near 200 of LCA class," the then IAF chief RK Bhadauria told news agency ANI in an interview in 2020.
"AMCA, we are looking at six squadrons, so that puts it close to 100 (aircraft). So, in the indigenous domain areas which are already frozen in terms of our requirement, in terms of our understanding with DRDO in the fighter (segment)," he added.
As a 'sequel' to the earlier MMRCA competition that led to the acquisition of 36 Rafale aircraft, an RFI was issued in 2018 by the Indian Government for the acquisition of 114 Multi-Role Combat Aircraft for the Indian Air Force.
Currently, IAF operates Su-30MKI and MiG-29UPG as primary twin-engine air superiority fighter aircraft now complemented by Rafales.
While the orders for FOC (Final Operational Clearance) standard Tejas Mk-1 and Mk-1A variants are already in place, HAL has come up with a new and more 'inclusive' variant of the type: the Tejas Mk-II.
In a mock-up displayed at Aero India 2021, the said Mk-II variant had an elongated airframe, close-coupled canards, new sensors, and a more powerful engine.
The Tejas Mark 2 is being designed to replace fighters of the Indian Air Force including Jaguar, Mirage 2000 and MiG-29. The first flight of Tejas Mark 2 is planned to be in 2023 with series production by 2026.