The Indian Navy faces several maritime challenges in the Indian Ocean region. With both Pakistan and China enhancing their presence near its waters, it becomes imperative for India to boost its own resources.
For the past few years, it has remained focused on the development of submarines and the acquisition of submarine rescue systems that could aid it in case of a contingency. In a fresh development, India's Ministry of Defense (MoD) has issued a Request for Information (RFI) for submarine rescue simulators.
According to this RFI issued in January 2022, the MoD is acquiring two sets of simulators that would train Navy personnel to operate submarine rescue vessel (SRV) and remotely operated vehicle (ROV) systems.
The SRV one should be able to simulate the actual vehicle's rolling and pitching motions, as well as have the same "look, feel, functions, man-machine interface, and response time" as the Indian Navy's Deep-Submergence Rescue Vehicle (DSRV).
A DSRV is a type of deep-submergence vehicle used for submarine rescue operations and covert missions. India is one of the select countries that possess this capability. It has two DSRVs that it procured from James Fishers & Sons, a UK-based company.
The Indian Navy inducted its first DSRV in 2018 and the second one in 2019. Further, in 2020, a DSRV Complex was inaugurated at Vishakhapatnam to ensure the operational readiness of the vehicles with all equipment intact and ready to use.
Video alert: India successfully tranfers personnels using Deep Submergence Rescue Vehicle (DSRV).Personnel were moved out from INS Sindhudhvaj submarine, which was the "distress submarine", using a DSRV. pic.twitter.com/bEmMFUzP2H

— Sidhant Sibal (@sidhant) June 6, 2019
With a growing fleet of submarines in the Indian Navy and its plans for expanding its fleet to deal with the challenges in the near seas, India's Ministry of Defense has earnestly pursued the DSRV project.
In the Goa Maritime Conclave attended by Indian Navy commanders and delegations from Indian Ocean countries last year, the service displayed its submarine rescue capability. Only a few countries in the IOR possess this capability, as previously reported by The Hindu.
In the Union Budget presented by the Finance Minister earlier this month, the Indian Navy had received an increased share amid "challenges in the Indian Ocean Region".
India's Deep Submergence Rescue Effort
The Indian Navy is equipped with two full third-generation fly-away submarine rescue systems. It received Deep Search and Rescue Vehicles (DSRV), Launch and Recovery Systems (LARS) equipment, Transfer under Pressure (TUP) systems, and all logistics and support equipment by the manufacturer. A 25-year all-inclusive maintenance support service was also included in the contract, according to JFD.
The equipment can reach a maximum depth of 650 meters and rescue 14 people in a single operation. Because submarine mishaps can happen anywhere, the DSRVs are built to be agile and easily transportable to remote locations, according to Capt. Koushik Hota, Officer in Charge, Submarine Rescue Unit (West).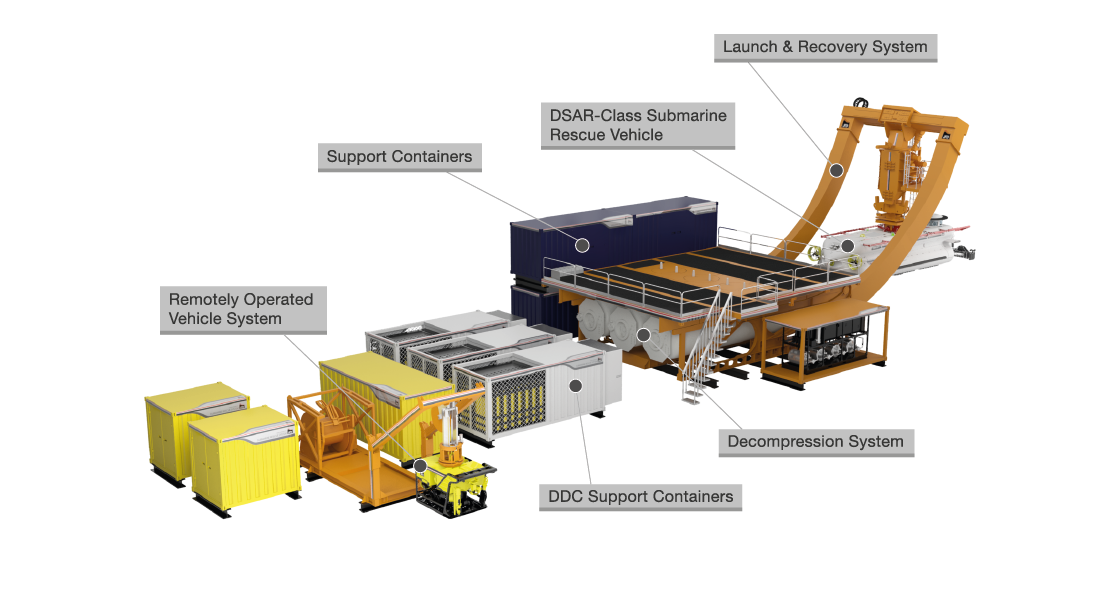 The entire system has been separated into 24 components, each with the footprint of a typical container and capable of being moved by road, sea, or air.
Heavy transport planes such as the IL-76 and C-17 could transport the DSRV, which is linked to the mother ship INS Sabarmati. "We're looking at 72-96 hours from the moment of distress to the time of initial rescue," Cdr V.K. Singh, pilot of the DSRV on the west coast explained.
The Navy also looks forward to participating in international submarine rescue exercises to sharpen their skills and deepen ties with neighbors and partners.
In April last year, India had dispatched two DSRVs to locate the missing Indonesian submarine KRI Nanggala, but they were pulled back mid-way after the Indonesian Navy reported that it had identified the missing sub's debris.
#Breaking India dispatches a deep-submergence rescue vessel (DSRV) to aid in the search and rescue operations for the Indonesian submarine that went missing 60 miles north of Bali on Wednesday, with 53 sailors on board. #IndianDSRV pic.twitter.com/zQZdYFtDe3

— Rajat Pandit (@rajatpTOI) April 22, 2021
During trials in 2018, the DSRV submerged to a depth of 666 meters, breaking the record for the deepest submergence by a manned vessel in the Indian seas.
The DSRV crew has also performed Remotely Operated Vehicle (ROV) operations at greater than 750 meters and Side Scan Sonar operations at greater than 650 meters.
Why Does Navy Need Simulators?
A simulator is a program or equipment that creates a virtual replica of a real-life environment, such as a flight simulator, for the purpose of training or experimentation. The Indian Navy would want to acquire DSRV simulators to impart real-time training to its personnel.
While the simulators have massive benefits, they do not aim to replace the training conducted on actual platforms. They merely familiarize the personnel with the platform that they will be required to operate. It is a time and cost-effective training instrument that is employed by militaries around the world.
In September last year, the Defense Ministry issued a policy for increased use of simulators by armed forces to provide safe and cost-effective realistic training while preserving expensive equipment.
The policy aims to reduce live equipment utilization, ensure capability plans account for phased induction of simulators, factor in simulator requirements when planning procurements, and establish a coordination mechanism among various agencies for a combined purchase of simulators, according to a statement from the ministry.
Last November, even the Indian Air Force had signed a deal with Hindustan Aeronautics Limited (HAL) to purchase two simulators for its nuclear-capable Jaguar aircraft, as previously reported by the EurAsian Times. So, the simulators will be used by all services to aid the military training effort.
As the focus of warfare and power assertion shifts to the sea, the Indian Navy seems to be strengthening its contingency efforts as well as enhancing its prospects of becoming the net security provider in the IOR in a true sense.