PM Modi may well be the first Indian leader to have a robust forward policy for Central Asia and the Middle East. The map below proves that while history is about self-awareness, geography is about destiny. PM Modi seems well on his way to propel India into a game-changing role by powerful ties with Central Asian and the Middle-East countries. A EurAsian Times analysis.
---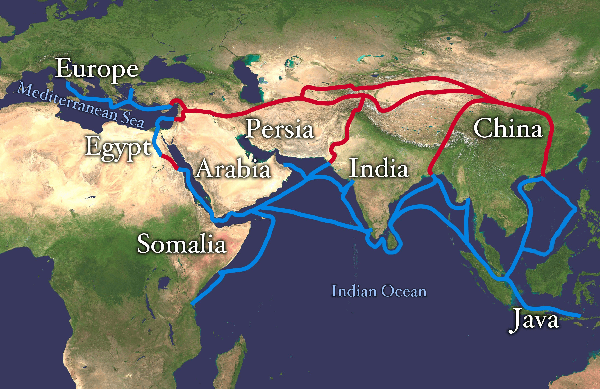 Notwithstanding the highly subjective articles by Indian journalists who are typically ignorant when it comes to understanding economic matters, this post by EurAsian Times attempts to analyse the India-China competitive global strategy.
Contemporary Indian analysts lacking a sense of historiography do not realize that the Chinese revival of the Silk Road is the revival of a failed idea. The Spice route was developed because the middle kingdoms had become too unstable politically for profitable mercantile commerce.
It is exactly the same situation today! China has to make the risky bets because it has no choice but India can make far superior bets. Modi's current visit to Saudi Arabia following his other trips is the unveiling of the Varuna gambit to rule the Arabian Ocean. Remember Varuna rides a Makara, a sea dragon who is more than capable of handling the Chinese fire-breathing dragon.
Do you see the countries on the map that the Chinese infrastructure has to pass through, a chain that is only as strong as its weakest link? Would you as an investor put money in that project? Is the Chinese investment in Gilgit really going to prove viable as an entry point for the Middle East or is it only limited to turning Pakistan into a colony for Chinese goods?
This analyst for a long time has argued that the Make in India strategy has been flawed because it was fighting the last battle. Today's battle is fought not in manufacturing but in Supply Chain management of which manufacturing is only a cog.
EurAsian Times analyst has too much respect for the Chinese supply chain and the superb Chinese global entrepreneurs, when it comes to supplying the Western markets, to believe that the Indian manufacturers have any chance of getting meaningful market share in new Industries.
Container ships leave Hong Kong for Los Angeles with high frequency and the average shipping time is only 15 days. Contrast this with Mumbai where the frequency is spotty and the transit time is double that.
For a buyer, this means that the safety stocks and inventory capital costs are much higher. Worse most of the sales in the US economy happen in the crucial fourth quarter. It is here that the ability to reorder hot products such as in toys, fashion apparel etc. is critically dependent on the shipping turnaround time.
India simply cannot play that game even if its costs are lower. The US by and large belongs to China. But when it comes to the Middle East a boat takes only five days! Plus there is no political uncertainty of anybody spiking the supply line. The Middle East and Africa did and can once again belong to India. If any pirates get in the way well the Indian Navy is truly capable!
Highly placed Middle Eastern friends, the Bain private equity report for 2015 and other sources all point me to the same thing. The Saudis will end up creating the biggest sovereign fund in the world.
Analysts believe that with an IPO of Aramco this could be in the $ 2 trillion range. Now, where are they going to invest it in? When one looks at returns in the US they are around 13% and trending down. In India, returns are in the low 20%+ or nearly double. This is a huge difference. This means that in the US you can double your money in 6 years whereas in India it is 3.5 years.
How Japan PM Abe Quickly Balanced Ties With China's Xi and India's Modi?
Compound this and you will see why the Arabs are seeing India as the Golden Bird once again. It is not just about capital though, there are deep stakes that India has in the region. Indians repatriate $ 30 Billion a year back from the Middle East. There are about 7 Million Indians working in the Middle East and there is deep social connectivity which leads to business opportunity.
If Modi stays on course and wins another term he will emerge as the only global leader who is trusted by both the Israeli and Arabian leaders. More importantly, his appeal goes directly to their public. A Palestine peace deal orchestrated by Modi will find a lot of support from the common people on both sides of the divide.
If you disagree, then name any other global leader who would be better? This will show that Vasudeva Kutumbakam (The World is Our Family) is not just theory but that India can execute it for global peace and prosperity.
The EurAsian Times is an English Language Digital News-Site, which specializes in reporting News and Editorials on South Asia, Asia Pacific, Middle East, and the Eurasian Region. EurAsian Times has a strong editorial presence in New Delhi, Dubai, Karachi, and Toronto and have expertise in penning editorials on Defence, Politics, Health, Education and International Relations. A team of highly trained journalists, activists, freelancers and artists contribute to the EurAsian Times, apart from the coverage by its staff writers.
More News at EurAsian Times