Indian and Chinese (PLA) troops expressed their determination to enhance functional-level relations and maintain peace and tranquillity along the Indo-China border, said a Defence spokesperson.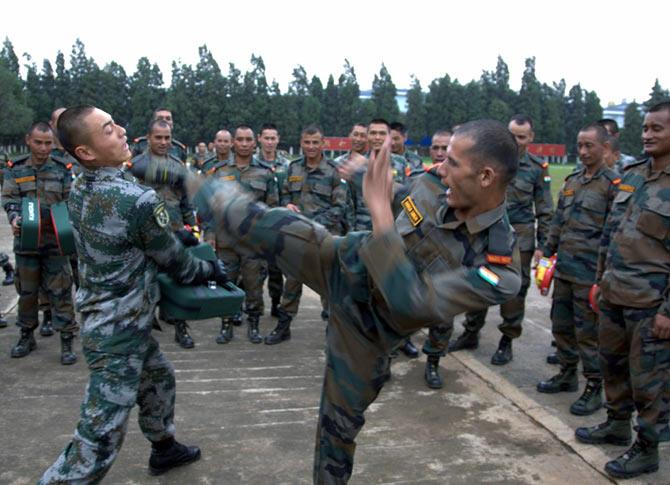 The two armies expressed the resolve to further improve ties and maintain bilateral treaties and agreements signed by their governments during the ceremonial Border Personnel Meetings of the Indian and Chinese troops on the occasion of India's Independence Day.
The ceremonial meetings were conducted at the two designated Indian BPM Huts at Daulat Beg Oldie in northern Ladakh and Chushul-Moldo in Ladakh.
The Chinese army (PLA) personnel held the ceremonial meetings with their Indian counterparts, whereas the Pakistani border guards ignored Indian pleasantries on the auspicious occasion of Eid-ul-Adha.
Pakistan Rangers also skipped the customary, independence day practice of exchanging sweets with India's Border Security Force at Attari-Wagah border.
Keeping with the trend, India and Pakistan armies avoided exchanging greetings and sweets on Indian Independence Day too along the LoC in Jammu and Kashmir, said officials.
The Indian and Chinese armies hold their border personnel meetings on their respective auspicious occasions at five points — Daulat Beg Oldie in northern Ladakh, Kibithu in Arunachal Pradesh, Chusul in Ladakh, Bum-La near Tawang in Arunachal Pradesh and Nathu-La in Sikkim.
In Thursday's Indo-China BPMs, the Indian delegations were led by Brigadier H S Gill and Col S S Lamba while Senior Col Yin Hong Chen and Lt Col Liming Ju headed the Chinese delegations, said the defence spokesperson.
This was followed by the ceremonial address by both delegation leaders which included the exchange of greetings and vote of thanks, the PRO said. In their addresses, they expressed their determination to enhance their functional-level ties and maintain peace and tranquillity along the border, the PRO added