Over 200 Indian-origin Jews from the Bnei Menashe community, who migrated to Israel in the recent past, have joined the Israeli Defense Forces (IDF) for active or reserve duty in the war on the Palestinian group Hamas since the October 7 massacre, media reports said.
According to a report by the Jerusalem Post, which quoted the Shavei Israel nonprofit this week, they were either called up for active or reserve military duties or volunteered.
Of these soldiers, 75 were recent immigrants from India who volunteered for military duty post the Hamas attacks, while the remaining 140 were called for military service from their settlements across Israel.
Shavei Israel is a Jerusalem-based nonprofit founded by Michael Freund to strengthen Israel's ties with the Jewish diaspora communities worldwide.
The nonprofit has been lobbying over the last two decades for mass immigration of the Bnei Menashe community, which claims its descent from one of the Lost Tribes of Israel.
In May, the Jerusalem Post quoted Freund: "There are a total of about 5,000 Menashe people left in India who have been requesting to immigrate to Israel for many years."
According to Shavei Israel, 99 percent of all men of military age who immigrated from India joined Israel's fight against the Hamas terrorist group, while 90% of women enrolled in National Service.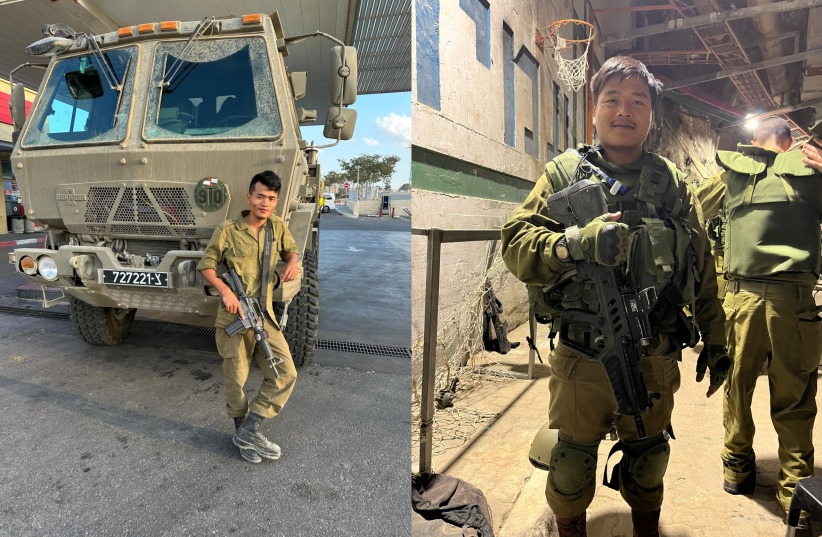 Bnei Menashe Jews To Fight Hamas
The report said Natanel Touthang, aged 26 and a member of the Bnei Menashe community, was wounded by shrapnel from a Hezbollah rocket fired at Israel's north after the conflict breakout on October 7. Touthang was serving in the Givati Brigade when he was injured.
"Since the war broke out, Shavei Israel has received hundreds of requests from young community members in northeastern India asking to make Aliyah (migrating to Israel) immediately," Freund said.
"Not only that — they are asking to join the IDF immediately to fight shoulder to shoulder with their brothers and sisters," he said.
Jews Holidaying In India Return To Israel
Meanwhile, Indian media reports have said around 2,500 Israeli nationals, most of them holidaying in India, have silently left India to return to Israel to serve their nation, either in the armed forces or the National Service.
In particular, Himachal Pradesh's Dharamshala, the headquarters of the Central Tibetan Administration, which is the Tibetan government-in-exile, has witnessed a silent exodus of Israeli tourists since October 7.
The raging month-old conflict between Israel and Hamas has adversely impacted Israeli tourist arrival in Himachal Pradesh, a popular destination among young Israelis, who have mainly completed their compulsory military service in the IDF but are now part of the reserve.
Dharamkot, near Dharamshala, has been a favorite spot for Israeli tourists, around 20,000 of whom flock to this destination annually. Dharamkot is about 2 kilometers from McLeodganj and in the lap of Dhauladhar mountains.
Called the 'Mini Israel' due to the large presence of Israeli tourists, Dharamkot is now a deserted place, according to the locals, whose primary means of livelihood is catering to the needs of Israeli tourists.
With signage in Hebrew, the place boasts a Chabad House, the Jewish community center, and several young Israelis solemnize their marriage here.
This time of the year, around 300 young Israeli tourists were in Dharamkot, and they all left within 48 hours of the October 7 Hamas strike, The Tribune, published from Chandigarh in northern India, quoted a Dharamkot restaurant owner Rashpal Pathania as saying.
Another resident of Dharamkot said the Israeli tourists had told him that they could not be holidaying now when their nation was under attack. Military duty beckoned them back to their homeland.
Kasol, also called the 'Tel Aviv of the Hills' in the region, witnessed a similar exodus of Israeli tourists post the Hamas attack and war declared by Israeli Prime Minister Benjamin Netanyahu on the Palestinian group.
India's 'Outlook' magazine reported, quoting Kasol hotelier Munish Thakur, that though the Israeli tourists were unsure of how they would reach Israel following the suspension of air connectivity with Tel Aviv, Israel's capital city, they made a quiet exit from the tourist destination.
NC Bipindra is a 30-year veteran in journalism specializing in strategic affairs, geopolitics, aerospace, defense, and diplomacy. He has written extensively for the Times of India, New Indian Express, Press Trust of India, and Bloomberg News. He can be reached ncbipindra (at) gmail.com