The Indian government is expected to place an order for 200 new K-9 Vajra (Thunder) 155mm self-propelled howitzers worth over Rs 10,000 crore (approx USD 1.5 Billion) with Larsen & Toubro, India Today reported. 
The report claimed that the order could be placed by this year with delivery beginning from 2023 and projected to be finished by 2028. A considerable number of these guns will be particularly modified to function in the high-altitude cold deserts of Ladakh and Sikkim, with upgraded engines. 
This deal could be signed with Larsen & Toubro (L&T) at Defexpo 2022, the defense ministry's biennial land and naval systems exhibition, the report said. The 12th edition of Defexpo will take place in Gandhinagar, Gujarat, from March 10 to 13.  
In a joint venture with South Korean defense company Hanwha Defense, L&T previously delivered 100 K-9 Vajras worth Rs 4,500 crore to the Indian Army. The contract was signed in May 2017, with the army receiving the 100th cannon in February 2021.
A new order will provide a big boost to the local industry and will be a big step forward in the government's ambitions to modernize the armed services.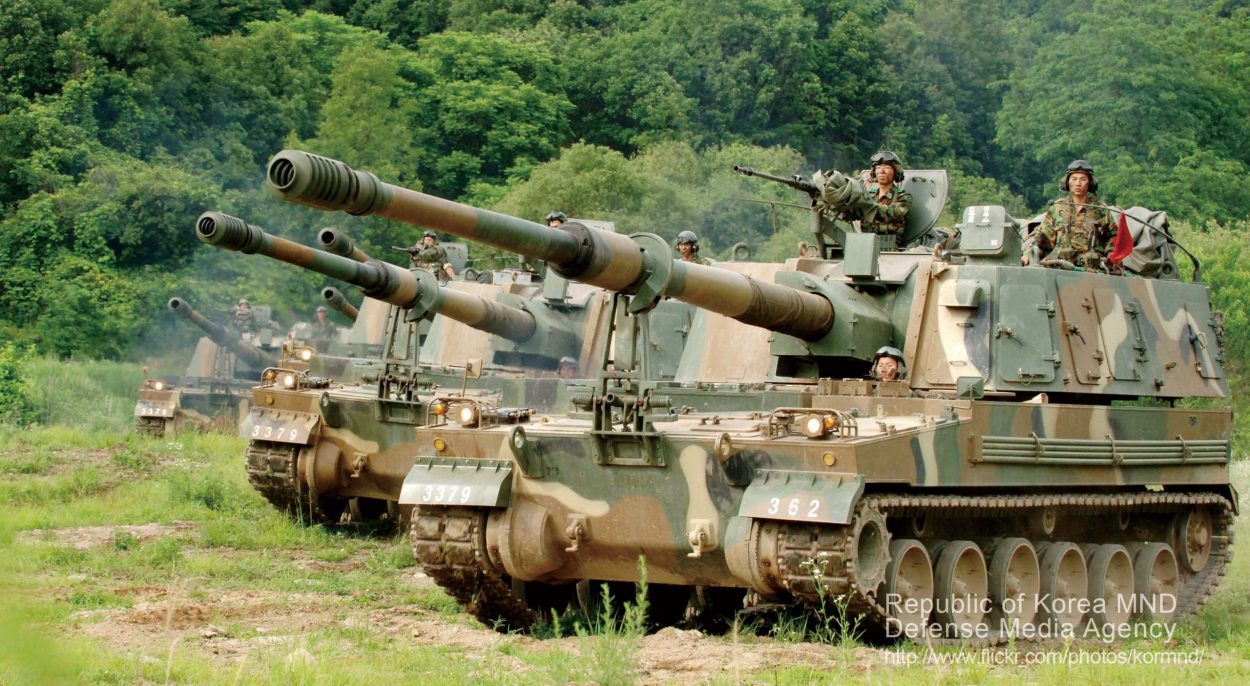 More K-9s For Indian Army
The Indian Army currently has five K9 Vajra regiments. Each regiment is equipped with 18 guns and two reserve units. The guns acquired by the Army under the initial contract were intended for use in Punjab's plains and Rajasthan's semi-desert terrain along the Pakistani border. 
Following the successful trials of three K9 Vajra, which were sent to Ladakh earlier last year, the army was mulling to order at least two more regiments of the 155mm/52 caliber howitzers that would be deployed in the mountains. 
"The guns drove up from Leh to the forward areas of eastern Ladakh on their own power (instead of a tank transporter-trailer), demonstrating their ability to operate independently," the India Today report says.
"These guns can also work in high-altitude areas. Field trials were extremely successful. We have now added an entire regiment, and this will be really helpful," Army Chief General Manoj Mukund Naravane said back then.
The Indian Army later deployed the first K9-Vajra self-propelled howitzer regiment in the forward areas in the Ladakh sector along the Line of Actual Control (LAC) with China.
"If you don't have at least 10 more regiments of self-propelled artillery, you will fall short all over the border," says Lieutenant-General P Ravi Shankar, former Director-General of Artillery. 
#WATCH K9-Vajra self-propelled howitzer in action in a forward area in Eastern Ladakh pic.twitter.com/T8PsxfvstR

— ANI (@ANI) October 2, 2021
L&T Engineers upgraded the guns in the field to make them suited for operations in Ladakh. The range tables and software that guided these guns had to be updated due to the high altitude, and special kits were added to allow operation in low temperatures. 
The latest report also suggests that China's military deployment along the border could be the reason behind the new order. In Oct 2021, The People's Liberation Army (PLA) deployed over 100 long-range PCL-181 light, truck-mounted howitzers along the frontier with India in Tibet. 
K-9 Vajra Self-Propelled Howitzer
K-9 Vajra is essentially a mobile howitzer. It has its own propulsion mechanism for moving towards its firing location and can be used to shell enemy positions from a long distance.  A K9 Vajra weighs 50 tonnes and can fire shells out to over 50 kilometers. 
The projectiles are loaded into the ammunition tray by an automatic loading system and are ready to be fired. When in a stand-by position, the K9 Thunder can fire within 30 seconds, or 60 seconds while moving.
The crew of the K-9 is protected by all-welded steel armor that can withstand 14.5 mm armor-piercing shots, 152 mm shell fragments, and anti-personnel mines, as well as providing comprehensive nuclear, biological, and chemical protection.
The K9 is capable of firing its shells in MRSI mode (Multiple Rounds Simultaneous Impact). In MRSI mode, The K9 can fire three shells in under 15 seconds — one every 5 seconds — each with a different trajectory so that they all hit their target at the same moment. 
This is especially useful in open-air surprise bombardment techniques against enemy fortifications and strongholds.
It is also equipped with the K-10, an ammunition resupply vehicle. It shares the same chassis as K9, keeping K9's mobility, and it can keep up with the main artillery battery without lagging behind.