The Indian Army has reportedly deployed artillery weapons including K9 Vajra (K9 Thunder) self-propelled howitzers along the Ladakh border in the face of a fresh Chinese build-up under PLA's Xinjiang Military Command. 
On November 28, the Indian Army's Vice Chief of Staff, Lt. Gen. CP Mohanty, visited eastern Ladakh to review the military's preparedness. 
Recently, there were media reports, saying PLA's Xinjiang Military Command received many new artillery systems, including the PCL-181, PCL-161, and PHL-03 MLRS.
France Likely To Partner India In Developing Six Nuclear-Powered Attack Submarines – Analysis
While the Indian Army has not publicized much about its deployment along the Line of Actual Control, the de facto border with China, it has fought a few battles in the past in high mountains and is perhaps the most experienced force in high-altitude warfare globally.
India had made effective use of its Haubitus FH-77 Bofors howitzers during the 1999 Kargil war. Besides regular cross-border firings with Pakistan have made its gunners quite well-acquainted with the region although the two South Asian neighbors are currently observing a ceasefire along the de facto border in Jammu and Kashmir.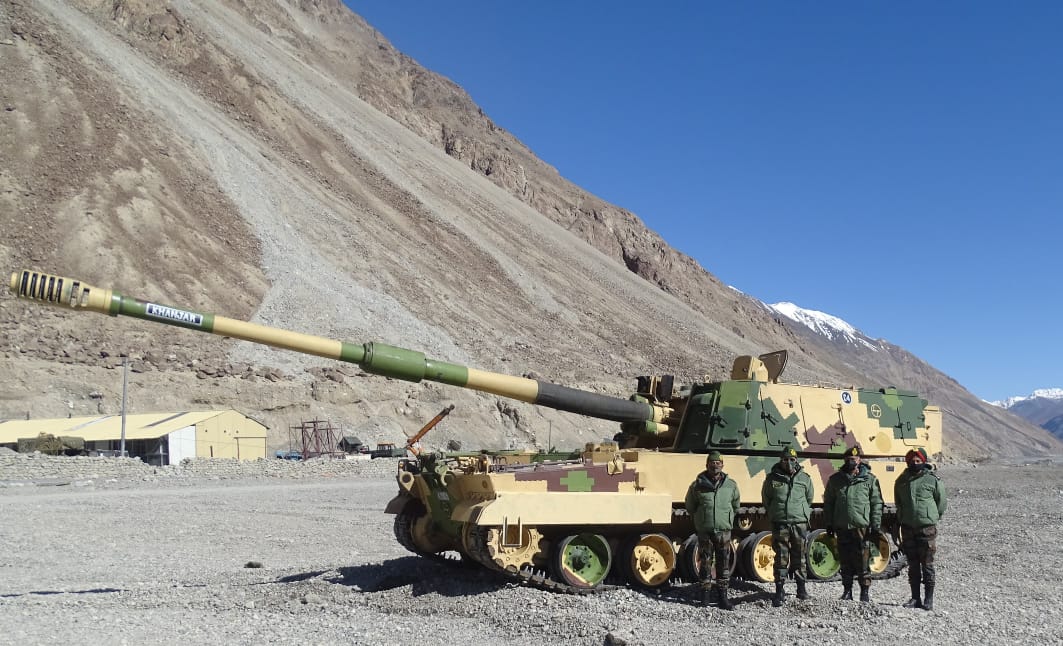 Also, the service has inducted many new systems in recent years after a long gap, that include the American M777 lightweight howitzers, K9 Vajra-T, Dhanush. Some are being developed including Pinaka Mk-II and Advanced Towed Artillery Gun System (ATAGS).
#LtGenCPMohanty, #VCOAS visited forward areas of #Ladakh; reviewed operational preparedness; commended All Ranks for maintaining high standard of vigil & alertness despite challenging terrain and climatic conditions. pic.twitter.com/btyyhKaCY8

— NorthernComd.IA (@NorthernComd_IA) May 28, 2021
The Army tweeted two images of Lt. Gen. Mohanty's Ladakh visit with one showing the K-9 Vajra SPH in the background.
"LtGen CPMohanty, VCOAS visited forward areas of Ladakh; reviewed operational preparedness; commended All Ranks for maintaining high standard of vigil & alertness despite challenging terrain and climatic conditions," the Indian Army's Northern Command said in the tweet.
According to the experts, K-9 Vajra is quite suitable for the barren landscape of Ladakh. The system had to undergo extensive weather-testing by the service, especially for Rajasthan's deserts. During the trials, the K-9 had to actually undergo a real sandstorm to demonstrate its capabilities.
What Is A Self-Propelled Howitzer?
A self-propelled howitzer is literally a howitzer on wheels. It is equipped with its own propulsion system to move towards its firing position and used for long-range indirect bombardment support on the battlefield. An SPH has almost the same range as its non-wheeled counterparts.
Modern self-propelled artillery vehicles superficially resemble tanks (much like the K-9 does), but they are generally light-armored. However, they protect their crews against shrapnel and small arms and are therefore usually included as armored fighting vehicles. Many are equipped with machine guns for defense against enemy infantry.
The K9 Vajra
The Indian K-9 Vajra is the domestic version of the South Korean self-propelled 155mm/52cal Howitzer (SPH) 'K-9 Thunder' designed and developed by the Agency for Defense Development and Samsung Aerospace Industries.
K-9's crew is protected by an all-welded steel armor construction which is designed to withstand 14.5 mm armor-piercing rounds, 152 mm shell fragments, and anti-personnel mines, and overall nuclear, biological, and chemical protection.
The K9 can fire shells in MRSI mode (Multiple Rounds Simultaneous Impact). In the MRSI mode, the K9 is able to fire three shells in under 15 seconds — 1 shell every 5 seconds — each in different trajectories so that all of the shells land at their target at the same time.
This is particularly effective in surprise bombardment tactics, especially against enemy fortifications and strongholds in the open.
Israel Says It Fought World's First "Artificial Intelligence War" Against Hamas
The K9 has a maximum transfer rate of shells of 12 rounds per minute, and the maximum load of shells is 104 rounds. The reloading process is fully automated and is done through a munition bridge on the K10 that extends out to lock itself into a reception hole located at the rear of the K9.
This allows the unit to rearm itself under harsh combat conditions without the crew having to expose themselves to the combat environment.