PM Narendra Modi had pledged to attain net-zero emissions for India by 2070 during COP26 held in Glasgow last year. In line with the PM's commitment, the Indian Air Force (IAF) is already doing its bit to cut carbon emissions.
The aviation sector — both commercial and military — is a major source of carbon emissions globally. Countries are looking at the use of sustainable fuel to cut emissions. While India has been part of several groupings and consultations that focus on green fuel for commercial aviation, its military is a new entrant.
In November last year, the home-grown technology of bio-jet fuel was formally approved for use on IAF aircraft.
#SaveFuel : In a step to lower import fuel costs by use of biofuels & ethanol-blended fuel, Indian Air Force will start using bio fuels to fly its transport aircraft.

Taking the lead, process for flying an An-32 transport aircraft of IAF with biofuels has already commenced. pic.twitter.com/XPaEyZCxKE

— Indian Air Force (@IAF_MCC) October 7, 2018
"The technology, developed by the Indian Institute of Petroleum (CSIR-IIP), a constituent laboratory of the Council of Scientific and Industrial Research, has undergone evaluation tests and trials over the last three years," according to a statement by the Ministry of Science and Technology.
"Fuel being the lifeline of aircraft requires thorough analysis before being filled into manned flying machines. The certification received by the lab today is an acknowledgment of the satisfactory results obtained from various ground and in-flight tests performed on the indigenous bio-jet fuel by various test agencies supported by the IAF", the statement released on November 29, 2021, read.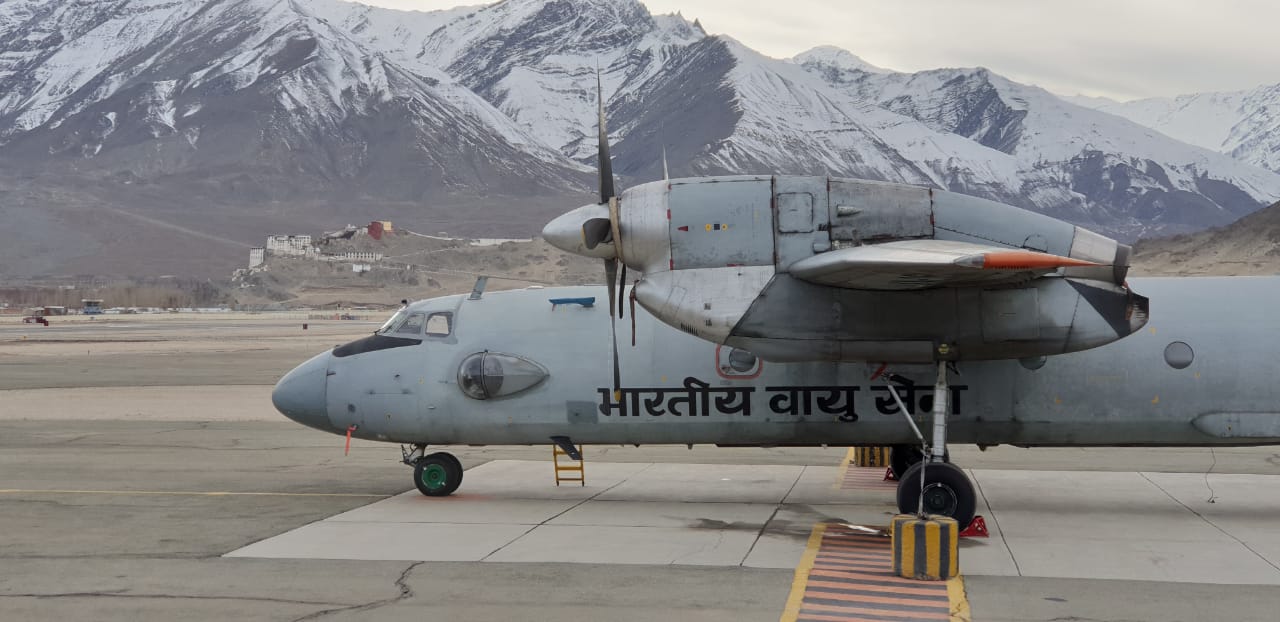 Even before the official certification was granted, in January 2019, during the Republic Day celebrations, an AN-32 aircraft carrying mixed bio-jet fuel flew over Raj Path in New Delhi.
Following that, the performance and reliability of Indian technology were put to the test when the military plane safely landed and took off from Leh airport at high altitudes in severe winter weather on January 31, 2020.
The success of these trials indicates that green fuel is the same as conventional fuel albeit with no pollutants. The fuel is apparently efficient enough to support heavy aircraft in harsh winter. However, post the November certification, there hasn't been any significant development in the use of 'Sustainable Air Fuel' that can cut emissions by 80 percent, if adopted on a mass scale.
The @IAF_MCC AN- 32 lands in LEH powered by Indigenous Bio Jet fuel.
This fuel is produced from non edible Tree Borne Oils procured from tribal areas of Chattisgarh. pic.twitter.com/NW4ojbVnwK

— Shreya Dhoundial (@shreyadhoundial) January 31, 2020
One reason could be the huge cost that would likely require a separate allocation to the IAF's budget. While the use of biofuel in military aviation is not compulsory, the commercial sector is soon going to feel some heat.
India's Quest For Green Fuel
The International Civil Aviation Organization's Carbon Offsetting and Reduction Scheme for International Aviation (CORSIA), which was authorized in 2016, would become necessary by 2027. Any increase in CO2 emissions above 2020 levels will have to be offset by all airlines and aircraft operators.
India's Directorate General of Civil Aviation (DGCA) had earlier informed that these rules will be applicable to Indian operators by the mandated year.
India's aviation industry has taken some advances in this direction. IndiGo signed an agreement with the CSIR-IIP last year to spearhead the deployment of sustainable aviation fuel in India and throughout the world.
India collaborates with Sweden to address the issue of stubble burning; Stubble to be converted to bio fuel pic.twitter.com/KB3mYobmZy

— Sidhant Sibal (@sidhant) December 2, 2019
The CSIR-IIP, Dehradun, is one of the country's key agencies involved in the development and manufacture of sustainable air fuel. The Indian Institute of Petroleum (IIP) is a key component laboratory of the Council of Scientific and Industrial Research (CSIR). The same technology was granted official certification by the Indian Air Force.
While the military sector saw the Russian-made AN-32 flying on bio-jet fuel, in the commercial sector, SpiceJet operated India's first biofuel-powered flight in 2018. While military aviation creates lesser emissions than commercial flights, cutting net emissions and adhering to the commitments would require a joint effort at adopting green fuel.
Received the first flight powered by #Biofuel at Terminal 2, IGI Airport along with Sh. @nitin_gadkari ji, Sh. @sureshpprabhu ji, Sh. @drharshvardhan ji and Sh. @jayantsinha ji. First time in India a test flight has been flown from Dehradun to New Delhi with blended bio jet fuel. pic.twitter.com/0TsjeiejDS

— Dharmendra Pradhan (@dpradhanbjp) August 27, 2018
The CSIR-IIP operates a pilot facility in Dehradun that produces 30 liters of sustainable air fuel per day approved by the American Society for Testing and Materials. The fuel is principally for the IAF's continuous flight experiments, according to an Outlook report. The IIP is also currently working with an Indian refinery and an Indian engineering firm to establish a new sustainable air-fuel plant.
This indicates that there is infrastructure in place and more is being created to facilitate the production of green fuel for IAF. The adoption of the fuel could then be considered tentative. However, the lack of clarity from the government and the IAF has led to speculations that there is laxity related to cost and policy issues.
Experts have claimed that it is a supply chain problem and there is a need for the government to incentivize production and adoption on a mass scale, in the military as well as commercial sectors.
However, the fact that the IAF gave an official certification and has been routinely carrying out flight tests is a significant step. Green fuel has found acceptance within some militaries across the globe, even though it has been utilized by the commercial sector significantly.
Who Else Using Green Fuel For Military Aviation?
The United States Air Force could be soon seeing adopting carbon-free fuel. Twelve, a carbon transformation, firm had announced the development of e-Aviation, the world's first fossil-free jet fuel in October last year. This research was funded by the United States Air Force and created fuel that is globally suitable for both commercial and military aviation.
Twelve's jet fuel, developed in collaboration with Emerging Fuels Technology, is a fossil-free fuel that may be used in place of petrochemical-based alternatives without requiring any changes to the existing design of a plane or commercial laws.
The UK Royal Air Force had also taken a significant step towards reducing carbon emissions from its aircraft, announcing in November last year that it had accomplished the world's first flight on 100 percent synthetic fuel in collaboration with commercial partner Zero Petroleum.
eVTOLs, electric training aircraft and sustainable aviation fuel? As the @RoyalAirForce pledges to go #NetZero by 2040 what will a 'green' sustainable air force look like? #avgeek #defence #RAF #COP26 #GlobalAirChiefs https://t.co/qzzo9Q1f6N pic.twitter.com/1K2j8l9sX4

— Tim Robinson (@RAeSTimR) July 2, 2021
The RAF has already stated that it intends to begin replacing petroleum-based fuels on aircraft later this decade and aims to achieve net-zero emissions by 2040.
Brazil has passed legislation for biofuel; however, its use is still focused on commercial aviation. A new law establishing the National Bio-kerosene Program went into effect last year. The goal of such a program is to persuade Brazilian airlines to utilize this sustainable fuel.
Bio-kerosene is a type of biofuel that can be used in place of aviation kerosene (known by the acronym QAV-1). It's made from vegetable oils (like soy), animal fats, municipal trash, and other biofuels. Because it is renewable, it minimizes the amount of pollution emitted by aircraft.
China, which is one of the largest polluters in the world, has also joined the bandwagon but only in commercial aviation. China Southern Airlines had announced the completion of its first transcontinental flight using aviation biofuel in February 2019.
The Airbus A320neo single-aisle plane was delivered via ferry flight from Toulouse, France to Guangzhou in southern China's Guangdong Province. The flight used aviation gasoline that contained 10% biofuel manufactured from sugarcane.
Further, in Switzerland, scientists have developed a way to make carbon-neutral jet fuel for hard-to-electrify heavy transport using sunlight and air.
Russia, on the other hand, has forged a partnership to produce biofuel. Gazprom Neft, Aeroflot, and Airbus formed Russia's first association of developers and producers of sustainable aviation fuel (SAF), with the first flight on such fuel scheduled for 2024, according to the Russian oil company.
All these trends indicate that biofuel is the future of aviation and work has already started in full earnest around the world to switch to Sustainable Air Fuel both for commercial as well as military aviation.