The Indian Air Force (IAF) has deployed a special forces unit close to the Line of Actual Control (LAC) in eastern Ladakh amid a standoff with the Chinese People's Liberation Army (PLA).
Watch: Turkish Armored Vehicle 'Blown Apart' By Russian ATGM 'Kornet' In Northern Syria
The IAF 'Garud' commandos were spotted in Noyoma Advanced Landing Ground (ALG) near LAC, multiple Indian news outlets reported.
According to news agency ANI, IAF has been operating the Apache attack helicopters and Chinook heavy-lift choppers in the area. The Garud special forces unit conducted exercises from Mi-17 helicopters.  
Interestingly, India and China last week decided to disengage at Gogra, one of the friction points at LCA, during the 12th round of corps commander-level talks. Earlier this year, both sides had pulled out their troops from Pangong Tso lake in eastern Ladakh.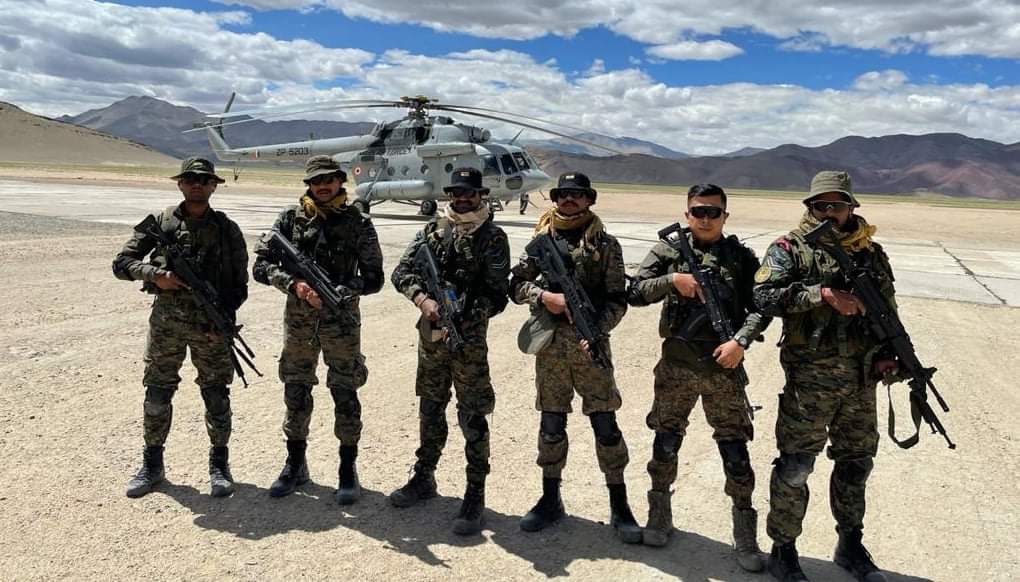 Despite such "positive moves", India and China continue to maintain a massive military presence in the disputed border area. While China has revamped its airfields in Xinjiang and Tibet regions for quick deployment of air assets, India is also likely to expand its capability to operate fixed-wing aircraft from facilities near the de facto border with China.  
The strategically-located Nyoma ALG of IAF has been witnessing a lot of activity of late. It is the closest airbase to the LAC in eastern Ladakh.
According to India Today, the Nyoma ALG which hosts the world's highest Air Traffic Control system has been hosting IAF's Chinook CH-47F and Apache helicopters to support the armed personnel stationed at the LAC.
Besides, Mi-17V5 medium-lift helicopters and C-130J Super Hercules have been engaged in transportation and logistics operations.
#Watch | Ladakh: Indian Air Force's Special Forces showcase capability to carry out special operations from a Chinook heavy-lift helicopter over the Nyoma Advanced Landing ground at around 13,500 feet altitude. pic.twitter.com/l4tOCLDAST

— ANI (@ANI) August 8, 2021
Additionally, the Nyoma ALG is being utilized to monitor movement on the Chinese side of the border from an altitude of 14,000 feet.
"Nyoma ALG has strategic importance due to its close proximity to Line of Actual Control. It bridges the critical gap between Leh airfield and the LAC enabling quick movement of men and material in eastern Ladakh, overcoming terrain friction," IAF's Group Captain Ajay Rathi told ANI.
Clash Of Superpowers: Is China On Course To Trounce The US In Deploying World's First 6th-Gen Fighter Aircraft?
The Garud Unit
According to the latest reports, Garud commandos of the IAF took part in an exercise at Nyoma ALG recently.
The commando unit was formed in the wake of the 2001 terror attacks at two IAF bases in Jammu and Kashmir. It functions like Indian Army commandos and the Indian Navy's MARCOS (Marine Commandos), but "with much greater multi-tasking capabilities than the other two", wrote Air Marshal VK Bhatia (retired).
??INDIAN ARMY ZINDABAD??

Armed with Negev Light Machine Guns, Tavor-21 & AK-47 assault rifles, Garud Special Forces operatives have been deployed in forward locations along the Line of Actual Control in Eastern #Ladakh

Thanks @narendramodi Ji @rajnathsingh Ji & team #ModiSarkar pic.twitter.com/8YNugVIjpc

— Jamyang Tsering Namgyal (@jtnladakh) August 9, 2021
"The group, originally christened 'Tiger Force', was later renamed 'Garud Force'. About a year later, in 2003, the Government of India authorized a 1,080 strong force to be raised and trained on the lines of para-commandos of the army and MARCOS of the navy but, with the additional mandate of performing niche air force specific operational tasks," according to Bhatia.
They are trained in jungle warfare, anti-terror operations and other forms of warfare. Apart from protecting airfields and air assets, Garuds "operate more on the lines of the army's para-commandos and the navy's MARCOS to undertake missions anywhere, including behind enemy lines".
ZERO Buyers! Boeing 'Hard Sells' Its F/A-18 Super Hornets To Indian Navy; Global Customers Give It A 'Royal Snub'
"Armed with Negev Light Machine Guns, Tavor-21 & AK-47 assault rifles, Garud Special Forces operatives have been deployed in forward locations along the Line of Actual Control in Eastern Ladakh," Bharatiya Janata Party lawmaker from Tsering Namgyal tweeted on August 9.
Last year, India had deployed one of its secretive military units called Special Frontier Force (SSF) in eastern Ladakh where Indian and Chinese troops have been locked in a standoff for more than a year now.
The 3,500-strong guerrilla force reportedly comprises exiled Tibetan youth who had fled to India along with the Dalai Lama. 
Meanwhile, IAF's Rafale and Sukhoi fighter jets are slated to participate in air patrolling in the region.
"The fighters have been operating regularly in this area earlier as well. The development of infrastructure for fixed-wing operations from ALG is planned in the near future," Group Capt. Rathi told ANI.
Notably, the Chinook has been designed to elude radar technology and is capable of conducting missions in the Himalayas with a flying range of about 550 km and for three hours at a stretch. Even, the Apache helicopter is deemed to be the most suitable for mountain warfare.
China's Special Forces
China boasts its commando forces whose prowess was demonstrated during the Ingenious Special Operations Soldier-2018 exercise. Its naval commandos were involved in evacuations in Yemen in 2015 and in returning a freighter seized by Somali pirates in the Gulf of Aden in 2017.
However, it is not clear if PLA has deployed its special forces near LAC. According to the National Interest, the PLA Army commando unit can operate in different terrains, from desert to frozen mountains, and is known for conducting airborne, surface, and underwater infiltration missions.
Dead Meat! Why China's Workhorse J-10 Fighter Jets Need To 'Hang Its Boots' Before 'Rafale' Strikes
In addition, the PLA Air Force had set up a special unit called 'Leishen' ('Thunder Gods') as part of the Airborne corps based in Hubei in 2011.
The Leishen unit is tasked with "reaching all regions, taking advantage of all opportunities, overcoming all difficulties, and defeating all opponents", according to defense analyst Peter Wood. 
Members of Leishen have attended Venezuela's "Hunter School" to learn jungle warfare and participated in several international special forces competitions, Wood wrote.
— With inputs from Arushi Singh