"This is not the era for war but peace," Indian PM Narendra Modi bluntly told Putin when the two were talking on the sidelines of the Samarkand meet of SCO.
The US and the European members of NATO wondered how a close ally of Russia declining to sign the condemnation resolution against Russia on Ukraine could have the guts to tell Putin something that his generals and close advisers would not.
---
Modi added that he had told him (Putin) the same thing many times in their telephonic conversation. This is not an ordinary statement as it reflects India's sincere and serious intentions. He said that issue could be resolved through diplomacy, dialogue, and democracy. To talk to Putin of democracy is the red rag to the bull. But Modi said it because he believes in it.
These two sentences of Modi should clear the mist engulfing India's policy on the Russian-Ukrainian conflict.
India Stands For Peace
The contours of India's outreach to the sensitive strategic situation prevailing in the Eurasian region need to be understood from the right perspective. India is a partner in Western-centric quadrilateral security dialogue, US-led Indo-Pacific Economic Frame (IPEF), and Eastern-driven SCO, representing nearly half of the world population.
Seemingly the West is uncomfortable with India having friendly ties with the US and being close to Russia. Perhaps any country in India's position with a sensible government would be as precocious as India is in dealing with big powers and doing careful rope-walking to maintain balance.
India considers concerns like the rising influence of China, growing Russia-China cordialities, and China-Pak dubious counter-terrorism antics.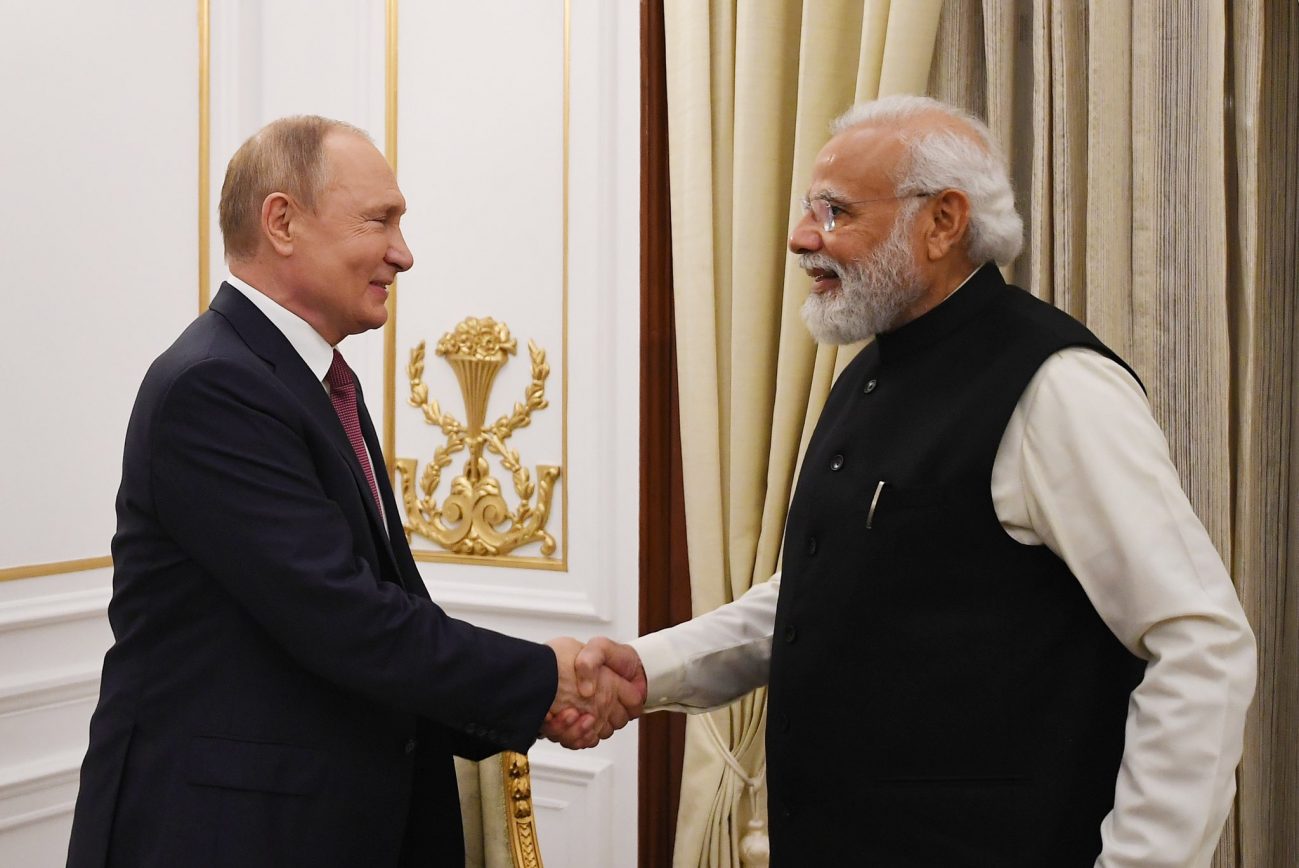 PM Modi recently talked with Ukrainian President Zelensky. They spoke several times telephonically in the initial stages of the conflict.
India convinced Zelensky that the safe return of thousands of Indian students stranded in his country was a crucial issue for India. The return of these students could not be made safe and possible without trilateral talk among Modi, Zelensky, and Putin.
Modi has expressed thanks for and humanitarian sensibility of both Presidents in helping Indian students for safe departure from war-torn Ukraine.
This should give us an idea that India can speak from the moral and humanistic platform in the context of the war in Eurasia.
India, Turkey As Mediators To Cease Eurasian War 
If India occupies a critical geographical location being the key to the Indian Ocean and an important player in providing security to the Strait of Malacca through which two-thirds of world trade flows, Turkey, too, is an essential bridge between Asia and Europe.
It is a link between East and West, bordering the Black Sea, the Aegean Sea, and the Mediterranean Sea between Greece and Syria.
Turkey is a member of NATO but enjoys good relations with Russia. The two countries have forged trade and military deals. They have been cooperating in many fields of common interest.
Turkey has been speaking against India in the past two years, particularly on the Kashmir issue. In its current address to the General Assembly, Ankara reiterated that India and Pakistan should come to the dialogue table and resolve their differences.
That is precisely what most of the important countries have been telling them.
Modi and Erdogan met at the SCO Samarkand meeting recently. The media has not reported what transpired between them in detail, but in all probability, Modi may have cleared some of the misconceptions Erdogan had been sticking to for some time.
When Barack Obama became president of the United States, he made his first overseas visit to Turkey in April 2009, underscoring the significance of US-Turkish relations.
It has to be recollected that after Ukraine-Russia peace talks were held in Istanbul in March, Turkish President Erdogan offered to facilitate a meeting between Russian President Vladimir Putin and Ukrainian President Volodymyr Zelensky.
"Russia and Ukraine will have a good chance of peaceful negotiations if India and Turkey serve as moderators," wrote South China Morning Post on April 22, 2022. It concluded by asserting that Turkey and India are potential peace brokers in the Russia-Ukraine conflict based on their respective geopolitical significance and friendly relations with the US and Russia.
Big powers are dealing with crucial strategic issues in which they have stakes and talk with responsibility and caution. Much more caution is needed in times of crisis created by ongoing circumstances. In a world where powerful countries have arsenals of massive destruction of the globe, no sensible leader will talk irresponsibly about the unleashing of nuclear potentiality.
Former US President Donald Trump awarded Indian Prime Minister Narendra Modi the Legion of Merit for improving India-United States relations. Mutual respect and positive cooperation in strengthening global peace are the outstanding objectives of honoring a foreign dignitary.
In all bilateral ties, there are irritants, but big nations do not go by these irritants; they go by bigger and nobler objectives they are pursuing.
We find that India and Turkey are trying to reduce the gulf between the East and the West through the instruments of diplomacy and dialogue. In given circumstances, we feel they enjoy all the prerequisites of honest and sincere mediators in the Eurasian war.
Peace and normalcy are in the interests of all and not only the countries at stake. It is the demand of the entire mankind, which explains the idea of Prime Minister Modi.
It would be delightful news for the world if India and Turkey get into the business and chalk the roadmap for opening a dialogue with the warring sides. The exercise will take its time, but as they are best fitted to play a role, wish them success in a noble cause.
Padma Shri KN Pandita is the former Director of the Centre of Central Asian Studies, Kashmir University.
Mail EurAsian Times at etdesk(at)eurasiantimes.com