After securing an approx $7 Billion deal to manufacture 83 LCA Tejas jets for the Indian Air Force (IAF) and confident about the indigenous jet's export potential, the state-owned Hindustan Aeronautics Limited (HAL) says it has now offered it to the Royal Australian Air Force (RAAF) as a Lead-In Flight Trainer (LIFT).
---
This was revealed in HAL's annual report for 2020-21. This is after pitching the jet as a trainer for the US Navy in December 2020 and as a light fighter to Malaysia in August.
The Royal Australian Air Force (RAAF) in July last year issued a Request for Information (RFI) currently for a trainer aircraft, which HAL has now responded to, according to its annual report. RAAF trainer currently comprises around 30 'Hawk MK-127' LIFT aircraft, which it had been operating since 2001.
The Hawk MK-127 is a variant of the British Aerospace and Engineering (BAE)-made Hawk trainer equipped with more advanced electronics to make it suitable for the LIFT role.
Tejas Spreads Its Wings 
India had first pitched the LCA Tejas internationally during the Bahrain Air Show in 2016, then again in its second iteration in January 2018 – during which Sri Lanka and Egypt too had expressed interest in the aircraft.
The HAL's plans to set up logistics bases in Malaysia, Vietnam, Indonesia, and Sri Lanka to market the plane in South East Asia, West Asia, and North Africa bear its serious intent to secure an international market.
LIFT-capable jets are heavily upgraded jet trainers with advanced avionics, radars, and stronger airframes for carrying more weapons, to double up as light ground attack/strike, point defense, or interceptors.
Moreover, LIFT jets offer more realistic performance for trainee pilots who graduate to complicated multi-role frontline jets (F/A-18 in the Australian case, or MiG-29, Su-30MKI, Mirage-2000, Rafale or Jaguar in India's).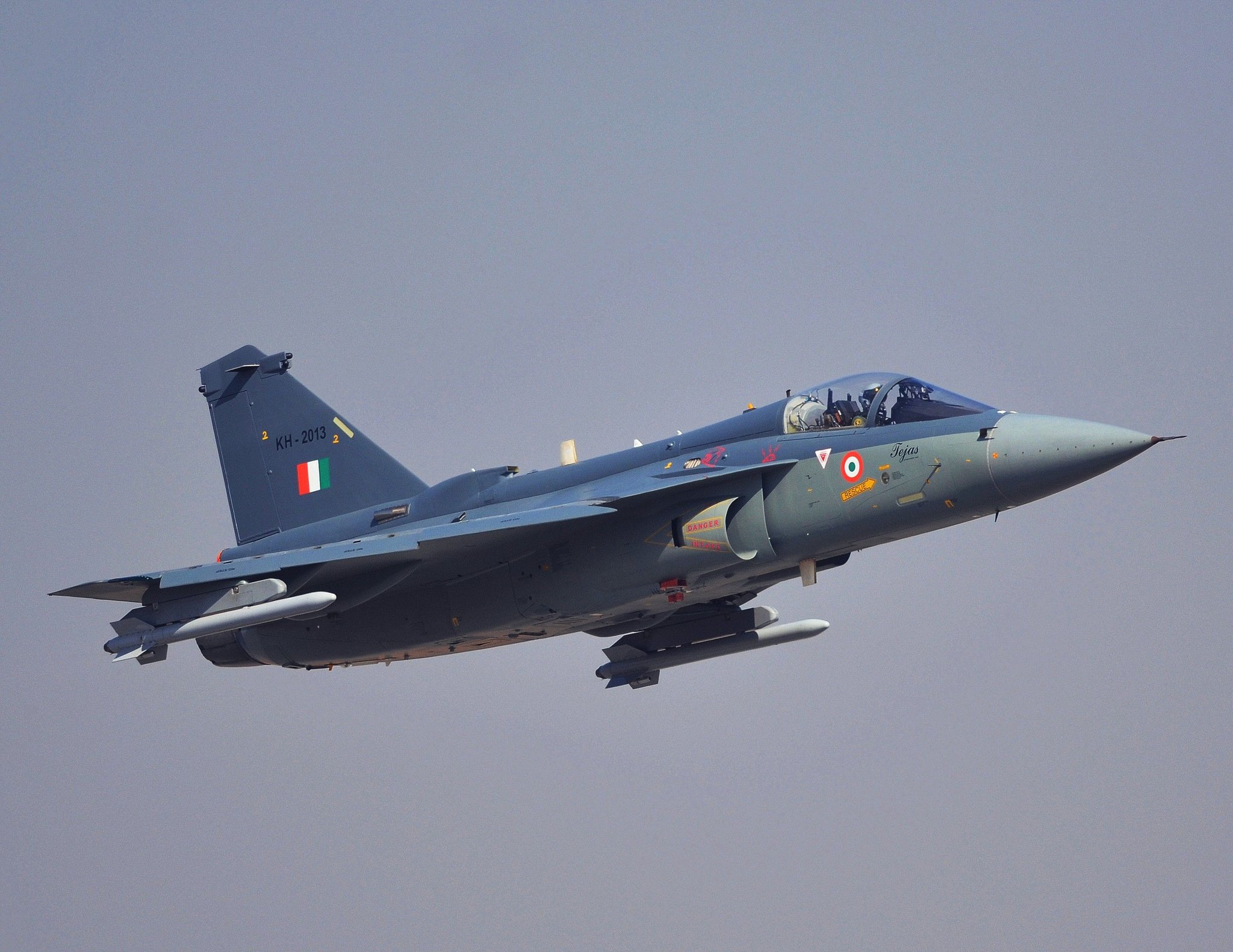 Flight training in air force academies worldwide generally follows three stages. In India, there are three.
Stage 1 includes basic flight training on a single propeller like the Swiss-origin Pilatus PC Mark 2, currently slated to be replaced by 106 of the HAL's Hindustan Turbo Trainer (HPT) 40. Stage II training is imparted on the vintage Kiran trainer, currently approaching the end of their service life, leading to some amount of Stage II training done on the PC-7 itself.
The Kirans too are in the process of being replaced by the Intermediate Jet Trainer (IJT) Sitara. In Stage III training, pilots fly the Hawk Advanced Jet Trainer (AJT).
The Race For Australian Contract 
In the RAAF tender, LCA Tejas is competing with Boeing and Swedish Saab jointly developed T-7A Red Hawk trainer; Italian's aerospace major Leonardo's M-346; and Korea Aerospace Industries (KAI) T-50, which has been co-developed with Lockheed Martin.
The US Air Force itself is in the process of acquiring around 350 T-7A jets. Of these, only the T-50, M-346, and LCA are LIFT-capable. Interestingly, T-7A, T-50, and LCA Tejas are also powered by the same General Electric F-404 engine.
In December last year, HAL chairman R. Madhavan had said the state-owned company had made the LCA LIFT-capable, able to mimic any other platform, with only the flying characteristics needed to be put into the plane.
"For example, if Rafale characteristics are put in the LCA, the pilot will feel like he is flying Rafale, which will help in the advanced training process," Madhavan had then told The Economic Times.
It was in 2018 that HAL first began work on what was then called the Supersonic Omni Role Trainer Aircraft (SpORT), to make it LIFT-compliant.
Another country HAL is hopeful of selling the LCA to is Malaysia, whose fighter contract is being vied by US, Chinese, and Russian aerospace companies. The trainer variant of the Naval LCA was offered to the US Navy in July 2020.
The plane had generated a great deal of interest during the 2019 Langkawi International Maritime and Aerospace Exhibition (LIMA). China & Pakistan's co-developed JF-17 Thunder, Russia's MiG-35, Indian Tejas and (KAI) T-50 are vying for the contract. 
The US Navy Deal
Lastly, the Tejas was offered to the US Navy's procurement of a new trainer, to replace its fleet of Boeing T-45 Goshawks, as per a global RFI issued by the US's Naval Air Systems Command (NAVAIR).
T-45 is a variant of the BAE Hawk itself, modified for operating off aircraft carriers. The USN tender, like the RAAF program, too has the T-7A, T-50, and M-346 as competitors. The US needs new trainers both for its navy and Marine Corps (USMC) pilots.
American experts, however, conclude that LCA Tejas' chances of winning the US Navy contract are slim owing to three reasons.
One, the LCA LIFT variant has not won any export orders, as against the M-346 and T-50, which have been inducted in many air forces in the last decade.
Secondly, the LCA's delta-wing design makes it less suitable for low-speed flying – a basic requirement in naval aviation off aircraft carriers. The HAL does not have any US company as a joint manufacturing partner either.
Moreover, the decision of the Indian Navy itself in rejecting the LCA Navy would influence the Americans, and by extension the Australian buyers' decision.
Parth Satam is a Mumbai-based journalist who has been covering India's defense sector for more than a decade. He maintains a keen interest in defense, aerospace and foreign affairs and can be reached at satamp@gmail.com