The Defense Post of March 23 wrote, "US officials have launched a broad diplomatic offensive over the past week to warn China against providing lethal assistance — which experts say could have a profound impact on the Ukraine war as it enters its second year.
"Before being hosted by US President Joe Biden, German Chancellor Olaf Scholz also had called on Beijing not to arm "the aggressor Russia" while France urged China to be cautious."
Washington had reports from its sources that there was a possibility of China intending to refurbish the depleting arsenal of Moscow.
During his two-day visit to Beijing in June, US Secretary of State Antony Blinken told reporters: "We — and other countries — have received assurances from China that it will not provide lethal assistance to Russia for use in Ukraine."
He said that the US had not seen any evidence of contradiction. However, Blinken expressed concerns that Chinese firms may be providing technology Russia can use to advance its aggression in Ukraine. Blinken said that China had offered assurances on Russia in "recent weeks" and not exclusively during his visit.
The same paper had reported in its issue of March 23 that the United States had gone public with allegations that China planned arms supplies to Russia, a leading military power that has had to rely on Iran and North Korea since facing tough resistance in Ukraine after February 2022 invasion.
Keeping in mind the firm commitments that the two countries have been reiterating in their bilateral relationship, it is difficult to ascertain whether Beijing's denial is true or not.
China has not endorsed the UN Resolution condemning Russian aggression against Ukraine, though, of course, at the Samarkand SCO summit, President Xi Jinping had told Putin that China had questions about the Ukrainian war.
Pakistan's Antics
The People said Pakistan will soon ship 122mm high explosive Yarmuk rockets for multi-barrel rocket launchers via Karachi port to Ternopil Oblast, Ukraine. Just as in the past, the shipments will use the Polish port of Gdańsk to reach Ukraine, according to informed sources.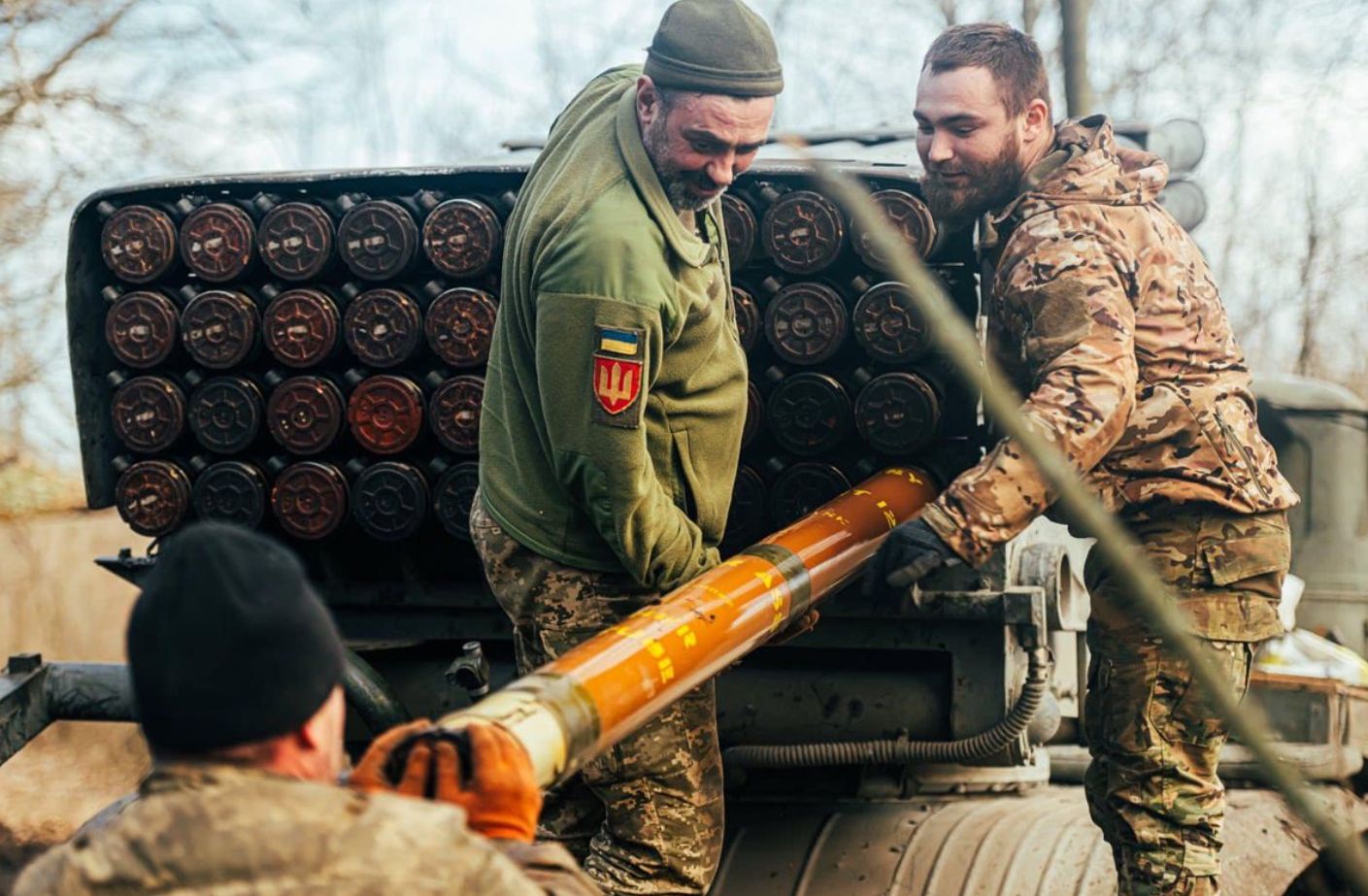 Ukraine has been facing a shortage of arms and ammunition, and Pakistan has emerged as a key supplier of defense equipment instead of Western aid, said The Economic Times on April 19.
It added: "The UK's defense ministry signed a contract with Pakistan Ordnance Factory in December 2022 for supplies of 200,000 rockets worth $300 million to Ukrainian armed forces, with Pakistan emerging as a key defense supplier to several European Union states for their onward journey to Kyiv, according to people with knowledge of the matter."
Thus far, four Asian countries are under focus that are alleged to have been drawn into the vortex of the Ukrainian war. These are China, North Korea, Iran, and Pakistan.
BrahMos vs. Kinzhal
But rather, a more startling rumor is that India, too, figures among the Asian states that have become embroiled in the East European war.
Moscow Times of July reported that Russian Defense firms have been buying back equipment they produce ed and sold to certain Asian countries. India is the largest buyer of Russian military hardware.
The paper reported that a Russian missile manufacturer in August and November last purchased US$150,000 worth of night-vision sights on anti-aircraft missiles from the Indian Ministry of Defense (MoD). While customs data shows the parts were returned because they were defective, there are no reports of the items being returned to India.
But it is the BrahMos missile of India around which a bizarre story is woven, and the Asian Times of July 14 said in a banner line news that India dangles BrahMos missile sales for Russia.
The Western media has been lionizing Ukraine's counterattacks beyond proportions and making the world believe that much of Moscow's war machine has performed poorly against the Western armor supplied to Ukraine.
In particular, it has been propagating that the possible poor performance of Russia's much-hyped Kinzhal missile in Ukraine, witnessed in multiple interceptions, could cause Russia to buy the BrahMos from India.
Writing for the Modern War Institute in a May 23 article, Peter Mitchell likened the Kinzhal to a giant lawn dart loaded with explosives, as the missile uses a solid-fuel rocket motor that most likely cannot be throttled or slowed down in flight.
Mitchell notes that the Kinzhal glides in a ballistic arc to its target once the rocket motor has burned out, making the sustained hypersonic flight to its target unlikely. Air resistance to the target, a meager control surface, and the missile's sheer mass inhibit its ability to perform evasive maneuvers to avoid interception.
Western reports believe Russia's heavy material losses in Ukraine raise the possibility that Russia may redirect some of India's weapons orders to replace its battle losses. Sanctions on Russia's defense industry have also raised doubts about the viability and reliability of Russia as India's long-term arms supply.
Creating A Wedge
This could be a flawed line of argument. Losses of war material happen invariably in prolonged wars and more so when it is the war of missiles. Losses on the Russian side may be countable, but the destruction of Ukrainian armament is kept a well-guarded secret. After all, this is a war between the US plus the West against Russia.
Secondly, ever since India under Modi's premiership launched 'Atmanirbharta,' meaning self-reliance policy, India is fast reducing its dependence on arms purchases from abroad.
Western media is also trying to exaggerate and create misbelief in the Indo-Russian relationship.
In April 2023, Bloomberg reported that Indian payments worth more than US$2 billion for Russian weapons had been stuck for a year and that Russia has stopped supplying credit for US$10 billion worth of S-400 missile defense system spare parts that have yet to be delivered.
As against this, the Defense News reported in May 2023 that the two countries agreed to resolve delayed payments while formalizing a plan for local production of certain Russian equipment in India.
Defense News reports that India's MoD will make payments using the Financial Messaging System of the Bank of Russia, an alternative to SWIFT that several Western governments have barred Russia from using. One can understand that the West is utilizing not only rancorous propaganda against Russia but is also aware that it has no weapon similar to BrahMos to counter it.
Iran-Russia Bonhomie
Lastly, the Arms Control Today of November 2022 said, "Iran has solidified its role as Russia's wartime arms supplier as Russian forces, facing battlefield losses, intensify their attacks on Ukraine's civilian population and infrastructure."
Drones supplied to Russia by Iran are wreaking havoc on civilians in Ukrainian cities like Kyiv, where in October, people cleared blast debris outside a house where a Russian drone strike killed a couple. Last summer, Iran began delivering drones that loiter, then explode on impact with a target, for Russian use in Ukraine, according to US officials.
Reuters reported on October 18 that Tehran upped its involvement by agreeing to provide Moscow with surface-to-surface missiles and many additional cheap drones.
In the final analysis, we find that all four Asiatic countries (China, North Korea, Iran, and India) are alleged to be disposed to lend some categories of arms to Russia, while one country, Pakistan, has undertaken to supply rockets and tanks to Kyiv.
Grapevine has it that the reason for IMF to relent after many hassles and agree to sanction a US$3 billion loan to Pakistan for its pro-Ukraine stance. While Iran and North Korea are groaning under sanctions, the position of India in this complex political chess board is rather uncertain despite the seemingly recent Indo-US bonhomie.
KN Pandita (Padma Shri) is the former Director of the Center of Central Asian Studies at Kashmir University. Views expressed here are of the author's.
Mail EurAsian Times at etdesk(at)eurasiantimes.com