The just concluded visit of Indian Defence Minister Rajnath Singh to Egypt (September 18-20) reflects that India is now prepared to join innovative coalitions to deal with major transnational security issues amid major geopolitical shifts resulting from the rise of China and the Russian invasion of Ukraine.
Already a key member of the Quad and the Israel-India-United Arab Emirates-United States "I2U2" (India – Israel; United States – United Arab Emirates) grouping, it seems New Delhi will now join hands with a willing Cairo to serve as a geostrategic corridor that connects the Mediterranean to the Indo-Pacific.
With this in mind, India and Egypt now want to boost their defense cooperation.
The Memorandum of Understanding (MoU) that Singh signed with his Egyptian counterpart General Mohamed Zaki on September 20 at Cairo talks of enhanced defense cooperation between the two countries, the conduct of more joint exercises, and exchange of personnel for training, especially in the field of counter-insurgency.
It also favors the identification of proposals for expanding cooperation between the defense industries of India and Egypt in a time-bound manner.
In fact, Egyptian President Abdel Fattah El-Sisi, whom the Indian defense minister had called on, wants New Delhi and Cairo to contribute together towards " peace and stability" in the world in general and "maritime security" in particular.
According to Presidential spokesman Bassam Radi, during Singh's meeting with President El-Sisi, discussions focused on finding ways to enhance military and security cooperation between the two countries, especially with regard to cooperation in joint manufacturing, transfer, and localization of technology, with the aim of exploiting the capabilities and infrastructure available in the two countries, as well as cooperation in the field of training, rehabilitation and joint exercises.
Egypt Could Buy Indian Weapons
It may be noted here that India is exploring to sell its military products in Egypt. Apparently, Egypt is considering the purchase of up to 70 Tejas light combat aircraft.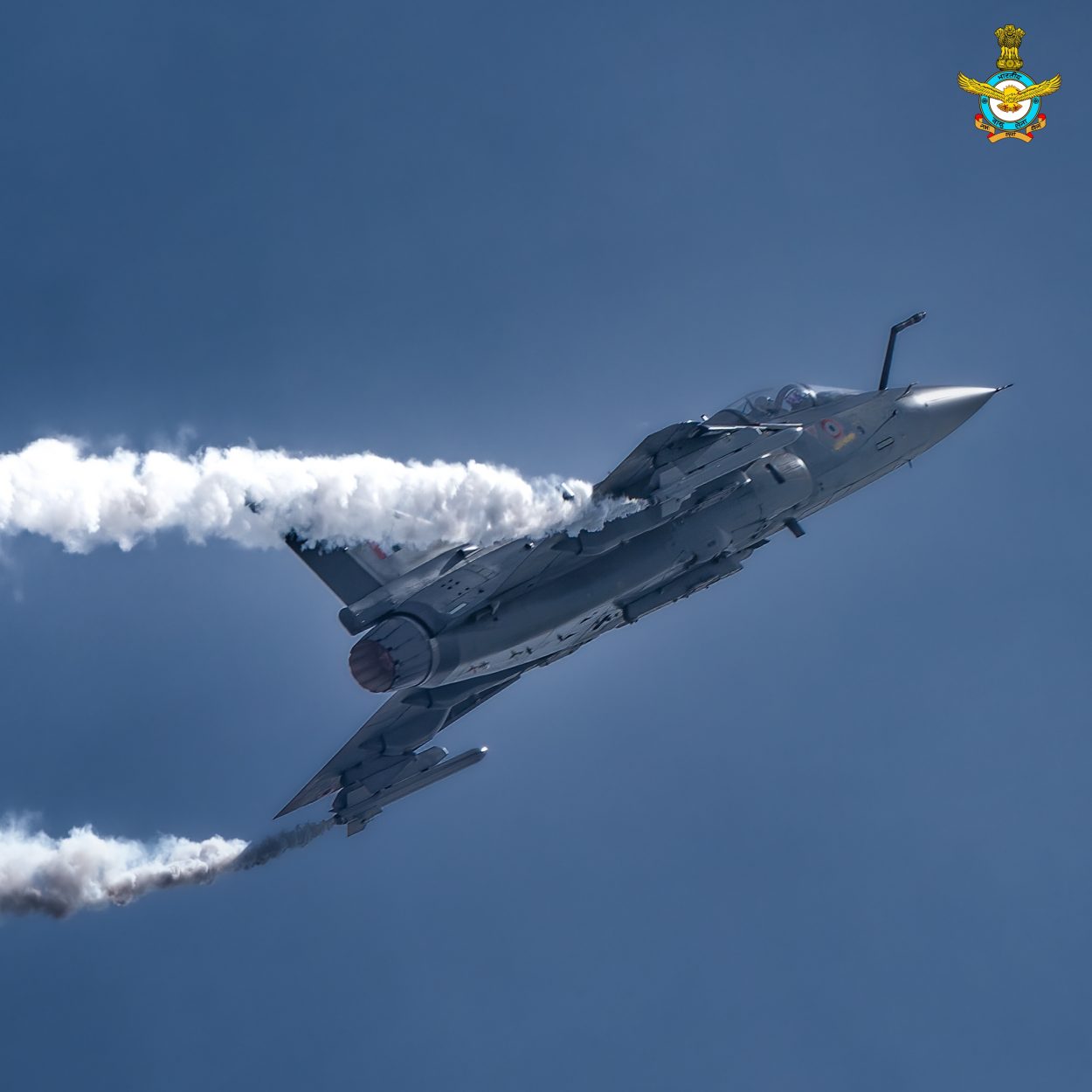 It would also like to consider buying Indian-made missile systems, as well as the Advanced Light Helicopter and Light Combat Helicopter.
On its part, India, concerned over the availability of the spare parts of Russian equipment that it has, is now relying on Cairo to provide these as Egypt also has robust defense ties with Russia and uses Russian military products.
Defense cooperation has been perhaps the most important component in the burgeoning of ties between India and Egypt of late. In July, Egyptian Air Force Chief Mahmoud Foaad Abd El-Gawad was in the Indian capital "to scout for India's defense equipment."
This followed a   joint major exercise between both Air Forces of both nations, which was described by the Indian defense ministry as "a unique exercise with Air assets in a Large Force Engagement environment, simulating various conflict scenarios."
This exercise was aimed at enhancing defense cooperation between the two countries and the exchange of best practices.
"In the present geopolitical scenario, this exercise provides a unique opportunity to showcase the reach and capability of the IAF. It will also provide an opportunity to showcase the Su-30 MKI manufactured in India by HAL and our country's expertise for deeper indigenization of spares and components", the Indian Ministry of Defence (MoD) had stated.
In June, the Indian Navy's INS Kochi, deployed in the Red Sea, visited Port Safaga in Egypt. Personnel from both the navies also carried out ship visits. On her departure from Safaga on 30 June, INS Kochi reportedly participated in a Maritime Partnership Exercise with the Egyptian Navy ships ENS Al Zubair and ENS Abu Ubadah (Lurssen Class Offshore Patrol Boats).
Other Major Developments
Since June 2021, seven Indian defense delegations have visited Egypt, the most significant among them being the visit of the Chief of Air Staff, Air Chief Marshal VR Chaudhari, who visited Egypt from 28th November to 2nd December 2021.
Egyptian officers are given training in India, and Indian defense officers train in Egypt.
The first ever IAF-EAF Joint Tactical Air Exercise, Dessert Warrior, was held from 29-31 October 2021. 5 x Mirage-2000s and 1 tanker (IL-78) participated in the exercise from India. The exercise comprised advanced maneuverings, including air-to-air refueling.
Two officers from the Egyptian Navy participated in Multilateral Indian Naval Exercise MILAN-2022 held from 25 Feb-04 Mar 2022.
Indian Navy Ships undertake port calls at Egyptian ports. INS TABAR (a Talwar class guided missile frigate) made a port call in Alexandria port in late-June 2021 and held PASSEX with Egyptian Navy Ship TOUSHKA, which included helo deck-landing operations, replenishment drills, etc.
INS TABAR participated in another PASSEX with ENS ALEXANDRIA in September 2021 as well, in which exercises like cross-deck helicopter landings, joint live firing, maritime interdiction contingencies, vessel boarding, and other advanced maneuvers were conducted.
Ships of the First Training Squadron of Indian Navy (IN Ships Tir, Sujata, and CGS Sarathi) called on the Red Sea Naval port of Safaga, Egypt, from 2nd May to 4th May 2022 as part of their five-nation Overseas Deployment.
The three Indian ships participated in a Maritime Partnership Exercise (MPX) with Egyptian Naval Ships Abu Qir and Zuber Ibn El Awam on 4th May 2022 upon leaving Safaga harbor. During the exercise, the ships undertook communication exercises, different maneuvers along with formations and replenishment approaches to enhance interoperability.
INS TARANGINI, the Indian Navy's sailing training ship, made a port call in Alexandria from 17th to 20th May 2022 as part of LOKAYAN 22.
Egypt regularly provides transit facilities to IAF and IN aircraft ferrying to/ from Russia, Europe, and the USA.
And Egypt does participate in all the major Defence Exhibitions, and Aero shows in India. In fact, Rajnath Singh has invited his Egyptian counterpart to the India-Africa Defence Dialogue and IOR Defence Ministers' Conclave, scheduled to be held as part of the 12th DefExpo in Gandhinagar, Gujarat, between October 18-22.
As noted above, these developments are the results of the ongoing geopolitical shifts. Though India and Egypt are founding members of the so-called Non-Aligned Movement (NAM) and India's first Prime Minister Jawaharlal Nehru and Egypt's President Gamal Abdul Nasser were great friends, their bilateral relations remained stagnated because of Cairo trying to cultivate Pakistan and making it a factor while dealing with India.
Besides, Egypt opting for the US-brokered peace agreement with Israel at a time when New Delhi was circumspect in embracing Tel Aviv fully under the fears that it would strain ties with the Arab sheikhdoms and antagonize a large section of Indian Muslims at home was also a constraining factor.
But now the situation is different. Israel is no longer the inhibiting factor for India. On the contrary, India is having perhaps the best ever relations with Saudi Arabia, the United Arab Emirates, and other Middle Eastern countries. Side by side, Indo-Israeli ties have blossomed too.
And what is more important, the USA-brokered Abrahmic accords between Israel & the UAE and Israel & Bahrain, with Saudi Arabia supporting from behind and India's fascinatingly growing ties with each of these countries, have resulted in a situation in which   Egyptian scholar Mohammad Soliman terms as  "Indo-Abrahamic transregional order."
He argues that Egypt can now join this group of countries so that the Indo-Pacific could be connected with the eastern Mediterranean.
In fact, Soliman joins Indian scholar C Raja Mohan and French diplomat Pierre Morcos in arguing that France, which is an Indo-Pacific power itself and has great ties with "I2U2" countries as well as Egypt, could add an important new element to this web of overlapping coalitions.
These experts argue that innovative coalitions are emerging to tackle transnational issues, as recently illustrated with the Quad and the "I2U2" grouping.
Cooperation among France, Egypt, and India could add an important new element to this web of overlapping coalitions and ensure a transoceanic approach that would cover the Mediterranean Sea and the Indo-Pacific.
Reasoning Is Based On Two Main Points
First, a trilateral arrangement among France, Egypt, and India would be part of a larger network of middle-power coalitions across the Indo-Pacific.
These mini formats have proliferated in recent years to overcome the limitations of traditional multilateralism. Compared to large organizations that are often paralyzed by consensus rules and internal divisions, these groupings are flexible and pragmatic enough to ensure quick, tangible results.
Secondly, they should cooperate on securing and even building undersea cables. These critical infrastructure elements carry over 95 percent of international data. Multiple undersea cables pass through the Suez Canal, linking Europe, Africa, the Middle East, and Asia-Pacific.
Given the mounting importance of this infrastructure, France, Cairo, and New Delhi should aim to better protect existing cables and also explore potential new cables to meet the growing bandwidth demand, so runs the argument.
All told,   Suez is a major strategic chokepoint for Europe-Asia trade flows, with 12 percent of global trade and 30 percent of global container traffic crossing the canal that runs through Egypt.
Regarding India, it is estimated that an estimated $200 billion of Indian trade passes through the Suez Canal each year, giving India an obvious interest in Egypt's security. All the more so when China has set up a naval base in Djibouti, posing a potential threat to Indian access to Suez.
In other words, there are compelling reasons for enhanced India-Egypt security cooperation, particularly when there exist strong bonds between the defense establishments of both countries.
Defense Minister Rajnath Singh's visit seems to have further consolidated this trend.
Author and veteran journalist Prakash Nanda has been commenting on politics, foreign policy on strategic affairs for nearly three decades. A former National Fellow of the Indian Council for Historical Research and recipient of the Seoul Peace Prize Scholarship, he is also a Distinguished Fellow at the Institute of Peace and Conflict Studies. CONTACT: prakash.nanda@hotmail.com