The Indian space industry is gearing up to leapfrog into the space age. It could soon become the launch pad for the world's satellites by providing launching facilities at lower rates than its American and European counterparts.
With its first private orbital rocket launch expected in the next couple of months, the country can also fill the void created by Russia in the international launch market after the invasion of Ukraine.
The news of Elon Musk-owned SpaceX foraying into India has also been well-received by the fledgling Indian space industry.
Space X is an American aerospace company founded in 2002 and harbinger of a new era of commercial spaceflight. It was the first private company to successfully launch and return a spacecraft from Earth orbit and launch a crewed spacecraft and dock it with the International Space Station (ISS).
Its foray into the Indian market will open many doors for the Indian private players for funding and space tech. The Indian private space sector, though relatively new, is passing through an interesting phase.
Since the Indian government opened the sector for private players, 100 deep tech start-ups have sprung up. The Indian space industry is expected to become a trillion-dollar industry by 2040.
A joint report by Ernst and Young and the Indian Space Association projects the country's space economy growing to US $12.8466 billion by 2025. Satellite launch services are predicted to be the fastest-growing segment in the Indian space economy, followed by satellite manufacturing.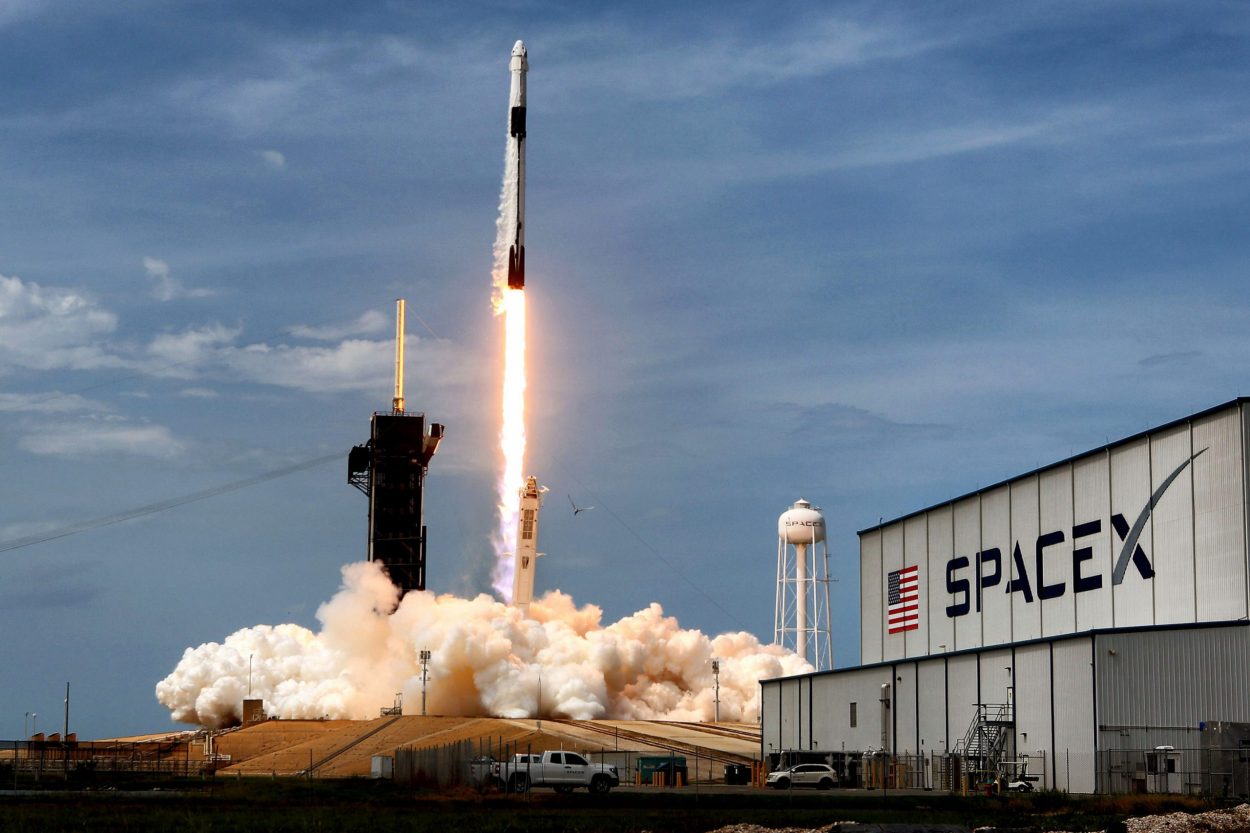 In the US, NASA handles space exploration, and private companies do launches to send cargo and crew to space.
SpaceX has conducted over 60 launches in 2022 alone. This has brought down the costs significantly, and in between, the US was relying on Russian spacecraft to send cargo and its men to the International Space Station.
In India, Skyroot Aerospace, a Hyderabad-based start-up founded by former engineers from the government-run Indian Space and Research Organisation (ISRO) in 2018, has been leading the sector.
In November 2022, it launched the first privately made rocket and is now poised for another first – a private company's first orbital launch of a rocket. The launch is planned for the next couple of months.
"The Vikram 1 rocket mission will be India's first private orbital rocket launch. The launch timeline will depend on the results of a few critical tests in the next three months," Skyroot Aerospace co-founder and CEO Pawan Kumar Chandana told the EurAsian Times in an interview.
"This launch signifies a leap forward for the private space sector in India and a big milestone for us at Skyroot," Chandana added.
Vikram 1 has three stages, which use solid fuel propulsion and a liquid-fuelled kick stage carrying payloads up to 480 kilograms to low-earth orbit (LEO). The rocket is built and tested using advanced technology, including a 3D-printed liquid fuel engine and carbon composite body.
It aims to carry satellites and place them in orbit. Taking a cue from the ISRO, which has been able to undertake complicated missions at a fraction of the price, the Indian start-up will also launch satellites at lower rates.
Calling the coming of SpaceX to India, Chandana said: "Space sector, by its very nature, is a trans-global business, with cross-border supply chains, customers, investors and partnerships. It is natural for each player to look at the global market to expand business."
Skyroot recently announced the agreement with French new-space operator Promethee to launch its satellite constellation into space. Both firms will study the integration of the Vikram launcher into the deployment process of their JAPETUS earth observation constellation.
Skyroot has been developing three variants of the Vikram rocket. While Vikram-I can carry 480 kilograms of payload to Low Earth Orbit, Vikram-II is designed to lift off with 595 kilograms of cargo. Meanwhile, Vikram-III can launch with an 815 kg to 500 km Low Inclination Orbit.
The Great Indian Space Odyssey
In March 2023, the New Space India Limited (NSIL) launched 36 satellites for British satellite company OneWeb's first-generation internet constellation in low earth orbit. OneWeb opted for India after Russia canceled its launches.
This helped the company to get global coverage and will give impetus to broadband services in India. The Indian space vehicle performed a sophisticated maneuver to inject the satellites into precise orbits with defined time gaps to avoid collision of the satellites.
The opening of the Indian space sector to private entities in 2020 is beginning to bear fruit. The sector has secured US $62 million in funding in the first half of 2023, a 60 percent increase over the corresponding period last year.
Global consultancy Arthur D. Little pegs India's current space market to be around US $8 billion in size. It has grown at a compounded annual growth rate of 4 percent in the past few years compared to 2 percent globally.
"In the private sector, the developments we can look forward to are the success of commercial orbital launches in the coming years by private companies, which will prove the sustainability of the sector," Chandana said. He added: "We can see more companies emerging in the satellite domain, building cutting-edge earth observation and communication satellites. We will also see growing downstream services like data analytics and communication services."
Among other developments worth keeping an eye on is the establishment of the Mission Control Centre by Agnikul Cosmos. Agnikul is also going to become the second private Indian firm to launch a rocket in the coming few weeks. Bengaluru-based space tech start-up SatSure has also announced an investment of US $35 million to launch four earth imaging satellites by 2025, which will help in risk management, crop insurance, agriculture applications, and disaster management.
Pixxel, another India-based private space technology, has won a five-year contract from the US National Reconnaissance Organisation (NRO). Pixxel will provide technical hyperspectral imagery (HSI) remote sensing capabilities via modeling simulation and data evaluation.
Digantara, a Bengaluru-based start-up, is mapping space debris for the world. Other companies like Dhruva and Bellatrix are also trying to make their mark.
Ritu Sharma has been a journalist for over a decade, writing on defense, foreign affairs, and nuclear technology.
She can be reached at ritu.sharma (at) mail.com