The Indian armed forces will be equipped with a solar-powered drone, Infinity, in the next three to five years, NDTV reported.
Should India Be Alarmed By China & Turkey Helping Modernize Pakistan Navy?
Infinity is part of India's Combat Air Teaming System (CATS). Called unmanned air system (UAS), Infinity is being developed by the state-run Hindustan Aeronautics Ltd. (HAL) in partnership with NewSpace, a Bengaluru-based start-up.
A source associated with the program has told NDTV that the "stratosphere will form the next phase of exploitation for the next generation of airborne platforms towards future warfare needs".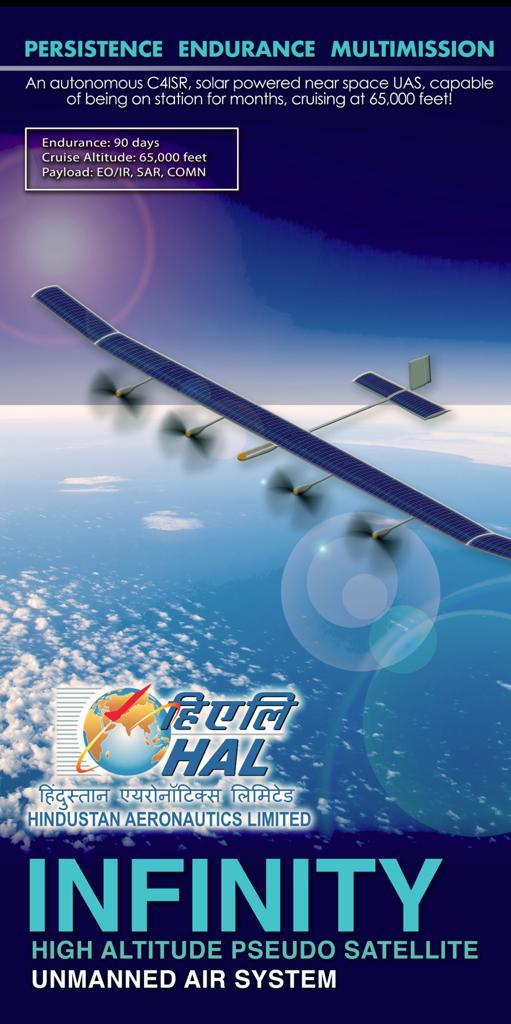 It has been designed to cruise at an altitude of more than 65,000 feet for 90 days. According to earlier reports, the drone may have a range of more than 200 kilometers, indicating it could be deployed to track Chinese military movements in the city of Shigatse in Tibet.
Infinity will be operating alongside other Indian drone systems such as the Warrior, Alfa-S swarm drones, or Hunter cruise missile.
With a variety of sensors and state-of-the-art synthetic aperture radar, Infinity will keep track of targets deep within enemy territory and coordinate attack missions. It can also relay a live video feed from the attack drones to monitoring stations on the ground.
India's Combat UAVs
In view of the changing security challenges, India has introduced CATS, which is "a composite amalgamation of manned and unmanned platforms which work together to penetrate heavily defended enemy airspace". The Indian Army is also equipping itself with advanced systems and drones.
So far, India has inducted 75 indigenous unmanned aerial vehicles (UAVs) that can also be used in combat missions. The combat drones were part of the "swarm technology" display at the Army Day Parade on January 15.
With the border tension with China refusing to die down and the rising ceasefire violations by Pakistan, India has expedited the process of acquiring drones. Initially, there were only five combat drones but more were procured in August 2020.
These drones can hit targets from a distance of 500 meters. The Indian Army had carried out a live demonstration of drone swarming capability on Army Day.
The 75 indigenously-designed and developed drones had executed an array of Artificial Intelligence (AI) enabled simulated offensive missions and close support tasks at Delhi Cantonment.
#WATCH | For the first time ever, Indian Army demonstrates combat swarm drones at #ArmyDay parade 2021 in Delhi. pic.twitter.com/F12rfo4emN

— ANI (@ANI) January 15, 2021
The army had said in a statement that it was a demonstration of its "steady embrace of emerging and disruptive technologies to transform itself from a manpower-intensive to a technology-enabled force to meet future security challenges".
What is Swarm Drone Technology?
The swarm drones involve a mother drone, which can release several smaller drones to fire and self-destroy after hitting multiples targets.
The swarm drone technology was first recorded in 2018; as many as 13 drones had attacked Russia's Khmeimim airbase in western Syria. The Russians shot down seven drones and jammed the other six.
Following the incident, the Russian Defense Ministry had come out with a statement, saying: "Ten assault drones were approaching the Khmeimim airbase, and another three – the CSS point in Tartus.
"Six small-size air targets were intercepted and taken under control by the Russian EW units. Three of them were landed on the controlled area outside the base, and another three UAVs exploded as they touched the ground.
"Seven UAVs were eliminated by the Pantsir-S anti-aircraft missile complexes operated by the Russian air defense units on 24-hours alert."
Drones offer high stealth capabilities as they can escape undetected for long and overwhelm conventional air defenses when coming from multiple directions.
UAVs were extensively deployed by Azerbaijan against Armenia during the Nagorno-Karabakh war last year. The coordinated armed drones had attacked Armenian S-300 and SHORAD (short-range air defense) networks, as well as 200 plus military vehicles in the tactical battlefield area (TBA).
In 2019, Iran had carried out a mass drone attack on the state-owned Saudi Aramco oil processing facilities at Abqaiq and Khurais in two waves. Satellite images had shown 19 individual strikes.
Follow EurAsian Times on Google