The first batch of German-made Leopard 2 tanks, damaged on the battlefield, have undergone repairs in Poland and subsequently sent back to Ukraine, according to Poland's state-owned Polska Grupa Zbrojeniowa. 
On October 2, Polska Grupa Zbrojeniowa, also known as PGZ or the Polish Armaments Group announced on X (formerly Twitter) that "The first Leopard tanks, rapidly refurbished at Bumar-Łabędy, were received by the Ukrainian side. Work on other tanks is progressing." 
Bumar-Łabędy, a branch of PGZ, specializes in the production, maintenance, and comprehensive restoration of armored vehicles. 
While the Polish company did not disclose the specific count of repaired tanks in their announcement, Beata Perkowska, the spokesperson for the PGZ, told Ukrinform that two Leopard 2 tanks were restored and transferred to the Ukrainian side. 
The PGZ added that it had actively delivered maintenance support in Ukraine through its PGZ Service Orel subsidiary. 
Podczas gdy inni składają deklaracje odnoszące się do przyszłości, my w porozumieniu ze stroną ukraińską działamy. Pierwsze ekspresowo wyremontowane w Bumarze-Łabędy czołgi Leopard zostały odebrane przez stronę ukraińską 🇺🇦 Nad kolejnymi wozami prace trwają. pic.twitter.com/anWXVvIbC5

— Polska Grupa Zbrojeniowa🇵🇱 (@PGZ_pl) October 2, 2023
The state-owned company said, "For over a year, through the special purpose vehicle PGZ Sevice Orel, we have been operating within the framework of the relationships developed with the Ukrainian side, servicing heavy equipment there, close to the front line."
This effort has encompassed the maintenance and assistance for Leopard 2 tanks, as well as Polish-manufactured Krab self-propelled howitzers.
The exact arrival date of the initial Leopard 2 tank batch at the Bumar-Łabędy plant remains uncertain. But, on July 22, the Polish Minister of Defense tweeted that the first two had reached the facility from Ukraine. 
The announcement for a facility dedicated to repairing and maintaining Leopard 2 tanks was made in April. Despite this, establishing a tank overhaul facility in Poland encountered significant challenges.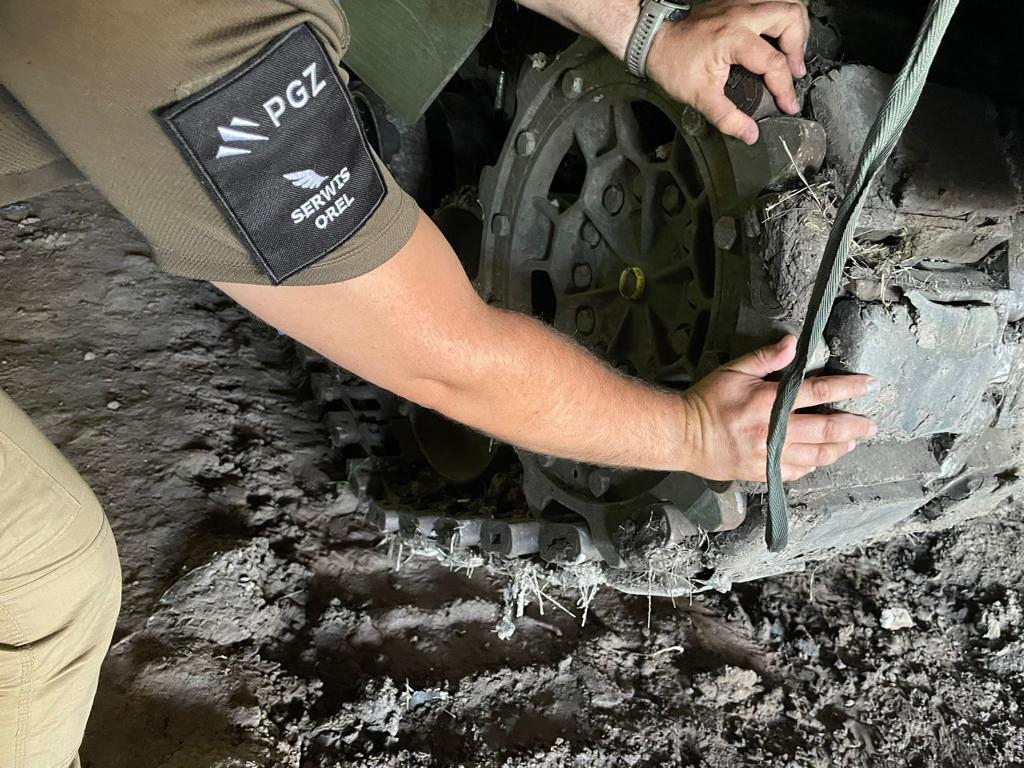 Initially set to open in late May, disputes between Poland and Germany, reportedly over costs, persisted until mid-July. However, the issue was resolved, and the facility is now actively refurbishing and returning tanks to Ukraine. 
Maintenance Carried Out In Record Timeframe
Following months of negotiations, Germany granted clearance for the export of Leopard 2 tanks to Ukraine in January.
Subsequently, a consortium of NATO countries, including Canada, Denmark, Germany, The Netherlands, Norway, Poland, Portugal, Spain, and Sweden, collectively committed to providing Ukraine with 10 Strv 122s (Swedish-modified Leopard 2A5s), 21 Leopard 2A6s, and 74 Leopard 2A4s.
The advanced nature of these tanks, particularly in comparison to the majority of Ukrainian armored vehicles, necessitates significantly more comprehensive overhauls, even during routine training exercises and especially when deployed in active battlefield scenarios.  
Beata Perkowska, spokesperson for the Polish Armaments Group (PGZ), explained that the repair efforts at the defense facility in Gliwice encompass not only the Leopard 2 tanks that Poland supplied to Ukraine but also all Leopard tanks received by Kyiv from the international coalition.
In a statement, Bumar-Łabędy said that shortly after the Leopard tank repair hub was launched, the first tanks that sustained damage in the eastern Ukraine war zone were transported to the facility.
The company stated that Leopard 2A4 tanks underwent repair in a "record time within almost two months" and were delivered to Ukraine on September 29. 
These tanks were restored to full combat readiness and successfully passed post-repair tests conducted at the defense enterprise's training ground.
Additionally, the company noted that it is presently engaged in repairing other Leopard tanks to meet the requirements of the Ukrainian army.
Amid the ongoing Ukrainian counteroffensive, which prominently features the extensive deployment of advanced Western-supplied tanks and other armored fighting vehicles, there is an escalating need for battle damage repairs and comprehensive overhauls.  
Considering the possibility of future deliveries of Leopard 2 tanks to Ukraine, it is anticipated that the Polish maintenance and repair hub will continue to play a vital and active role in supporting these efforts.
In addition to these efforts, Poland has provided Ukraine with approximately 250 T-72-style tanks, including PT-91s. 
In February 2023, Polish Prime Minister Mateusz Morawiecki announced plans to send an additional 60 modernized T-72s and PT-91s to Ukraine "in the near future." 
Nevertheless, there is the potential for Poland's own Leopard 2 fleet to begin utilizing the same facility. As the ongoing conflict underscores the pivotal role of tanks, the outlook for tank maintenance, repair, and overhaul in Europe appears favorable and promising.