Estonia will soon procure Israeli-made long-range loitering munitions, in one of its most expensive defense acquisitions, as per a contract signed with Israel Aerospace Industries (IAI). 
While the type and make of loitering munition were not revealed, the Estonian Defense Minister Hanno Pevkur was photographed before a mock-up of the Mini Harop system alongside IAI chief executive officer (CEO) Boaz Levi. Asia Pacific Defense Reporter (APDR) quoted Pevkur saying the contract is worth €100 million. 
An Estonian report in ERR News quoted military officials from the country who said the drones are expected to be delivered by 2024, followed by "full capability deployment" in 2025. 
The New Game Changer In Today's Battlefield
Loitering munitions, known as kamikaze drones or suicide drones, involve the munition "loitering" over a target area for a certain amount of time until it is signaled to strike. It acts as an explosive-laden air platform munition and self-destructs on hitting the intended target. 
Their use has been widespread in the Russia-Ukraine war, with first the American Switchblade-300 and now the Russian Lancet-3 kamikaze drones being the prominent ones.
They were, however, first used during the September 2020 Nagorno-Karabakh War between Armenia and Azerbaijan. The latter effectively used the Israeli-made Harop, Orbiter-1K, Orbiter-3, and Sky Striker kamikaze drones on Armenian ground targets.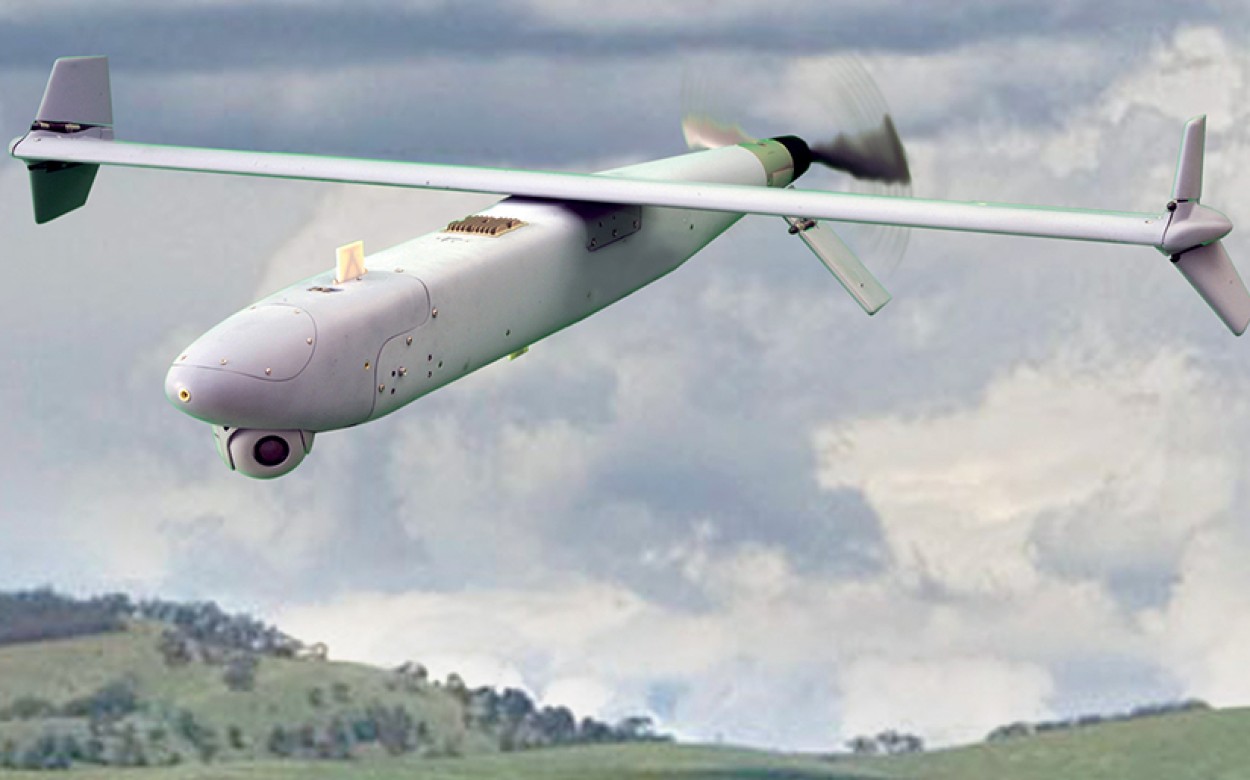 Videos of the Harop striking command centers and S-300 surface-to-air (SAM) batteries and radars had flooded social media then.
According to officials, the current sale to Estonia would enhance its long-range 'indirect fire' capabilities. 
The presence of CCD cameras in their nose and being inherently drones themselves make loitering munitions on tactical intelligence-surveillance-reconnaissance (ISR) platforms extremely effective, even in offensive roles.
The video feed quickly gives its operators a view of the battlefield, even if the UAV is shot down or jammed. 
Estonian Defense Need
Pevkur held kamikaze drones as being critical and suitable for Estonian defense needs during the contract signing event. 
"Long-range loitering munitions are an important addition to the development of Estonia's defense capability. The importance of indirect fire cannot be overestimated, as Russia has caused much of the destruction in Ukraine through indirect fire," Pevkur said. 
Pevkur added that the introduction of this new capability "allows (Estonia) to attack the enemy from a long distance, (it makes) indirect fire becomes more layered and flexible, increasing the range of fire, which means that the defense forces can hit the enemy where it hurts."
We signed a nine figure contract today with IAI to acquire loitering munition for @Kaitsevagi pic.twitter.com/HdseMpvcuB

— Hanno Pevkur (@HPevkur) May 2, 2023
A tweet from IAI said the procurement enhances Estonia's indirect fire capabilities and strengthens its defensive "capabilities." The Baltic nation, along with Lithuania and Latvia, had been critical of Russia throughout the war. 
The Republic of Estonia has signed an agreement with IAI to procure advanced long-range loitering munitions, making it the one of the most expensive defense procurement Estonia has ever made. pic.twitter.com/fVt5wYkVfd

— Israel Aerospace Industries (@ILAerospaceIAI) May 3, 2023
But purchasing a tactically offensive platform like a kamikaze drone and emphasizing "defensive" strength indicates no desire to confront Moscow militarily. It can be seen as an extension of the Western-led alliance's hardline stance. 
Pevkur added that possessing loitering munitions increases range and makes "indirect fire more flexible and layered." He suggested an arrangement where one line of defensive artillery would consist of towed and self-propelled howitzers while another of loitering munitions, allowing the defenders to exploit the benefits of both systems simultaneously. 
Kamikaze drones will eliminate the need for supply lines and elaborate logistical arrangements that can come under enemy attack while being more precise and guided.
Traditional gun and tube rocket artillery, meanwhile, retain their advantage of delivering heavy high explosive power to destroy hardened targets and effect mass casualties. 
ERR News quoted the armaments head of Center for Defense Investments (RKIK), Ramil Lipp, as saying they have been able to upgrade Estonia's indirect fire capabilities over the last year, and loitering munitions form a part of that improvement. 
Commander of the Estonian Defense Forces (EDF) capabilities creation department, Kaarel Mäesalu, said that with the IAI procurement, the EDF's combat capability would be bolstered "significantly" in terms of firepower. "Lurking munitions can operate in a variety of weather conditions and are suitable for our climate," Mäesalu said.
IAI's Harop Loitering Munition System
The Mini Harop is a low-cost tactical loitering munition that can provide small ground units and special operations forces with significant situational awareness and firepower in a compact package. 
Stored, transported, and launched from a sealed canister, as many as 12-16 Mini Harop units can be carried on and launched from a small vehicle. 
It has a high-definition day/night electro-optical guidance system. The Mini Harop has a range of 50 kilometers, is powered by a silent electrical motor, and has a loiter time of two hours.
Its warhead weighs nearly three kilograms and has high accuracy, claimed to be better than a Circular Error of Probability (CEP) of one meter. 
The Mini Harop can also "abort and go around" to prevent unnecessary collateral damage. If no target is found, the drone can be recovered.