Russia's blitzkrieg in Ukraine, which began over two weeks ago, was met with fierce Ukrainian resistance, contrary to Moscow's expectations. Ukraine has since made a number of claims about killing Russian troops, destroying its tanks and fighter jets, and overall putting up a good fight.
However, the lack of advanced weapons in comparison to Russia's sophisticated arsenal seems to have prompted the Ukrainians to look for other means to show might.
Weapons such as AK-74 and AK-47M assault rifles, as well as RPG-7 launchers, purportedly captured from Russian troops, are being showcased on social media, which has become a powerful PR tool for the Ukrainian military and political leaders.
In fact, each side is using social media platforms to claim an edge over the other,  sometimes resorting to exaggeration and disinformation.
#Ukraine: Vitaliy Kim, the Governor of #Mykolaiv Oblast, in his office.

Note the captured AK-12 as well as a suppressed AR-15. pic.twitter.com/YOluGN5fAq

— Cᴀʟɪʙʀᴇ Oʙsᴄᴜʀᴀ (@CalibreObscura) March 7, 2022
Images of important Ukrainian figures with captured Russian small arms have surfaced on social media. However, one weapon, in particular, the AK-12, has become a highly prized battlefield trophy for Ukrainians.
Calibre Obsura, a Twitter handle that analyses developments linked to the usage of small guns and other infantry weapons in wars recently posted multiple photographs circulating on social media.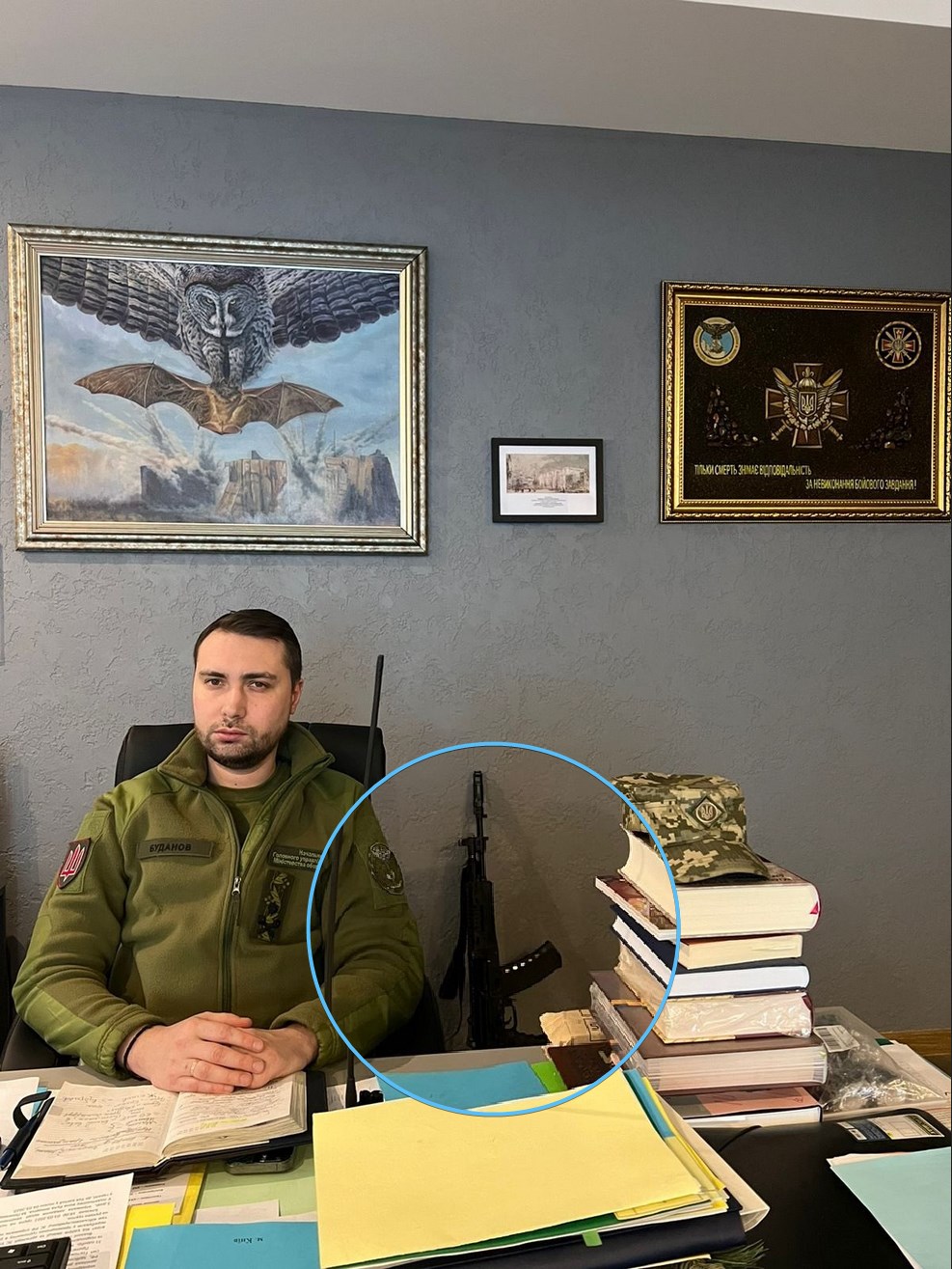 The Governor of Mykolaiv Oblast, Vitaliy Kim, was photographed in his office carrying a captured AK-12 rifle. On the other hand, Brigadier General Kyrylo Budanov, the Ukrainian Chief of Defense Intelligence, was also seen keeping an AK-12 in his office.
The conflict seems to have reached a crucial turning point as Ukraine's President Zelensky has stated that his country is no longer interested in joining the US-led NATO, while Russian officials have announced that they do not seek a regime change in Ukraine and have hinted at progress in bilateral talks.
It seems that that captured AK-12 are becoming a status weapon for Ukrainian figures; here we see the Chief of the Defence Intelligence of Ukraine, Brigadier General Kyrylo Budanov, with another example. pic.twitter.com/l8fQ3vjNnz

— Cᴀʟɪʙʀᴇ Oʙsᴄᴜʀᴀ (@CalibreObscura) March 7, 2022
A Symbol Of Ukraine's Resistance?
The practice of using visuals to spread wartime propaganda dates back to a century. Being a powerful medium of communication, photographs were used by warring nations during World War I and II.
Even during the Cold War period, both the US and the communist bloc led by the Soviet Union pushed their respective propaganda with texts, photographs, and audio-visual media. Posters from the era show how propaganda was disseminated before the arrival of modern technologies.
Twitter is a blatant propaganda platform. The top of my feed encouraged me to click this "Twitter Movements" feed of "news from Ukraine"

It's a bunch of Western government propaganda outlets like CIA's RFE/RL and Britain's BBC, along with Western-backed Euromaidan coup activists pic.twitter.com/CVlyii5gnx

— Benjamin Norton (@BenjaminNorton) March 7, 2022
Besides, terrorist organizations also display weapons while being photographed. Slain Al-Qaeda founder Osama Bin Laden was seen carrying an AK-series assault rifle in numerous photos.
In the Ukrainian context, a message is being sent out to the rest of the world that the captured Russian weapons symbolize the country's resistance in the face of a stronger invading force.
Since the beginning of the Russian invasion, Ukrainian leaders have been using a carefully crafted narrative. The viral photo of President Zelensky in combat gear is a case in point.
The President of #Ukraine Volodymyr Zelensky is now in the combat zone as he decline US asylum offer. | Some people argued it's a wrong call for the President to join Ukrainian troops in the frontline, claiming his safety isn't guaranteed. #UkraineRussiaWar #UkraineUnderAttack pic.twitter.com/0y49TrTKXJ

— UNCLE DEJI (@DejiAdesogan) February 26, 2022
Rifles like the AK-12 are more advanced than those issued to regular Ukrainian military units, implying clear operational benefits. Using "seized" Russian small guns provides a chance for Ukrainian troops to establish technological parity with their adversaries.
#Ukraine: Weapons captured from the Russian VDV troops as a result of yesterday's attack in Hostomel – 2x AK-12, AK-74, AK-74M assault rifles, PKP "Pecheneg" machine gun, GM-94 pump action grenade launcher and modernized SV-98 sniper rifle. pic.twitter.com/KeDZbdwZEK

— ?? Ukraine Weapons Tracker (@UAWeapons) March 4, 2022
In late February, members of the Ukrainian Territorial Defense Forces were seen on the streets of Kharkiv with "captured" Russian firearms, while other servicemen recorded films showing close-up shots of AK-12 rifles. The AK-12 has become popular among Ukraine's special operations units as well.
AK-Series Assault Rifles
The 5.45 mm AK-12 is the Russian military's main assault rifle. The AK-12 is a new weapon that will eventually replace previous versions of 5.45mm Kalashnikov assault rifles (AK74, AK74M) in the Russian armed forces.
The AK-12 project began as a private initiative in 2011 by the IZHMASH armaments manufacturer (now part of the "Kalashnikov" company). It was entered into the "Ratnik" trials, which were held by the Russian Army, in 2013.
The AK-12 and the AK-15 which hold the bigger 7.62x39mm round did not enter service with the Russian military until early 2018. But Soldiers are still issued AK-74 and AKM-series rifles, which are older models.
On top of the revised, detachable top cover, the AK-12 rifle has an integrated Picatinny rail, which allows for easy and quick installation of current day and night sighting equipment. The top cover is secured to the receiver by a captive cross-pin in the front and a spring-loaded element in the back, resulting in a firm platform with no play or wobbling.
A side-folding shoulder stock with an adjustable length of the draw is included with the weapon. This shoulder stock is built to last, letting one employ an under-barrel grenade launcher like the GP-25 or GP-34 to increase battle effectiveness even further.
An excellent detachable compensator/muzzle brake is included in the barrel. A bayonet or a quick-detachable sound suppressor can be installed on the barrel depending on the tactical circumstances. A cleaning kit is kept in a jar near the pistol grip's base, and a three-piece cleaning rod is kept in the shoulder stock tube.
The Kalashnikov press office told TASS at the Army 2021 international military-technical symposium that the AK-12 assault rifle will become the standard armament for Russian forces in the coming years.
It is pertinent to mention here that even though NATO refused to fight against Russia in the ongoing war, Ukraine has received huge consignments of small arms, portable air defense systems and anti-armor equipment from several European countries. So, it is not as if the Ukrainians are completely defenseless.
The social media images showing "captured" Russian weapons, especially the latest AK-12 rifles, are perhaps used to boost the morale of the Ukrainian military and civilian militias.