The US Department of Defense (DoD) on July 25 announced four additional High Mobility Artillery Rocket Systems (HIMARS) for Ukraine – bringing the total to sixteen.
Ukraine and Russia make competing claims about the system's success, with the former claiming to have hit several Russian ammunition depots and the latter pointing to having already destroyed four HIMARS platforms.
S-400 Killer? Ukraine Says Russia's 'Billion Dollar' Defense System Crumbling Against US HIMARS
It is thus essential to study its technical, tactical, and financial efficacy and whether it tactically or strategically benefits Ukraine.
The Lockheed Martin HIMARS is the third weapons platform, along with the Javelin and the M777 lightweight howitzer that the US armed Ukraine within a $270 million package.
The complement of six tube rockets is mounted on a wheeled truck that is guided via satellite navigation and can deliver a variety of ammunition and explosives on land targets at nearly 100 kilometers.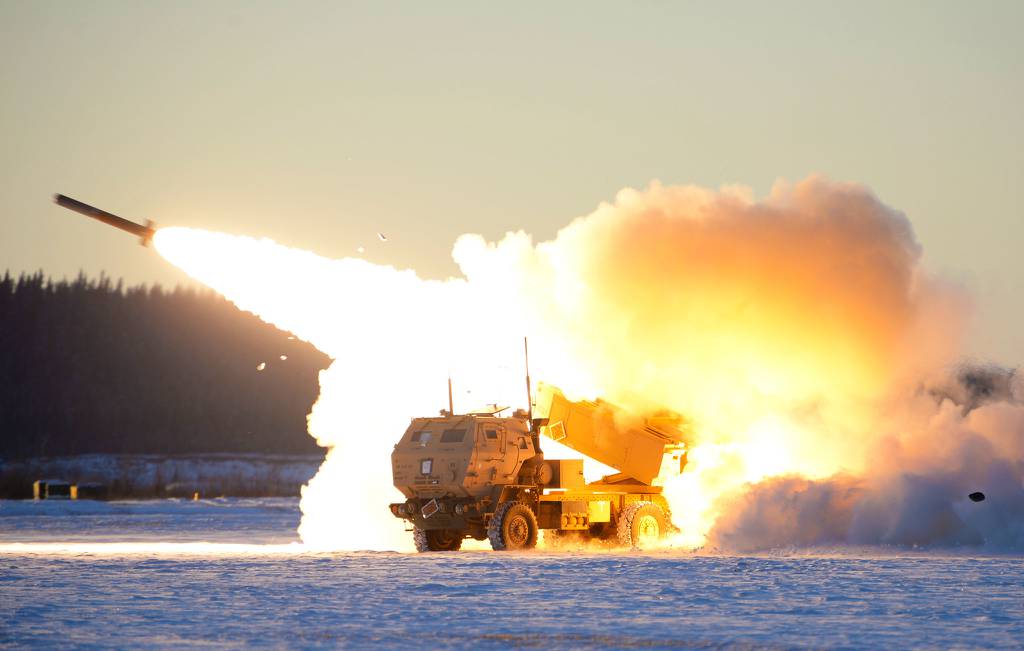 Key to a battlefield situation like Ukraine, where it has nearly lost its eastern region of Donbas and has the Russians firmly entrenched in the south, it can destroy fixed or moving Russian targets, sparing frontline troops that effort.
Russia has ironically achieved its battlefield goals using the same tactic: relying on long-range artillery, cruise missiles, and their equivalents of tube rocket artillery in a classic 'standoff' destruction. It has also conducted a war with high attrition, where while sustaining heavy losses, it keeps the war going and incrementally attains its military goals.
Ukraine badly needed this capability since its Soviet-era Tochka-U missiles, artillery, and ammunition have been ineffective, destroyed, and expended.
The US, however, was definite about not giving Ukraine the even more advanced Army Tactical Missile System (ATACMS), a rocket with a range of 300 kilometers that can reach inside Russia's borders.
Cost & Capability
For one, the HIMARS is inferior to its closest competitor in the Russian arsenal, the Russian 9A54 Tornado. Both with the same role, Ukrainians have 16 US M142 HIMARS that can fire 6 GPS-guided 227 mm rockets capable of reaching 80 kilometers and are accurate within 5 to 10 meters.
Russian ground forces have twenty 9A54 Tornado-S systems, which can fire twelve 300 mm GLONASS-guided rockets with the same accuracy as HIMARS at 120 kilometers.
Thus, in terms of numbers, the size of the rockets, range, and capacity, the Russian system outclasses the HIMARS. The Tornado-S is a deep upgrade to the BM-30 Smerch Multiple Launch Rocket System (MLRS), which entered service in late 2016.
Moreover, the HIMARS is also prohibitively expensive. Each HIMARS rocket costs around $150,000, and the wheeled chassis/launcher costs $5.6 million. Thus, the entire system (six rockets and the wheeled launcher) comes to $6.5 million, and a dozen HIMARS launchers would come at $78 million.
As for the Tornado-S, a September 2019 ZAO Special Design Bureau (SKB) contract with the Russian MoD to make 20 such systems was priced at 6-7 billion rubles ($93-$108 million). Even taking the upper limit puts the price of each unit at $5.4 million. This makes the Tornado-S 16% cheaper than the American system.
How Has HIMARS Performed? 
While there are several videos of successful HIMARS strikes, Russia, on its part, has claimed to have destroyed four of them, including one support vehicle, between July 5 and July 20.
"From July 5 to 20, four launching ramps and one reloading vehicle for the US-manufactured HIMARS MLRS delivered to Ukraine were eliminated by high-precision ground and air-based armament.
Among them, two launching ramps were destroyed near Malotaranovka, one HIMARS and one reloading vehicle were destroyed near Krasnoarmeysk, and the 4th launching ramp at the eastern suburb of Konstantinovka (Donetsk People's Republic)," Lt Gen Igor Konashenkov, the Russian MoD spokesperson had said.
The Russians even released a video of the HIMARS being destroyed that lends some credibility to their claims.
Moreover, one of the videos the Ukrainian Armed Forces (UAF) claimed was a Russian arms depot being destroyed by HIMARS.  It was pointed out by a social media user to have been the other way round – it was Ukrainian ammunition blowing up after a Russian strike.
HIMARS get's tracked by RU and allegedly destroyed by an Iskander, Krasnoarmeysk, Donetsk area.

The one scenario they could have skipped the degrading and cutting and they don't. ? pic.twitter.com/jZKbpu7fHY

— Ghost of Zepo (@mdfzeh) July 17, 2022
One can assume Russian commanders to have waited until they thoroughly studied the HIMARS' capabilities before developing countermeasures. The strike rate will only decline as Russia adapts to its deployment.
The Turkish TB-2 Bayraktars met a similar fate when after being shot down in large numbers, Ukrainian junior officers and soldiers were skeptical of using them any further.
EurAsian Times' research attributed this to a long-running Russian effort in developing their Electronic Warfare (EW) and counter-drone capabilities since Crimea and Syria in 2014.
Another UA himars fake. Yesterday this video circulated claiming himars hit RU ammo depot and Ru servicemen where recording. Turns out, this was a UA ammo depot that RU blew up in Zaporoyzhe in June, hence them recording it. pic.twitter.com/humDE3YTIu

— Ghost of Zepo (@mdfzeh) July 21, 2022
Former US Marine Corps Intelligence officer Scott Ritter said HIMARS would not change the war's outcome. "Yes, you may kill more Russians. But that's it. They will keep all the territory they have captured," he adds.
Former Australian Army Major General Mick Ryan, an adjunct fellow at the Center for Strategic and International Studies (CSIS), pointed out that the HIMARS did help Ukraine tactically by moving away from an attritional battle; it alone wasn't a "wonder weapon."
"It has an important impact and will continue to do so, but HIMARS alone will not win this war," Ryan added.