The promising results from the training grounds in Poland, where the Ukrainian tank crew are training on Leopard-2 Main Battle Tanks (MBTs), have recently been shadowed by a "minor accident" involving the Polish Leopard-2A4 tanks that blew off a tank's turret.
LEOPARD Lost its TURRET!!!

During training of Ukrainian troops in Poland, A Leopard 2A4 Tank reportedly lost its Turret due to a collision. #Poland #Ukraine #Russia #Leopard #Tank pic.twitter.com/F154h13Yh1

— EurAsian Times (@THEEURASIATIMES) April 18, 2023
A former Polish army officer Piotr Pavelka claimed on his YouTube channel that the Ukrainian military, trained in Poland to operate Leopard 2 tanks, was involved in a minor accident. The turret of Leopard MBT was ripped off due to a collision with another tank.
According to Pavelka, it most likely occurred as follows: One tank collided with another, drove into its armor, and slammed into the turret, simply tearing the turret out of the MBT.
Pavelka served in the Polish army for 15 years until retiring in 2022. He is a reserve officer with the rank of lieutenant. Although his claims triggered a massive discussion about the incident on social media, there has been no word from Warsaw or Kyiv.
To support his claims, Pavelka attached several photographs of the alleged Leopard-2A4 accident in his video. In one of the photos, the Leopard2A4 tank's turret is seen separated from its shoulder strap, whereas, in other images, the front of the tank's hull can be seen with a thick layer of muck and perhaps even track markings.
Another set of claims on social media suggests that the Leopard 2A4 handed over to the Armed Forces during training in Poland unsuccessfully descended the hill, stuck the gun into the ground, and tore off its turret. The authenticity of neither of the claims could be verified independently.
Polish army officer Piotr Pavelka, who made the claims in his YouTube video, noted, "As for such an accident, well, to be honest, I still can't remember seeing such inept driving anywhere." The pictures soon appeared on social media, with netizens mocking the Polish tanks.
One Twitter user wrote, "This German Leopard 2A4 tank for the US proxy war in Ukraine didn't survive the training session with the new crew. The turret came off. That's one way to make peace." Another Twitter user went a step ahead and mocked by saying, "Leopard 2A4 Casualty already happened."
Poland delivered the first batch of Leopard-2A4 tanks to Kyiv on February 24 this year, with deliveries from other partners set to continue into the coming weeks. The 1985-vintage 2A4s are some of the oldest tanks that are currently operational.
Leopard 2A4 casualty already happened. pic.twitter.com/FfwY3IM4vV

— Dr.Snekotron (@snekotron) April 17, 2023
Poland has been at the forefront of inspiring NATO action to provide Ukraine with modern MBTs. Since February, it has been training the Ukrainian tank crew to operate the tanks on its training grounds.
The record time in which Kyiv's tank crews complete the training has led military commentators to call it a "crash course" in operating the tanks.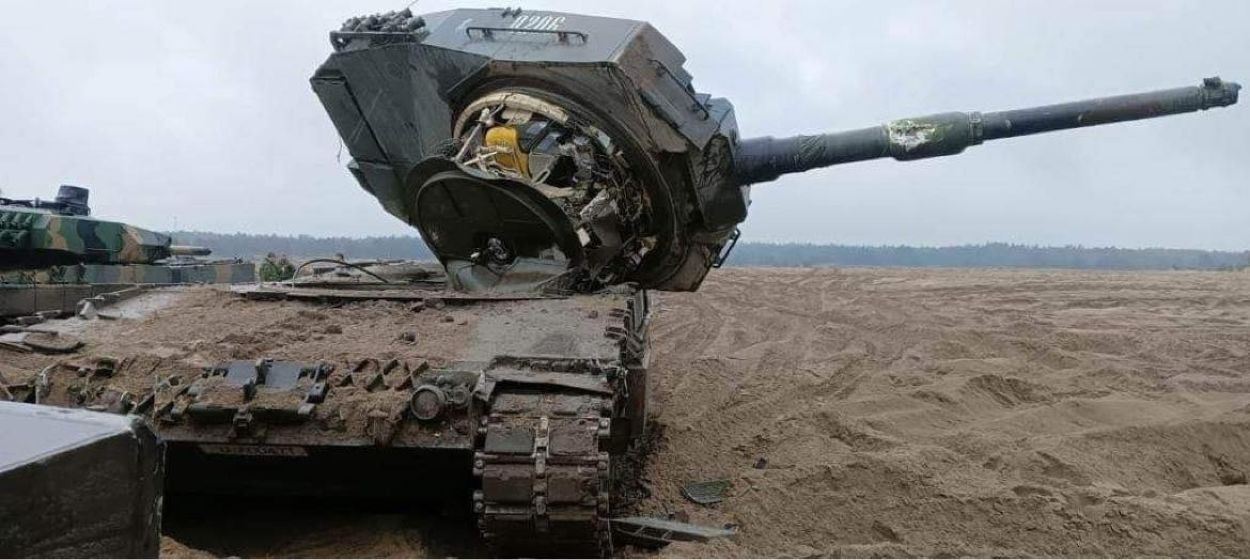 Efficacy Of Leopard-2A4 Tanks Under Scanner?
With features including an automatic fire and explosion suppression system, an all-digital fire control system capable of handling new ammunition types, and an upgraded turret with flat titanium/tungsten armor, the German-made Leopard-2A4 is the most common variant of the Leopard-2 tank.
However, its armor's strength in contemporary battle has come under the spotlight. This is essential because a tank's ability to survive a battle is majorly determined by its armor.
At the time, Indian Army veteran and military expert Col JS Sodhi (retd) had explained: "Being a Cold War-era product, Leopard MBTs were not meant to encounter IEDs, ATGMs, and suicide drones. The 2A4 retains an older boxy turret configuration, offering less protection from modern anti-tank missiles.
"Its armor protection consists of a 420mm armor block, a light alloy hinged frame of 240mm thickness, and 80mm thick sheets of rolled homogenous armor. This exposes the turret as a weak point. This is one the main reasons these tanks have good firepower but lack adequate armor protection."
This observation, endorsed by several other military analysts across the spectrum, brought into question the vulnerability of the Leopard-2A4 turret. However, without using any possible ATGMs, the turret was still allegedly broken by mere collision.
Ukraine is receiving several variants of the German-origin Leopard-2 tanks from its allies. Germany, for one, has already delivered a batch of 18 Leopard-2 tanks to Ukraine, whereas other NATO allies, including Canada, are in the process of making deliveries.
Ahead of a potential spring offensive, the tank deliveries are expected to bolster Kyiv's combat capability significantly.
Contact the author at sakshi.tiwari9555 (at) gmail.com