The British Army's military vehicles will soon receive a high-energy laser weapon under the Land Demonstrator laser program initiated by the UK Ministry of Defense (MoD) to boost their lethality.
This was announced by Defense company Raytheon UK, which noted that integrating the brand-new high-energy 15-kW laser weapon into a Wolfhound armored vehicle would take place in October 2023.
This will mark the first time the British Army vehicles would sport a state-of-the-art laser weapon, and it has also been touted as a groundbreaking milestone for Raytheon. This is expected to substantially advance the British Army's understanding of the actual application of such cutting-edge weaponry.
The Wolfhound is a six-wheeled variant of the well-known Mastiff and offers troops extra security while assisting missions in dangerous regions. In addition to serving as a gun tractor and gun limber for the Royal Artillery's 105 light cannon, it offers a highly protected load-carrying vehicle for various tasks.
This 15-kilowatt laser system to be mounted on the Wolfhound has been meticulously designed to combat airborne threats, especially unmanned aerial vehicles (UAVs). Compared to conventional munitions, it is expected to provide a nearly limitless number of shots, pinpoint accuracy, and extremely little collateral damage while shooting down aerial threats that have become a new battlefield menace, as observed in the Ukraine war.
For instance, Russia has extensively deployed expendable UAVs that either ram directly into the target, typically a military vehicle, or drop munitions straight into the hatch of the vehicle from above. Russia's Lancet-3 and Shahed-class drones have obliterated several Ukrainian tanks and armored vehicles in the protracted conflict.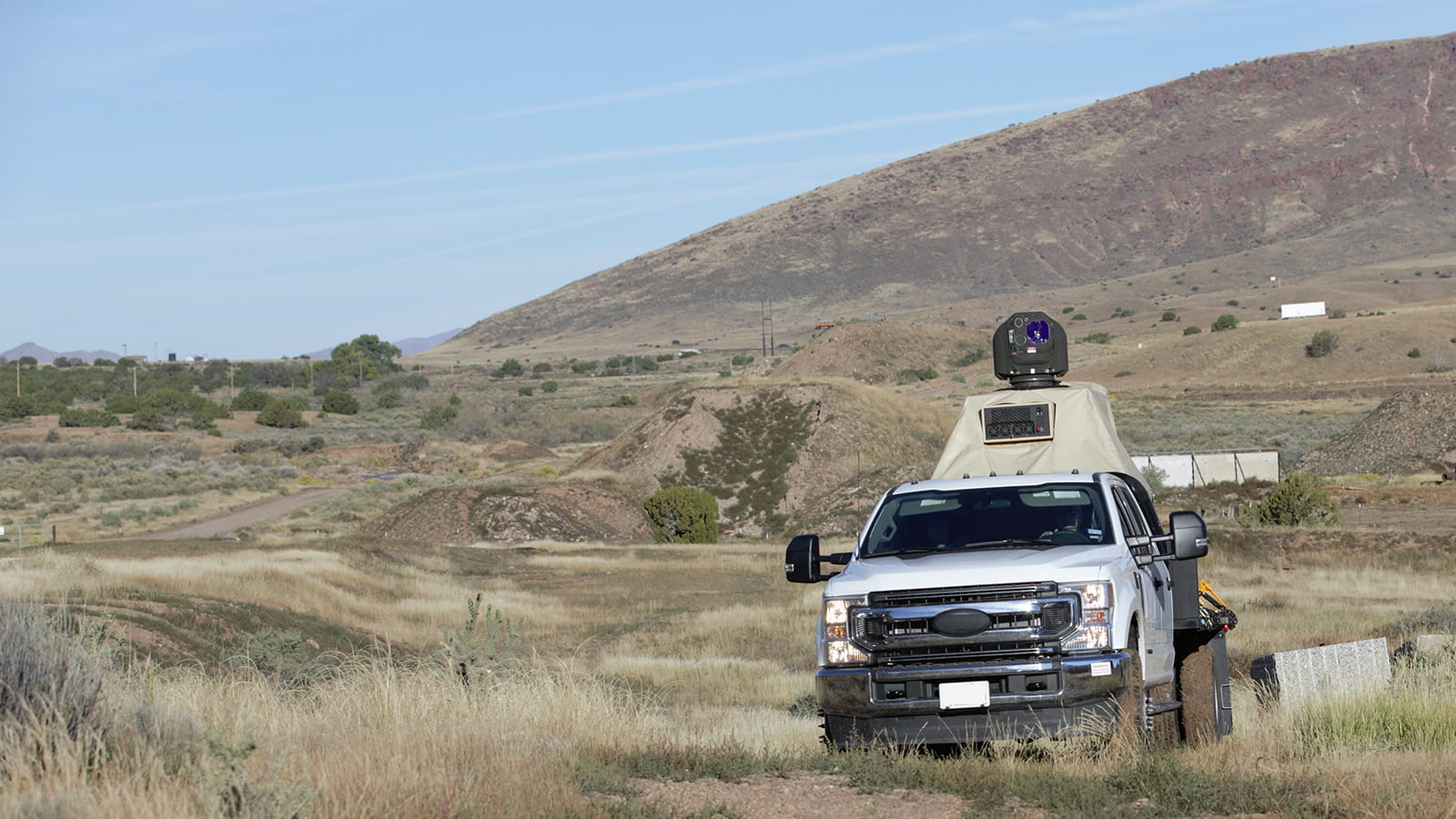 The conflict has also demonstrated that shooting down a cheap drone with an expensive, cutting-edge missile fired from an air defense system is costly. Ukrainian officials previously noted that using $1m missiles against a swarm of $50,000 drones is not cost-effective.
Thus, laser weapons that direct high energy to destroy an approaching aerial target come at an opportune moment.
Raytheon UK was awarded a demonstrator contract to provide a High-Energy Laser Weapon System, or HELWS, to the UK Ministry of Defense in 2021. Integrating the weapon on the Wolfhound in record time is the latest British Land Demonstrator laser program achievement.
Julie Finlayson-Odell, managing director of weapons and sensors at Raytheon UK, said in a statement, "The arrival of this transformative technology is an essential milestone in our collaboration with the MoD on using directed energy to address a variety of threats, from drones and UAVs to more complex missile systems.
"This system is a culmination of decades of investment, research, and innovation, and its arrival reflects our continued commitment to helping fulfill a key strategic objective of the UK's Integrated Review, which is to understand how directed energy weapons can safely and effectively operate alongside other elements of the UK's armed forces," Odell added.
British Army's Latest Laser Weapon
HELWS is a modular counter-UAV system that uses an electro-optical/infrared sensor to pursue highly maneuverable threats accurately and relatively efficiently. The system is adaptable and has been fielded in numerous real-world settings. To the British Army's advantage, it can also be linked with a wide range of contemporary air defense systems to provide a robust layered defense capability as needed.
According to Raytheon UK, the high-energy laser weapon system has completed several field tests under challenging weather conditions, including intense heat, cold, rain, sleet, and snow. This essentially proves the utility of the weapon system, which is not only affordable but also appears to be reliable.
The system successfully acquired, tracked, targeted and shot down dozens of drone targets during four days of extensive live-fire drills in the United States earlier this year. The live-fire drills reportedly included short-range attacks, swarm attacks, and long-range threat scenarios.
Raytheon's high-energy laser weapon system has a small, transportable design that allows for easy platform adaptability and seamless interoperability with other air defense systems. It is a viable and affordable option for securing military resources, crucial infrastructure, and quickly fending attacks because it has a deep, recharged magazine and needs little logistical support.
Our 2021 Highlights #2: This year we signed a contract with @DefenceHQ to provide a High Energy Laser Weapon system demonstrator to be mounted on a Wolfhound platform for comprehensive UK trials.

Find out more about the contract here: https://t.co/8BVdgYQiz3 #InvestedInBritain pic.twitter.com/3dbcGsFFdt

— Raytheon UK (@Raytheon_UK) January 6, 2022
The device presents a cost-effective alternative to conventional weapons by providing many shots with unmatched precision and minor collateral damage. Several advanced militaries worldwide, including the United States and Israel, have developed and deployed laser weapons to shoot down UAVs.
The UK, for one, is a pioneer in using lasers for combat, having used an accurate dazzler laser as far back in history as in the Falklands War in 1982. The British government is committed to creating and deploying a homegrown high-energy system in the coming years. Lasers must be integrated into the platform they are carried on, just like any other weapon system. This requires careful attention to detail and working within constraints.
It was also noted that Raytheon UK was aggressively building on the success of their efforts in the United States, where eight high-energy laser weapons have been supplied to the US military. Additionally, more than 400 targets have been neutralized by these systems during more than 25,000 operational hours, which is a remarkable track record.
Compared to Lockheed Martin's 300-kW monster, a 15-kW laser may appear insignificant, yet it is still quite effective against UAVs and more powerful threats. Attacking weak electronics and sensors can blind what it can't destroy.
Contact the author at sakshi.tiwari9555 (at) gmail.com