The German government has reportedly authorized the export of weapons systems and military equipment to Saudi Arabia and the United Arab Emirates (UAE) to reach a favorable energy agreement with the two Gulf countries amid Berlin's colossal energy crisis.
China's 'X Factor' Exposed? A New 'Spinning Camera' Mounted On Aircraft Carrier Spotted That Can "Detect The Undetectable"
Germany has imposed a ban on arms export to the UAE and Saudi Arabia since 2018 because of their involvement in the war in Yemen and allegations against the Saudi Crown Prince, Mohammed bin Salman, of having ordered the assassination of Saudi dissident journalist Jamal Khashoggi, which allegedly took place at the Saudi Arabian embassy in Turkey.
However, faced with a dire energy crisis, the German government decided to approve the export of arms to the two Gulf nations shortly before German Chancellor Olaf Scholz's trip to the Gulf region, reported Der Spiegel on September 29.
?: German Chancellor Olaf Scholz has arrived in Saudi Arabia for the first stop of a two-day, three-country visit aimed at striking new energy deals and forging fresh alliances, Sept. 24, 2022. pic.twitter.com/1KGeXqcPnJ

— Voice of America (@VOANews) September 24, 2022
Scholz's trip was reportedly aimed at securing energy imports, according to an earlier report also by Spiegel.
Before the trip, the German federal government had stressed that no deliveries to Saudi Arabia had been approved since taking office.
However, Robert Habeck, the German Economics Minister, later confirmed in a letter to the Bundestag – the German federal parliament – that several agreements had been approved by the Chancellor and his top ministers just a few days before his trip.
According to Spiegel, Habeck's letter contains a list of export licenses approved by the Federal Security Council for various countries.
The export permits for Saudi Arabia include European arms projects in which German industry is also involved. For example, German companies can now sell the equipment and armament for the Eurofighter Typhoon and Panavia Tornado fighter jets to Saudi Arabia for up to 36.1 million euros.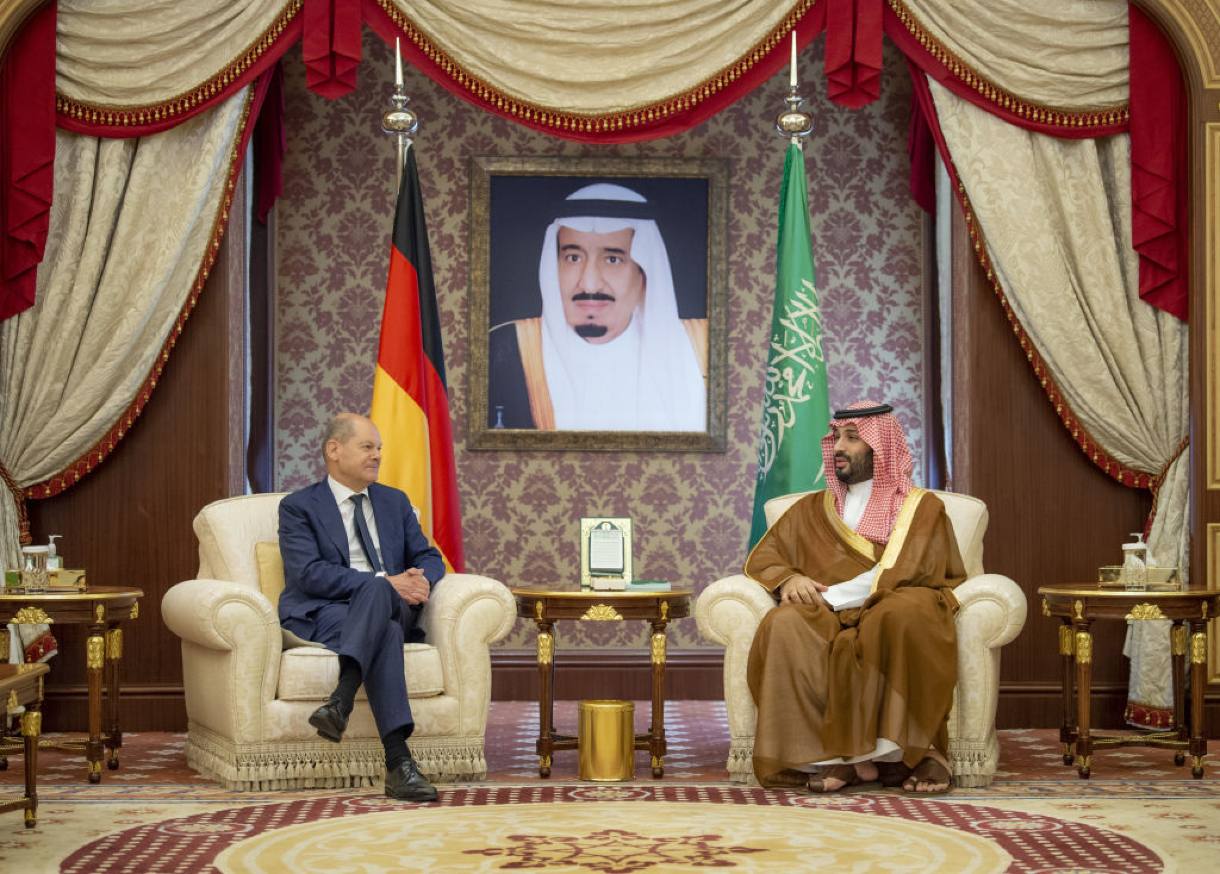 So far, Saudis could only purchase these defense materials from the UK, and its partner countries have criticized Germany for its restrictions on Saudi Arabia in joint armament projects.
This is because the UK and France view arms exports to conflict regions or autocratically governed countries as relatively unproblematic and necessary to refinance the massive development costs of the projects.
The permits for the UAE are also related to one of the joint projects, the Airbus A330 MRTT multi-role transport/tanker aircraft, as part of which the Emiratis can now import spare parts from the German manufacturer Kappa Opto Electronics for 1.3 million euros.
Saudi Arabia can also buy parts for its tankers from the same manufacturer for a slightly larger budget of 1.5 million euros.
Energy Crisis Forces Germany's Hand 
It appears that the fallouts of the Ukraine war have forced the hand of the German government into taking positions that until very recently were considered conflicting.
Russia's decision to cut the oil and natural gas supply to Europe after the onset of its invasion in Ukraine has pushed the prices higher in the continent, and Germany is feeling the brunt of it.
The inflation in Germany rose to 10.9% in September, up from 8.8% in August, according to a flash estimate published by the federal statistical agency on September 29.
This is the first time German inflation has reached double-digit levels since 1952. Energy prices have surged 43.9% against 35.6% growth in August, while food prices have risen by 18.7% against a 16.6% increase a month earlier.
Private households have begun preparing for a massive increase in heating bills as they stare at brutal winter with a limited energy supply.
As reported earlier by EurAsian Times, the German government has already turned off the lights illuminating the monuments in its capital Berlin to save electricity.
Some of Berlin's most famous landmarks are looking much darker these summer nights. That's because they have turned their lights off as part of Germany's effort to conserve as much energy as possible before winter. pic.twitter.com/kzjr1v5sVA

— DW Global Ideas & Environment (@dw_environment) August 1, 2022
Meanwhile, many German companies have been forced to reduce or even entirely shut down their operations because of soaring gas prices.
Before Russia invaded Ukraine, Germany relied on Russia for 55% of its gas supplies, and so far, it has managed to bring that down to 35%.
Eventually, Berlin plans to reduce imports to zero by importing gas from other countries. Chancellor Scholz's latest trip to the Gulf region and allowance of arms exports to Saudi Arabia and the UAE seem to be a part of that plan.
However, the latest export permits have been met with sharp criticism from the country's opposition.
"The criminal arms exports to Saudi Arabia show the true face of an allegedly value-based foreign policy that courts the brutal crown prince and murderer of journalist, Mohammed bin Salman, who is waging war against the civilian population in Yemen and suppressing all opposition in his own country," said Sevim Dağdelen, the member of the Bundestag representing the 'Left Party.'