The US Air Force recently demonstrated its ability to quickly adapt to unexpected situations by successfully landing several military aircraft on highways in Wyoming, effectively turning them into temporary runways.  
According to the 1st Special Operations Wing Public Affairs, the 15th Special Operations Squadron at Hurlburt Field, Florida, has recently conducted some unusual landing maneuvers as part of Exercise Agile Chariot.
An MC-130J Commando II from the squadron, accompanied by a pair of A-10 Thunderbolt II "Warthogs," an MQ-9 Reaper, and two MH-6M Little Bird helicopters, touched down on US Highways 287 and 789 in southern Wyoming on both April 30 and May 2.
Lt. Col. Adam Schmidt, 15th SOS Commander, explained, "The flight aimed to test the aircraft and crew's ability to land in austere environments with minimal infrastructure requirements and maximum flexibility."
Schmidt highlighted that the MC-130J is the Air Force's most versatile platform, capable of landing in unconventional settings such as highways and roads.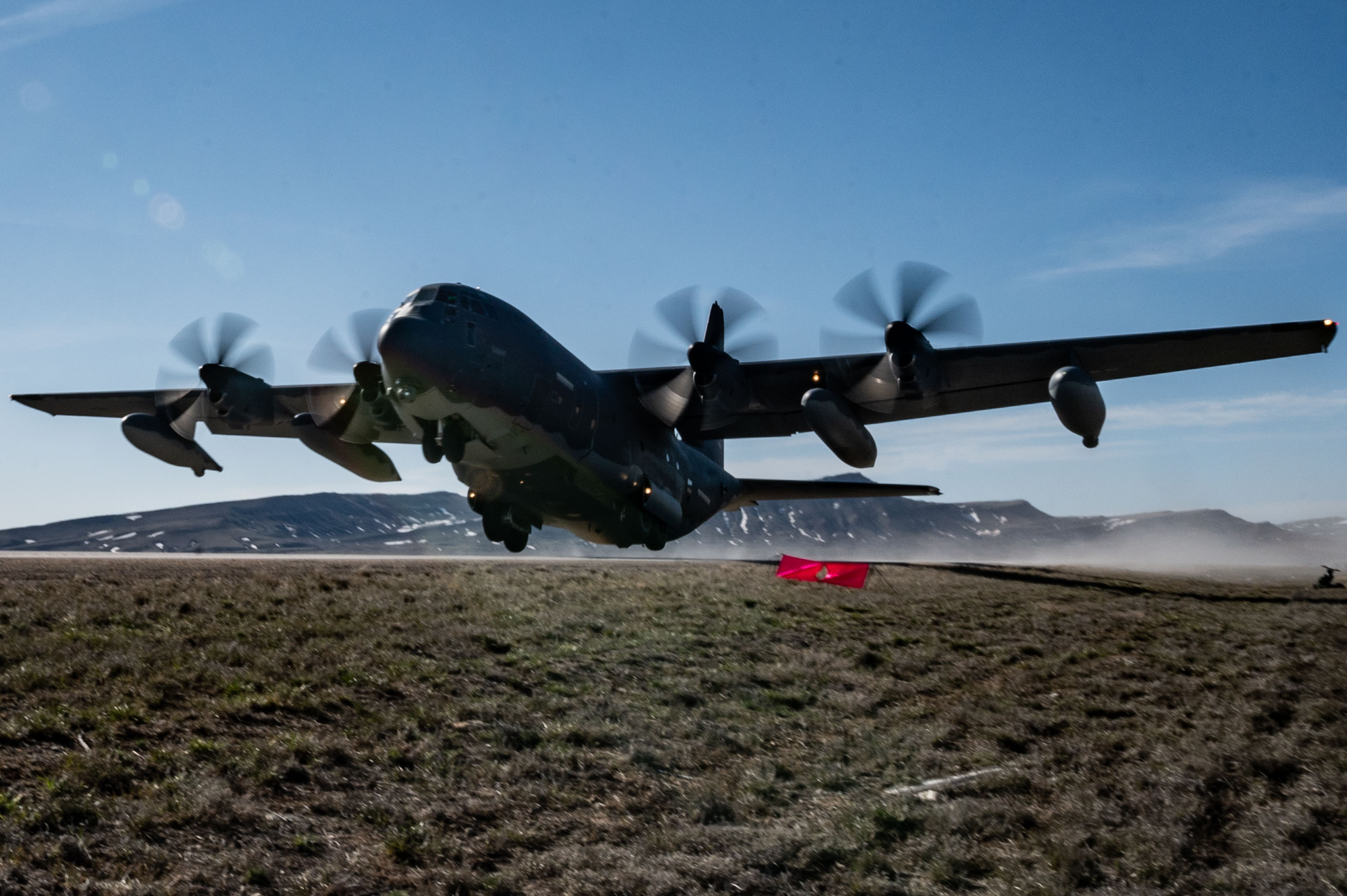 This capability presents unique challenges to adversaries, and the lessons learned from this exercise can be applied to any road in even the most austere environments, the 15th SOS Commander added. 
To facilitate the landing, sections of both highways were temporarily closed to allow the aircraft to touch down safely. The roughly 160,000-pound plane successfully touched down at speeds approaching 140 mph. 
The Air Force MC-130 crews are no strangers to landing in unexpected and unconventional places, from dirt strips in far-flung corners of the globe to austere landing zones in the heart of conflict areas like Iraq and Afghanistan. 
These daring and highly skilled crews have honed their ability to execute precision landings in some of the most challenging settings, making them a vital asset to the Air Force's operations.  
US Air Force Capt. Katheryn Richardson, the aircraft commander of the MC-130J that landed on the highways in Wyoming, stated that the crew approached the landing as they would any other, given their experience in landing in unique environments. 
However, as they approached the highway landing zone, she noted that the experience became more surreal, and the crew had a moment where they realized the unnaturalness of landing on a highway.
First-Ever UAV Landing On A US Highway
The Exercise Agile Chariot also featured some remarkable accomplishments, such as the first-ever landing of an unmanned aerial vehicle on a US highway. 
The press release noted that an MQ-9 Reaper from the ​​919th Special Operations Wing at Duke Field, Florida, successfully executed the landing. 
In addition to the highway landings, the recent week-long exercise tested the Air Force's Agile Combat Employment (ACE) capabilities.
ACE is a concept of operation that avoids depending on large, established bases and facilities. It employs groups in compact, spread-out locations to quickly transport and assist planes, pilots, and other staff to any necessary destinations.
The exercise included establishing a Forward Area Refueling Point (FARP) and enforcing Integrated Combat Turnarounds, with the crew working efficiently to recover and relaunch the aircraft quickly. 
Furthermore, the MC-130J crews demonstrated their ability to quickly refuel a pair of A-10 Warthogs from the Michigan Air National Guard's 127th Wing and even simulated a refuel with the MQ-9 Reaper.
This Forward Area Refueling Point exercise, which involves refueling with the aircraft engines running, allows units to prepare for situations where established refueling points may not be accessible or when air-to-air refueling is impossible.
Besides that, airmen from the Kentucky National Guard's 123rd Special Tactics Squadron performed a jump from the MC-130J to establish and secure the highway landing zone for the incoming aircraft, highlighting the importance of coordinated efforts and precision in special operations missions. 
In an era of constantly evolving military strategies, Exercise Agile Chariot is set to significantly impact planning and executing future missions, according to US Air Force Lt. Col. Dave Meyer, the exercise's deputy mission commander. 
With the potential for adversaries to deny the use of military bases or airfields, the exercise focuses on landing aircraft on highways, highlighting the Air Force's ability to access hard-to-reach locations.
Meyer added, "It's just too much territory for them to cover, which gives us access to places and areas they can't possibly defend."
Nonetheless, such exercises provide valuable training opportunities for the US Air Force, allowing them to test and refine their tactics, techniques, and procedures in challenging and unconventional environments.