By Neeraj Rajput
A month after Chinese President Xi Jinping ordered strict 'social rules' for his military commanders, trouble seems to be brewing for Chinese Foreign Minister Qin Gang, who has been 'missing' for the past three weeks.
Speculations are rife that Gang, who was promoted as Foreign Minister by Xi six months ago, has been in the soup for his 'friendship' with a Hong Kong-based news anchor.
Hong Kong-based news anchor (identity withheld) was also working earlier in the US, where Gang was also the Chinese Ambassador before being elevated to the post of Foreign Minister by none other than Xi himself.
Her last Twitter post, dated April 11 this year, shows the news anchor is shifting to Hong Kong from Los Angeles.
In her Twitter post, she posted a screenshot (photo) of a high-ranking 'world leader' whose back is towards the camera (a portion of the face is though visible) who seems to be Gang. She also shared a picture of her son in the post and an aircraft. There has been no activity on her timeline since then.
Gang was last seen on June 25 when the Foreign Ministers of Sri Lanka, Vietnam, and Russia visited Beijing. Since then, he has 'vanished.' Suspicion grew high when Gang missed attending the crucial ASEAN foreign ministers summit in Jakarta (Indonesia) last week.
Chinese top diplomat Wang Yi had represented China at the meeting instead. Xi replaced Yi with Gang as the new Foreign Minister in his new cabinet after assuming charge of the Chinese Communist Party (CCP) for the third consecutive term.
The Chinese Foreign Ministry has also been conspicuous in the absence of Gang from the office. On being asked during a press briefing, a ministry spokesperson said, "No information to provide."
Last week, on the question of not attending the ASEAN summit, one of the spokespersons said it was "due to health reasons." But the portion of this briefing has been missing from the transcript posted on the ministry's website.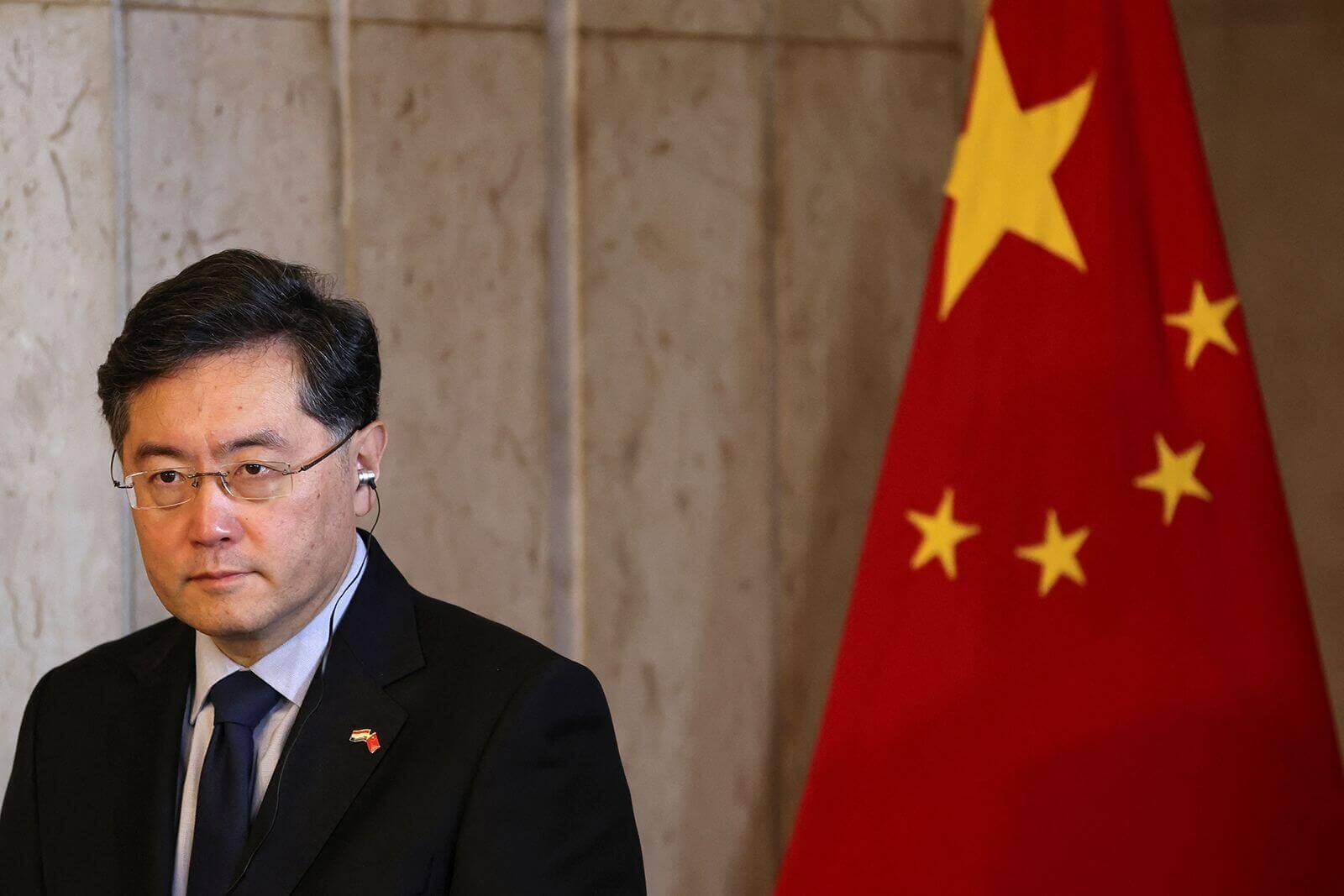 Fifty-seven-year-old Gang, a suave diplomat, was the 11th Chinese Ambassador in the United States who served in Washington DC till January this year (July 2021-January 2023). He is considered a trusted aide of Xi and diligently handled the Chinese spy balloon incident in the US.
Even after US-Sino relations had ebbed low after the spy balloon incident, Gang persuaded his US counterpart, Secretary of State Antony Blinken, to visit Beijing, where both ministers held meetings during the visit. But Gang was missing when US Secretary of Treasury Janet Yellen and then US Special Representative on Climate Change John Kerry visited Beijing.
"Though reasons for Gang going in oblivion are yet to be out for a (big) country like China, it is something unusual to be working without a full-fledged Foreign Minister from past three weeks," says Delhi-based foreign issues expert Sanjeev Srivastav speaking to EurAsian Times. "Whatever be the reason for the disappearance, CCP should come clean," adds Srivastav.
It has also come to light that some high-profile visits, including of European Union (EU) officials, have been canceled or postponed. EU officials were scheduled to meet Gang. But two days before the visit, Beijing canceled the meeting without reason.
This is not the first time senior CCP officials have gone missing, later to be found involved in some serious offense. During the first term of Xi, several officials (including the military) went missing initially. They were later found to be in jail in cases of corruption, embezzlement, and other vice activities.
Even China's richest man Jack Ma had also gone missing for weeks during the second term of Xi when Ma gave a public speech criticizing China's banking and financial regulations.
"China was already an authoritarian state since the time of Mao, but under Xi Jinping, it is moving from an authoritarian to a totalitarian regime," says Srivastav. "As such, Xi not only wants to have complete control over foreign-related affairs but is also conscious of his image that it is not tarnished with some allegations," adds Srivastav.
Gang's absence from public life has churned the mill of rumors worldwide. Some have termed the Hong Kong-based news anchor a UK spy or a double agent. And there are reasons for it.
In 2019, a garden in the UK's prestigious Cambridge University was named after her (she had previously studied there). EurAsian Times does not confirm such allegations but videos of her interview with Gang and screenshots have gone viral on social media.
Last month China's PLA issued a set of rules controlling the social life of military commanders. The Chinese PLA Daily newspaper reported that these rules included "specific requirements and concrete demands in eight areas" without further details.
But later, it came to the fore that these rules included a code of conduct dealing with CCP officials, bureaucrats, foreign institutions, and media.
Neeraj Rajput is a Senior War-journalist with more than two decades of multimedia experience in defense, conflict, security, strategic affairs & geopolitics.
Mail us at etdesk (at) eurasiantimes.com
The author tweets at @neeraj_rajput