As the FIFA World Cup 2022 draws closer, Qatar is completing its preparations to fortify its defenses against unforeseen circumstances. In this line, the country has acquired several state-of-the-art military systems.
Gripen Fighter Jet Maker SAAB Clinches A Major Deal With Indian Military For Powerful Anti-Tank Missiles
The first shipment of Eurofighter Typhoons that was recently delivered to the Gulf nation, a key acquisition that would help strengthen competition security, attracted considerable media interest. 
In 2017, Qatar inked an $8 billion contract with BAE Systems to buy 24 Eurofighter Typhoons and nine Hawk Mk 167 advanced training planes.
Additionally, the nation is receiving NH90 helicopters from Leonardo per a contract signed in August 2018. So far, the country has received six of the 28 NH90 helicopters in both Naval and Tactical versions. 
Thales, a French company, provides the avionics, EW CATS (Electronic Warfare, Compact Airborne Threat Surveyor for helicopters), radios, and Transmission Data Link for those helicopters.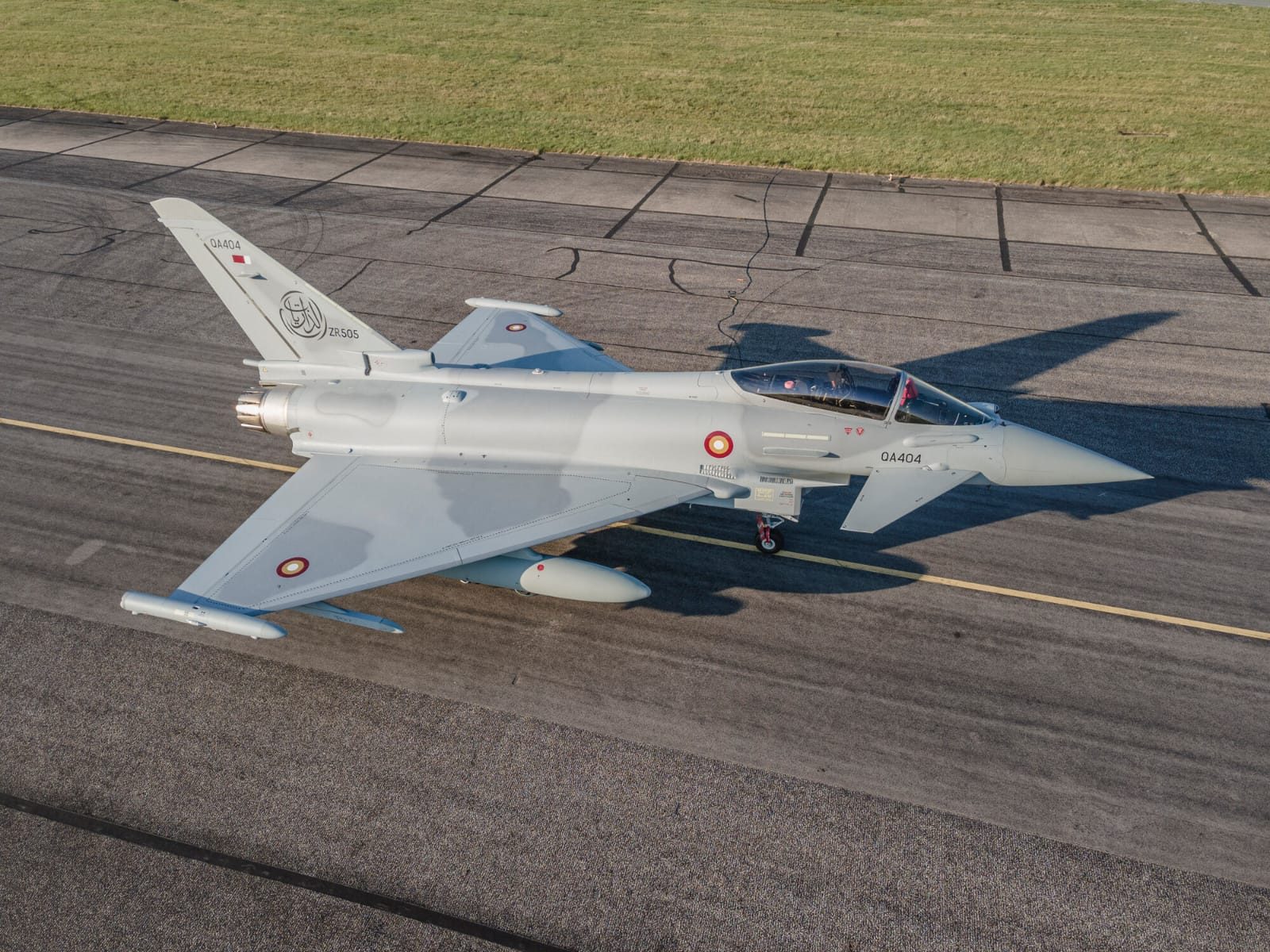 The Typhoons will be part of the 12 Squadron, also known as the Joint Typhoon Squadron, which is operated in coordination with the United Kingdom. From November 21 to December 18, the squadron will provide air security for the cup, as previously reported by the EurAsian Times. 
The 12 Squadron has routinely exercised in Qatar since its establishment as a joint squadron in June 2020. According to the UK Ministry of Defense, the World Cup deployment falls in line with a previously scheduled deployment.
The planes are the latest addition to the security barrier Qatar is trying to build and will be used for counterterrorism operations. The Qatar Emiri Air Force (QEAF) oversees air security for the event and will conduct most of the operations.
The UK will contribute its expertise and capabilities, which it acquired while hosting the 2012 Olympics in the country. 
Qatar has collaborated with foreign partners and acquired high-tech capabilities to improve its air, sea, and land security. However, such a high-profile event demands preparedness for the worst.
Qatari airspace will be protected by Leonardo's low-level air surveillance and defense system, which comprises a network of Kronos radars and related command and control centers. 
The Italian company is in charge of all the weather forecasting and Air Traffic Management electronics for the Hamad International Airport. The company will ensure the safe arrival of spectators and player passengers for the World Cup.
Security On Ground
Ground security is just as crucial as aviation and maritime security. Security experts will be especially concerned about the games because they present targets for asymmetric threats like terrorism or unruly crowds. 
The Qatari law enforcement agencies and their multiple global partners have drilled for upcoming events and are said to be well-equipped for crowd management. According to reports, more than 23,000 security personnel are required throughout the World Cup, with a focus on ensuring their safety and welfare.
Several thousand police personnel from Morocco have been sent to Qatar to help prepare security for the 2022 FIFA World Cup. 
Qatar has created a vast integrated surveillance system that feeds data to the National Security Center and includes audiovisual sensors, drones, and CCTV. The country is also taking measures to counter any threats from unmanned aerial vehicles. 
Fortem Technologies, a Utah-based company, announced in July that it is collaborating with Qatar on counter-drone techniques near the stadium. The SkyDome system, developed by Fortem, is the "best in the world with kinetic defeat when low-collateral damage is needed." 
The system includes the DroneHunter, which, as its name implies, hunts other UAVs in the air and destroys them by launching a specialized net, anchoring the danger, and hauling it to a predetermined spot. 
In June, NATO said it would offer assistance, including "training against threats posed by Chemical, Biological, Radiological, and Nuclear (CBRN) materials." Slovakia and NATO's joint CBRN defense center in the Czech Republic would provide this assistance.
The Romanian government will also provide training on IED countermeasures and VIP protection. Last but not least, there were reports that Pakistan could send troops to Qatar to help with security. 
Security On Sea
Qatar is primarily a peninsula with just one land border to the south with the Kingdom of Saudi Arabia. It is essential to ensure that no threat is approaching from the sea.
Qatar has inked numerous contracts recently to buy cutting-edge ships with radars and monitoring capabilities. In a 2017 agreement worth over $5 billion, the Qatari Navy bought four Al Zubarah-class corvettes, a landing platform dock, and two offshore patrol boats from the Italian manufacturer Fincantieri. 
The Muggiano (La Spezia) shipyard launched the fourth corvette in late April this year. The command management system, which consists of Leonardo's 3D AESA Grand Kronos Naval radar, IFF (Identification Friend or Foe) interrogator and transponder, and an IRST surveillance and tracking suite, is installed on each of the seven new ships.
The Qatari Navy has secured its agreement with Leonardo to build a Naval Operation Center (NOC) for the military service, the first of its type in the nation, to be unveiled at Dimdex 2022 earlier this year. 
The center makes sure that navy personnel keep an eye on and are in charge of Qatar's exclusive economic zone, surrounding waters, and territorial waters.
Electronic warfare systems will be a part of the center, which will manage radars and sea-based tracking in real-time; however, it is not yet known if they will be operational in time for the games.