Has India stopped 'terrorizing' foreign defense manufacturers that top global aviation companies are in the beeline for PM Modi's flagship program 'Make In India'?
Whispers in the corridors of South Block are that after US aerospace company GE, French aviation company Safran has also shown interest to make aviation engines in India–both fixed-wing and rotary. This is the same French company that, till a few years ago, had complained about the 'business environment' in India.
Diplomatic Advisor to French President Emmanuel Bonne was in Delhi on Friday to formally invite Prime Minister Narendra Modi to the Bastille Day Parade in Paris. PM Modi is the guest of honor for the annual French National Day, celebrated every year on July 14.
During his visit to India, Bonne held 'in-depth talks' with National Security Advisor Ajit Doval over a meeting.
"Defence, Energy, Space, New Technologies and more…we are working on an ambitious agenda for the India-France strategic partnership", the French Embassy in Delhi tweeted after the meeting.
This is the 25th year of Strategic Partnership between India and France, the latter being one of the first P5 nations to remove sanctions imposed on India soon after the Pokhran nuclear tests in 19'98.
Bonne also met Indian Finance Minister Nirmala Sitharaman during his visit and discussed issues of mutual interest. Meeting with the Finance Minister was important as French companies over the years had complained of 'tax terrorism' in India over different forums.
During a visit to Paris a few years ago, Defence Minister Rajanth Singh encountered a complaint from none other than the Safran company.
Rajnath Singh and the official delegation were visiting Safran's facility near Paris when the company's CEO, Olivier Andries, 'requested' Defence Minister to give a "business environment in India rather than terrorizing with customs (tax) and duties."
The author himself was present with the Defence Minister's delegation for the media coverage of the tour when the French Rafale fighter jet was inducted into the Indian Air Force (IAF) at a ceremony held in Bordeaux-Merignac.
Defence Minister Rajnath Singh quickly assured the French aviation company known for making aircraft engines worldwide. Later in the day, when Rajnath Singh held a roundtable with top French CEOs in Paris, he assured to "rationalize corporate tax structure in the defense sector." The CEO of the Safran company was also present during the roundtable conference.
Olivier Andries met Rajnath Singh in South Block in July 2022 when Safran announced to set up an MRO (Maintenance, Repairing, and Overhaul) facility for helicopter engines of the Indian armed forces in Goa in partnership with Indian public sector enterprise, HAL (Hindustan Aeronautical Ltd).
Buzz is again in South Block that during PM Modi's visit to Paris next week, Safran can announce the manufacture of aircraft engines in India.
"Safran has always been supportive of making engines in India," says Dr. Ajay Kumar, Ex Defence Secretary speaking exclusively to EurAsian Times. "France has been a close ally of India, and they (Safran) have been making helicopter engines in partnership with HAL beside spare parts in Hyderabad for long." Ajay Kumar added. Safran's TM333 and Shakti engines run the HAL-manufactured helicopters for the Indian armed forces.
"As far as Safran's complaint of 'terrorizing' with taxes is concerned, this is not new for global arms companies as they try to leverage more and more from domestic countries," says a reliable source who has been closely involved with defense production in India.
"Let's see what kind of aircraft engines Safran announces to make in India as GE Aerospace has already announced F414 engines for indigenous LCA Mk2 fighter jets," added the source.
It is believed that Safran can announce engines either for rotary wing (helicopters) or (and) stealth fighter jet AMCA beside carrier-based aircraft TEDBF, both of which are in the development phase now. It will be interesting to know as GE has also assured to make engines for AMCA too.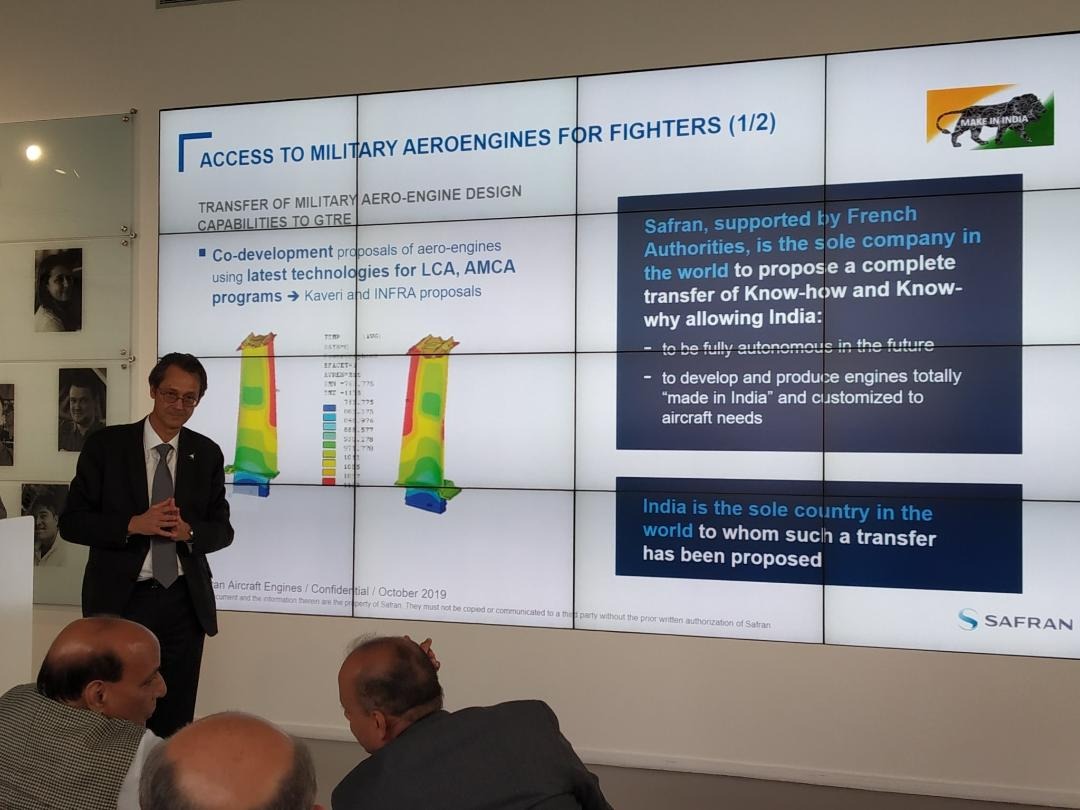 "It is true that corporate tax for foreign companies in India is 40 percent which is a little high, but there is always an opportunity for them (foreign companies) to have a subsidiary company in the domestic country so that whatever tax they pay here can be credited in their respective countries", says India's well-known tax consultant Ved Jain.
UK's aircraft engine manufacturer company Rolls Royce which was recently indicted by CBI in an old case of corruption in a defense deal, is also in the fray for the 'Make in India' program.
"Why do all the foreign OEMs (Original Equipment Manufacturers) want to come to India, the reason is the present Modi Government which has completely rationalized tax structure in the country," says India's well-known business journalist Shishir Sinha speaking to EurAsian Times.
"Words like 'Tax terrorism' are things of the past. In the last 09 years, the Indian (Modi) Government has completely phased out various 'retrospective taxes' which foreign companies had to pay earlier," says Sinha.
Tax structure in India is now fully 'faceless,' and foreign companies don't have to run pillar to post to reply to notices to the Income Tax department or Customs. They can respond to all notices online, so harassment in the hands of revenue officers and bureaucrats has been reduced, he explains further.
New registration of the foreign companies is now generally through an 'automatic route' and needs permission from RBI and FEMA, nobody else, Sinha said.
But the biggest harassment foreign companies faced while setting up a manufacturing plant in a state was numerous local taxes. But with the 'ease of business' initiative, now every state government wants FDI.
 This has really simplified the local procedures, which otherwise the companies had to run to the Central Government for rectification earlier, Sinha sums up.
Neeraj Rajput is a Senior War Correspondent from India
Please email us at etdesk (at) eurasiantimes.com
The author tweets at @neeraj_rajput