France and Italy have accepted Ukraine's request for SAMP/T air defense, designed by MBDA and Thales.
Italy will be sending one of its systems to Ukraine, according to the information provided by the French ambassador to Ukraine, Etienne de Poncins, during a hearing before the National Defense and Armed Forces Committee of the French National Assembly.
---
The hearing of the French ambassador to Ukraine was held on November 9, but its report was made public only on December 13.
"France and Italy will provide Ukraine with the anti-aircraft defense instruments it requires. This is a strong request that President Zelensky has made, and the Italians have confirmed to us that they are ready to grant it. So we can meet their needs," said the French ambassador.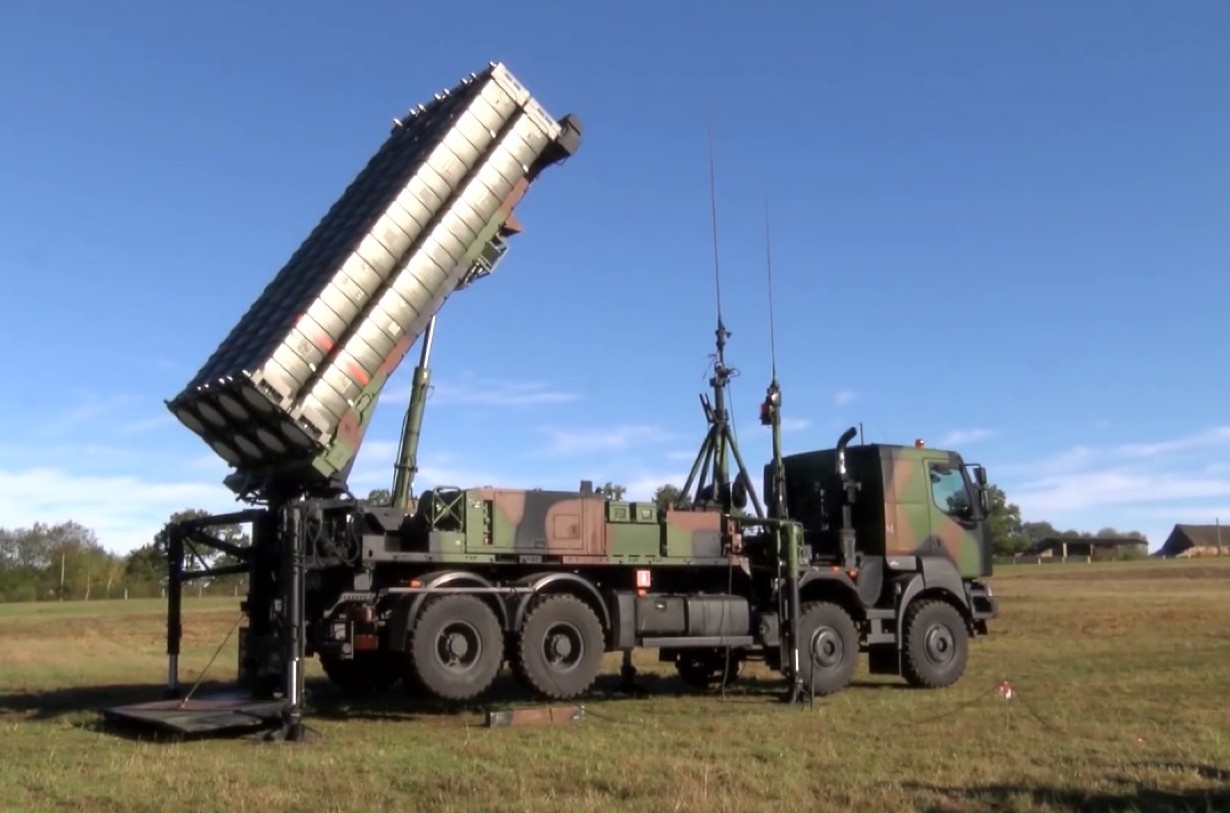 As EurAsian Times discussed previously, the resistance of Ukrainian forces against the Russian military is significantly dependent on its ability to deny the Ukrainian airspace to the Russian Aerospace Forces (VKS) and protect the country's essential infrastructure from Russian large-scale missile and drone offensives.
Ukraine Gets Multiple Air Defense Systems
Ukraine fielded medium and long-range air defenses, like the S-300s and Buk-M1s, which forced the Russian fighter jets to fly at altitudes below 4500 meters, right into the range of the man-portable air defense systems (MANPADS). These MANPADS accounted for a significant number of shoot-downs of Russian aircraft.
However, Ukraine has lost around 36 S-300 launchers so far, according to the figures compiled by the military tracking blog Oryx based on visual confirmations. The actual number of losses may be higher.
Reports in July suggested that Ukraine's air defenders are losing S-300 launchers at a rate of at least three or four a week.
Additionally, in recent months, the Russian military has repeatedly been filling the Ukrainian skies with a salvo of missiles and loitering munitions to overwhelm the Ukrainian air defense systems, which has been depleting Ukraine's stockpile of surface-to-air missiles at a heavy rate.
Therefore, as recently announced by Ukrainian Defense Minister Oleksii Reznikov, Kyiv is discussing replenishing Ukraine's stock of S-300 missiles with other countries.
In addition, Ukraine has also been requesting its Western partners to bolster its air defense systems by providing the Ukrainian military with advanced capability. The Franco-Italian SAMP/T happens to be one such weapon system.
In an interview with Le Monde on December 9, Reznikov said: "We are asking for SAMP/Ts and the Franco-Italian Mamba system. The French side reacted positively to our request, but the negotiation is not over with the Italian side."
The latest announcement by the French ambassador to Ukraine suggests that even Italy is on board now, and the last obstacle has been overcome.
With this, the SAMP/T is all set to join other Western air defense systems already provided to Ukraine, including the German IRIS-T, the Norwegian NASAMS delivered by the US, the Italian Aspide delivered by Spain, or the Mistral and French Crotale NG.
Ukraine may additionally get the American-made Patriot missile defense systems. The American media outlet CNN recently reported citing unnamed US officials, that the Biden administration plans to approve the Patriot system for Ukraine, which Kyiv has aggressively requested.
SAMP/T Missile Defense System
The SAMP/T, also known as MAMBA in the French military, is a theatre anti-missile system manufactured by Eurosam, a 50:50 joint venture between MBDA and Thales.
It is intended to defend the critical fixed assets and deployed troops against all present and potential airborne threats, including cruise missiles, manned and unmanned aircraft, and tactical ballistic missiles.
Also, the SAMP/T can function in areas with heavy electronic countermeasures and extreme clutter.
The SAMP/T was operationally deployed by the French Army and Air Force, as well as the Italian Army, in 2011. The system is interoperable with other NATO air defense systems.
It can be entirely flown by a NATO tactical transport aircraft, such as the Airbus A400M and Lockheed-Martin C-130J Super Hercules.
Two essential parts of the SAMP/T system are the Aster 30 interceptor missile and the Arabel multi-purpose radar.
The Aster 30 missile can travel at a speed of 1.4 kilometers per second and can intercept targets at altitudes from 50 meters to 20 kilometers. It is a two-stage missile in which the booster steers the missile toward the target and separates a few seconds following the launch.
The missile's maximum range against aircraft targets flying at altitudes above and below three kilometers is 100 kilometers and 50 kilometers, respectively.
Apart from hostile aircraft, the SAMP/T system can engage various missiles, including cruise missiles, stand-off missiles, and anti-radiation missiles.
While the Arabel is a 3D phased array radar developed by Thales that rotates to provide 360-degree coverage, the radar operates at 150kW peak power and has a range of 100 kilometers. It can track up to 100 targets and engage ten simultaneously.
In addition, the SAMP/T system can be used with different long-range radars, such as the Thales GM400 long-range radar, which has a detection range between 300-400 kilometers.
A complete SAMP/T system comprises four launcher vehicles, a Thales Arabel multifunction radar with a friend or foe recognition system, an engagement module based on a command and control (C2) vehicle, and an electric generator mounted on a vehicle.
The launchers are accompanied by two vehicles with hydraulic cranes and trailers carrying extra missiles for reloading.