Since the early months of Russia's invasion of Ukraine, the F-35 Lightning II stealth fighters have been patrolling the airspace over NATO's eastern flank. These fighters are purportedly required to gather vital intelligence in addition to their stated air policing missions.
At the start of Russia's invasion of Ukraine, US Air Force F-35 stealth jets were stationed at the eastern frontier of NATO for air patrol operations that involved looking for surface-to-air missile systems and aircraft, Air Force Times reported after an interaction with officials from the 388th Fighter Wing.
In February 2022, as Russian troops prepared to launch a full-scale assault on Ukraine, the 388th and 419th Fighter Wings of Utah were transferred to Germany with fifth-generation F-35 stealth jets. After the battle began, they were tasked with missions over the Baltic States close to the theater of war.
The goal of these F-35 stealth jets was to gather as much electronic data as they could from the aircraft and surface-to-air missiles dotting eastern Europe for NATO to better understand the threat landscape in the region. Moreover, they could act as an additional force if the war spilled over to neighboring NATO countries.
At the time, the fighter jets were operating out of facilities in Estonia, Lithuania, and Romania, according to US Air Force units in Europe. According to the US military, the aircraft improved NATO's capability to retain "air dominance" in contested areas by enhancing communication and command and control capabilities.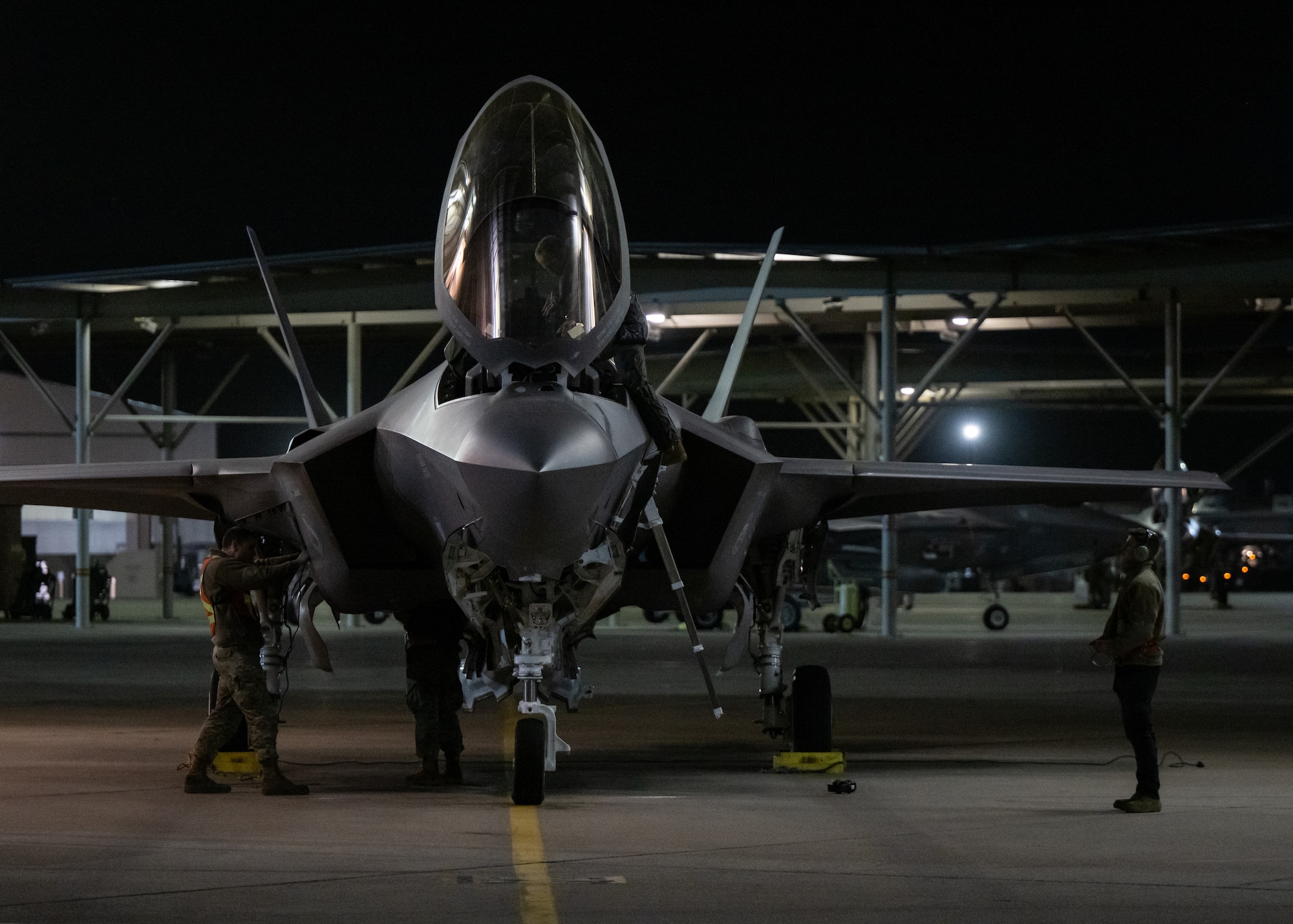 The mission allowed the air force to refine its new short-notice deployment strategy. Also, it demonstrated improvements in the F-35's capacity to coordinate with the joint force and react swiftly to unexpected threats.
The F-35s have been pressed into several air policing missions since, together with the fighter jets of the allied forces.
Dutch F-35s and Polish MiG-29s conduct a training interception over Malbork, Poland, as part of @NATO's Air Policing mission. pic.twitter.com/newIa44zez

— F-35 Lightning II Joint Program Office (@theF35JPO) March 29, 2023
EurAsian Times recently reported that Dutch F-35s conducted air policing missions under the NATO banner with the Polish MiG-29 Soviet-era warplanes.
The report quoted an Indian Air Force veteran and military expert, Vijainder K. Thakur, who explained that the F-35 was most likely collecting information on Russian air defense systems and radars.
Thakur said, "The F-35 has excellent optical and passive RF (Radio Frequency) sensors that allow it to locate targets on the ground. They can relay target information to forward-deployed fighters acting as weapons trucks."
In other words, an F-35 deployed over Poland could stream targeting data to Ukrainian MiG-29 fighters operating over Ukraine. The F–35 would perform the role of an invisible sensor operating in the safety of Polish air space.
"The F-35 could switch on its radar and provide Ukrainian MiGs targeting information for engaging Russian cruise missiles", he added.
Several F-35s from allied countries that operate the aircraft have been pressed into duty since. However, the recent report in Air Force Times lays bare the planning, strategy, and lessons learned from these deployments, which were predominantly aimed at collecting vital intel besides guarding the NATO airspace.
US F-35s Benefitted From Frontline Deployment
On February 16, 2022, twelve jets and about 300 airmen touched down at Spangdahlem. Eight days later, Russia attacked Ukraine, starting the worst conflict in Europe since World War II.
The F-35 is built to counteract and eliminate air defenses that could bring down coalition aircraft and prevent other aircraft from reaching hostile territory. Also, they absorb electrical radiation from surrounding radars to build an accurate image of friendly and hostile forces in the vicinity.
According to 388th Fighter Wing Commander Col. Craig Andrle, airmen observed these dangers in Kaliningrad, a Russian territory sandwiched between Lithuania and Poland. Surface-to-air missile locations were found and identified by the F-35s, who then informed the alliance.
The F-35s tracked missile systems in Ukraine and Kaliningrad, a Russian exclave bordering NATO ally Poland. Some military experts have warned that the F-35 collected vital intelligence to pass on to Ukraine. However, no such claims have been accepted by NATO or the US Air Force.
Col. Craig Andrle said, "we weren't crossing the border. We're not shooting anything or dropping anything. But the jet is always sensing, gathering information. And it was doing that very, very well."
Because some military hardware, such as air defense systems, can conceal or mask their presence in the field, the F-35 could not always recognize military hardware throughout the missions. Andrle states one instance involves Russia's S-300 long-range surface-to-air missile systems.
He claimed that in certain instances, even after intelligence had determined what and where the missile system was, the fighter jet would fail to recognize it as an S-300 because it appeared to be operating in a manner that was foreign to the US.
Andrle said: "We're looking at a Sa-20 [NATO's name for the S-300 surface-to-air missile system]. I know it's a Sa-20. Intel says there's a Sa-20 there, but now my jet doesn't ID it as such because that Sa-20 is potentially operating in a war reserve mode that we haven't seen before."
After informing soldiers of the object's presence, the aircraft modified the data for the jet so that NATO pilots could better comprehend what they were viewing.
The 388th Operations Group Commander, Col. Brad Bashore, said, "we don't have a ton of weapons where we can decimate the entire space. It's the quarterback: We're sharing data and ensuring that everybody has awareness — surface-to-air and air-to-air — of what's out there in the environment."
Andrle, on his part, emphasized, "we had all hoped it was going to work like it's supposed to, but then to see it perform very, very well in that role was great."
Early in May 2022, the airmen made their way back. Since then, they have tried to build on the lessons they gained abroad. The jets performed in a manner that was more adaptable than anticipated.
Andrle said that for a long time, it was believed that this jet required constant connectivity and that the service would have to bring the servers with them wherever they went. Andrle explained the USAF was recognizing and demonstrating that this isn't always the case.
The report further stated that the Air Force's shift to "agile combat employment," or quick-turn combat operations across several zones with minimum manning, will benefit from this. Instead of fully equipped bases with entire units, this calls for more strategically placed tools in the field and airmen skilled in numerous tasks.
F-35 pilots were quoted as saying that they had mastered self-fueling and emergency engine inspection. According to Lt. Col. Jesse Proctor, a pilot with the 4th Fighter Squadron, agile operations have helped pilots think like crew chiefs to spot problems they may not have previously noticed.
According to local leaders, the alliance's "major success" is the F-35's connectivity with other NATO aircraft.
By 2030, it is expected that NATO members will have more than 400 F-35s stationed across Europe, according to F-35 producer Lockheed Martin. The aircraft is regarded as the commander of any ensuing conflict in the area.
Contact the author at sakshi.tiwari9555 (at) gmail.com