The Lockheed Martin F-35 could end up bagging another major European fighter jet deal, outflanking Rafales and Eurofighter Typhoons as it has been consistently doing in many markets. 
Germany is now reportedly considering buying the fifth-generation F-35 stealth fighter jet to replace its aging Tornado. To stay in NATO's nuclear sharing agreement, Germany needs to quickly replace its aging Tornado jets, which the new administration under Chancellor Olaf Scholz has vowed to carry out.
At present, the Tornado is the sole German jet capable of transporting US nuclear weapons that are housed in Germany. The plane has been in service with Luftwaffe or the German air force since the 1980s, and Berlin plans to phase it out between 2025 and 2030.
If Germany chooses the F-35, it will be a big setback for US aviation giant Boeing, whose F-18 was chosen earlier by former German Defense Minister Annegret Kramp-Karrenbauer as a replacement for the Tornado.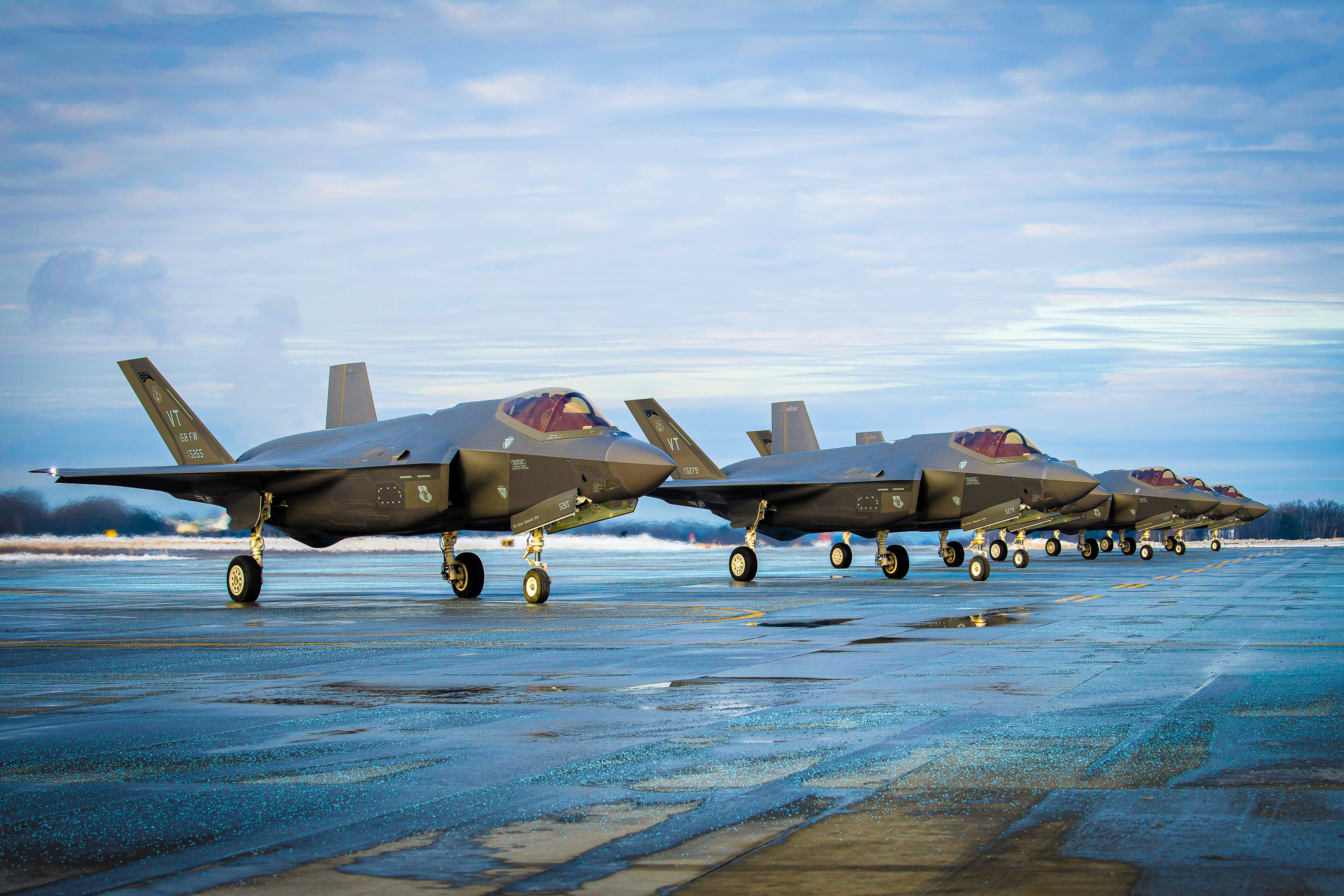 The choice of a US fighter plane could also annoy France. Paris has already been keeping a close eye on past German negotiations about whether to go with the F-18 Super Hornet or the F-35 fighter plane, fearing that it could jeopardize the development of a joint Franco-German future fighter jet, the European Future Combat Air System (FCAS).
The F-35 Joint Strike Fighter is getting traction in Europe. Following Switzerland's and Finland's decisions to join the F-35 Club, Lockheed Martin is poised to expand its forward maintenance, construction, and vendor base in Europe. This paves the way for European vendors to subcontract for Lockheed, potentially generating thousands of jobs. 
There are a growing number of strategic and tactical reasons that Germany would gain from entering an international F-35 force besides economic benefits. The Multifunction Advanced Data Link (MADL) on the F-35 provides a transnational networking advantage by allowing secure communication between F-35s from various countries.
Germany eyes Lockheed F-35 fighter jet; no final decision -source https://t.co/IaFGeTsZTG pic.twitter.com/8y2dfp2iFh

— Reuters (@Reuters) February 4, 2022
Sensor-to-shooter time (a high-speed, AI-enabled kill process), surveillance data networking, and targeting information transmission — all improve dramatically as a result of this. These fighters will be able to build a network that can respond to emergent threats in real-time, thanks to improved connectivity.
In addition, a German F-35 fleet would bring a whole new pace of technical sophistication and upgradeability to the Luftwaffe, in addition to improving Germany's interoperability with NATO allies. The F-35's operational capabilities can also be improved over time owing to regular software upgrades.
F-35 Spreads Wings In Europe
Belgium, Poland, Denmark, Italy, Norway, the United Kingdom, and the Netherlands, in addition to Finland and Switzerland, operate one or more F-35 variants or are waiting for delivery.
The first five countries were among the F-35 program's founders. Turkey was an important partner as well, but it was thrown out by the US following its purchases of Russia's S-400 air defense system.
Italy initially outlined a requirement for 131 F-35 aircraft for its Navy and Air Force, consisting of 69 F-35As and 62 F-35Bs. The Italian Navy would have acquired 22 F-35Bs, while the Air Force would have received 69 F-35A and 40 F-35B STOVL version aircraft under this plan. 
However, Italy downsized its F-35 order from 131 to 90 planes in 2012 to save money. Now, the Air Force and the Navy will each receive 15 F-35Bs, for a total of 30 F-35Bs. The Air Force has also placed an order for 60 F35-As. It was reported in 2018 that there would be no more F-35 orders from Italy.
In 2016, Denmark announced the procurement of 27 F-35A stealth fighters. The 27 jets will be delivered between 2021 and 2027, according to Lockheed Martin. The fighter will replace Denmark's F-16 fleet, which was delivered over 40 years ago. In 2021, the Danish Defence Command (Forsvaretdk) took delivery of its first F-35 Lightning II joint strike fighter (JSF).
The Netherlands' F-35A fleet has recently achieved initial operational capability (IOC). The Air Force plans to procure at least 46 F-35As, of which 24 have already been delivered; a number of aircraft would be kept in the United States for international training and testing. 
The 322 Squadron at Leeuwarden Air Base operates the type, with a second squadron to be established at Volkel Air Base in the near future. The Lockheed Martin F-16AM/BM Fighting Falcon will be replaced in Dutch service by the F-35A. 
The last F-35A will be supplied in 2023, with full operational capability projected in 2024. The Netherlands is a key international partner in the F-35 program, with a stake in the aircraft's industrial support. In this context, all European F-35 spare parts will be stored at a facility in Woensdrecht, in the Netherlands.
Poland also signed a $4.6 billion deal with the United States in 2020 to buy 32 F-35A combat planes. The delivery is scheduled to start in 2024. The warplanes will be added to Poland's fleet of 48 F-16 C/D Block 52+ fighter jets. Poland will be able to replace its old Sukhoi Su-22 and Mikoyan MiG-29 warplanes with fifth-generation fighters.
Belgium announced in 2018 that it had picked Lockheed Martin's F-35 stealth fighter jets over the Eurofighter Typhoon to replace its outdated F-16 fighter jets in a 4 billion euro ($4.55 billion) deal, citing cost as the reason. The country is going to buy 34 F-35 Fighter jets. 
US welcomes the decision by the Gov of Belgium to purchase the F-35 fighter aircraft. Belgium will fly @thef35 alongside some of its closest @NATO allies & longtime partners in air defense. US is extremely proud of our enduring air partnership w/ Belgium. #USinBE @BelgiumDefence https://t.co/PcPWAPYSqP

— US Embassy Brussels (@usembbrussels) October 25, 2018
However, France was irked by Belgium's choice to purchase the F-35. President Emmanuel Macron criticized Belgium's choice to acquire US-made F-35 fighter jets over European planes, saying that "strategically it goes against European interests". 
Critics said Lockheed's selection would keep Belgium reliant on US maintenance and operational systems, a big setback to Europe's efforts to project a united military front. 
Norway ordered its first two F-35 fighter jets from Lockheed Martin in 2012. Oslo later decided to acquire 40 F-35 fighter jets, with an additional 12 on the books. 
The Lockheed Martin F-16 Fighting Falcon was retired by Norway early this year, with the F-35 taking over all combat aviation operations. The F-35A will be fully operational in Royal Norwegian Air Force (RoNAF) service by 2025, with 31 aircraft having been delivered so far.
The United Kingdom was supposed to buy 138 F-35 fighter jets in 2006, down from 150 planned in 2005. The UK's 138-plane fleet was projected to be the third-largest in the world, after only Japan's 147 planes and the US' 2,400-plane tri-service fleet.
However, the country officially stated in 2012 that it would order 48 F-35Bs to equip its carrier fleet, but that the final number of F-35s would not be deduced until the Strategic Defence and Security Review in 2015, it was also indicated that the UK might later acquire F-35A variants to replace the country's Eurofighter Typhoon fleet.
The then-Chancellor of Exchequer, George Osborne, had confirmed in November 2015 that the UK will order all 138 F-35 fighter jets to equip the Royal Navy's two new Queen Elizabeth-class aircraft carriers. The aircraft will also be employed by the Royal Air Force and will be one of the Panavia Tornado's replacements.
The promise to procure 138 F-35s was withdrawn from a UK Defence Command paper released on March 22, 2021, and instead stated that the fleet would be expanded beyond the 48 F-35Bs currently ordered. 
It's hardly surprising that the F-35 could be axed due to the sixth-generation Tempest program, the UK's own FCAS. 
Finland and Switzerland are two new entrants to the F-35 club. The F-35A conventional takeoff and landing variant has been selected as Switzerland's next-generation fighter plane. The country's decision to procure 36 F-35As in a $5.5 billion contract will bring it into the world's largest weapons project, a family of interconnected single-engine jets for the US and its allies.
In December 2021, Finland also announced that it has concluded the largest defense contract in its history with Lockheed Martin for the delivery of 64 F-35 fighters. The contract calls for the purchase of 64 F-35 fighter jets, as well as customized weapons, training and servicing solutions, and other relevant equipment and maintenance services. Finland will invest over $10 billion in the program. The fighters will be delivered between 2025 and 2030.
More Orders In The Queue?
There are more countries, which have shown interest in the US fifth-generation stealth warplane. Greece has already declared its intention to buy the jet. Defense Minister Nikos Panagiotopoulos stated last year that "sooner or later, a purchase of F-35s will be discussed," after Greece and France reached an agreement to buy 18 Rafale aircraft.
"At some point, we will move to fifth-generation aircraft, and the main aircraft within NATO at such a level is the F-35," he added, speaking during the main news broadcast of Alpha TV.
Romania recently announced its intention to purchase an F-35 combat plane as well. "The new types of aircraft fitted to the Army, especially the F-16 aircraft, allow for a highly-efficient execution of all specific missions.
The process of modernizing the Air Force will not stop here, as we intend to purchase state-of-the-art F-35 aircraft," Romanian President Klaus Iohannis said following a visit to an airbase in Campia Turzii, central Romania.
Iohannis also stated that Romania is committed to further developing and modernizing its military capabilities in order to meet the country's NATO commitments.