Three years after Japan announced its sixth-generation stealth fight aircraft program, popularly known as F-X or F-3, the country is still mulling its options.
With Chinese aggression on the rise once again and Japan being a stakeholder in almost all disputes surrounding the South and the East China seas, its domestic fighter program assumes enhanced significance.
After three years of dilly-dallying between choosing partners and designs and settling for specifications, the Japan Air Self Defense Force (JASDF) had earlier this year concluded that its F-3 fighter must have more missiles or weapon carrying capacity as compared to the American supplied F-35 Lightning II aircraft.
However, Japan will need to create a stealth fighter with a layout comparable to the F-22 Raptor or acquire a non-stealthy plane in the same class as the F-15EX if it wants its new F-3 fighter to carry more missiles.
US aerospace giant Lockheed Martin has proposed to co-develop an F-3 design that combines the airframe of the F-22 stealth fighter and the F-35's sensors and electronics. The co-development will allow Lockheed Martin to overstep the "no-export" policy of the US government regarding its F-22 Raptors.
Lockheed is reportedly also attempting to cram additional missiles into the F-35's bays as Tokyo mulls its options.
"Over the last several years, Lockheed Martin has advanced design concepts to incorporate six air-to-air missiles (instead of four) into the internal weapons bays of the F-35A and F-35C variants," according to Lockheed Martin spokesman Michael Friedman.
"By expanding internal weapons capacity by two extra missiles while remaining in a highly low-observable stealth configuration, the F-35's lethality and survivability can be significantly enhanced."
Japan's Dissatisfaction With F-35
Taro Kono, Japan's Defense Minister, stated that the country's future fighter plane must be capable of carrying more air-to-air missiles than the Lockheed Martin F-35 stealth fighter.
It should come as no surprise since Japan had expressed its dissatisfaction with the F-35's missile capacity while mulling options earlier.
One of the F-35's main issues is its comparatively modest armament capacity while in stealth mode. In its current form, the conventional-takeoff F-35A can only carry four AIM-120 air-to-air missiles in its internal bays whereas China's advanced fighter aircraft like the J-20 has the capacity of 6 missiles.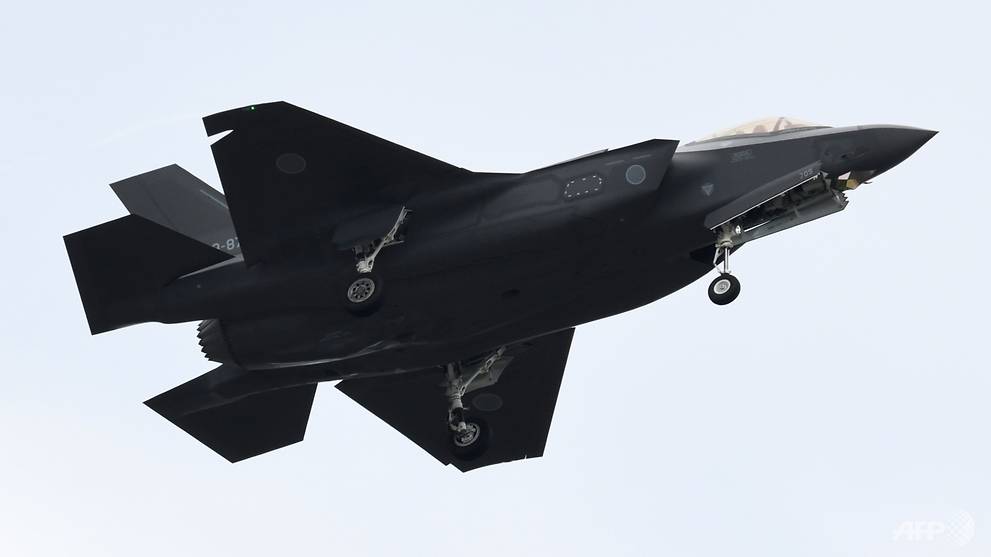 A plane's radar signature is boosted significantly by external weaponry. A radar-evading fighter must carry its ammunition internally to stay stealthy.
However, this can limit a plane's loadout, putting it at a disadvantage in a close-quarters battle where every missile counts. This is one shortcoming of the F-35, of which Japan is the largest buyer.
The US Air Force's F-22, also a Lockheed product, can fit eight missiles in its bays. However, this cannot be exported to Japan owing to policy restrictions.
In fact, Japan announced a plan to develop its own advanced stealth fighter after its principal defense partner refused to supply F-22 Raptors, which the Asian nation needed in order to replace its aging fleet of F-4s and F-15s. The new F-3 fighter aircraft is expected to help Japan phase out its aging aircraft and strengthen its defenses.
China's belligerence has been on the rise this year with PLAAF aircraft frequently entering Taiwan's airspace.
Japan's proximity to Taiwan means that its national security is intrinsically linked to the self-governing island which is under grave threat from China. In January this year, it came out with a Defense White Paper that talks about means to mitigate the "gray zone tactics" of the Chinese PLA Air force.
When faced with an adversary with a fleet twice as big as that of Japan's Self Defense Force, it becomes a policy action for Japan to develop an advanced stealth fighter that could counter China's J-20.
Stealth Or More Weapons?
The limitation of the F-35 stealth jet to carry fewer missiles was something that was raised by the US military as well. The US Air Force's decision to begin buying upgraded Boeing F-15EXs in conjunction with existing F-35 acquisitions was influenced by the conventional fighter plane's better missile capabilities.
The US Air Force has received the first eight out of its planned acquisition of 144 Boeing F-15EX fighter jets. Where the F-35 maxes out at just four air-to-air missiles, the F-15EX could haul a whopping 22 missiles, according to Boeing test pilot Matt Geise, as quoted by the National Interest.
If Japan wants its new F-3 fighter to carry more missiles, it will need to develop a stealth fighter with a layout similar to the F-22 or acquire a non-stealthy plane in a similar class as the F-15EX.
Earlier, the United States had expressed willingness to share private information on the software used to manage parts of the F-35 aircraft, such as the engine and missiles.
According to one Lockheed proposal, the Japanese hybrid plane, which Tokyo is likely to call the 'F-3', might combine the airframe of Lockheed's F-22 stealth fighter with the F-35's sensors and electronics.
However, it is now up to Japan to take a call about the design, stealth and missile capacity of its aircraft. Even though Japan will be in possession of about 147 F-35s, there is still a significant gap between the JASDF and PLAAF capability. In order to maintain deterrence in the region, Japan needs to fast-track its fighter jet acquisition process.