Earlier this week, Canada signed a $14.2 billion deal to buy 88 F-35 stealth fighter jets to replace the archaic CF-18 Hornets in the Royal Canadian Air Force (RCAF). While the F-35 will start entering service by 2026, the RCAF is still looking to recruit pilots to fly these aircraft amid a considerable shortfall.
On January 11, Canadian Defense Minister Anita Anand said that she believes the agreement for F-35s signed between Ottawa and the United States will help resolve Canada's military recruitment woes.
According to Anand, the arrival of Lockheed Martin's jets, which are scheduled for the following years, could encourage young Canadians to consider joining the military.
She said, "We really need to ensure that we're recruiting and retaining our best and brightest, and we want young, talented people to join to fly the fifth-generation fighters. This is an incredibly exciting opportunity.
"We will continue to grow the Canadian Armed Forces from a personnel and a capability perspective. Visit a recruiting center is all I can recommend at this point. It's a great opportunity."
It has been widely reported that the RCAF is plagued with a fighter pilot deficit. The service should have roughly 1,500 pilots per standard requirements, but recent years have registered a steep decline in that number.
According to reports, RCAF fell short of its aim by 130 pilots in 2021, whereas, in 2019, it was short of 225 from the anticipated 1,500.
In 2021, the then Head of the Royal Canadian Air Force, Lt.-Gen. Al Meinzinger went so far as to say that Canada should welcome military pilots from other nations as it attempts to overcome a dire shortfall of qualified pilots to fly its helicopters and aircraft.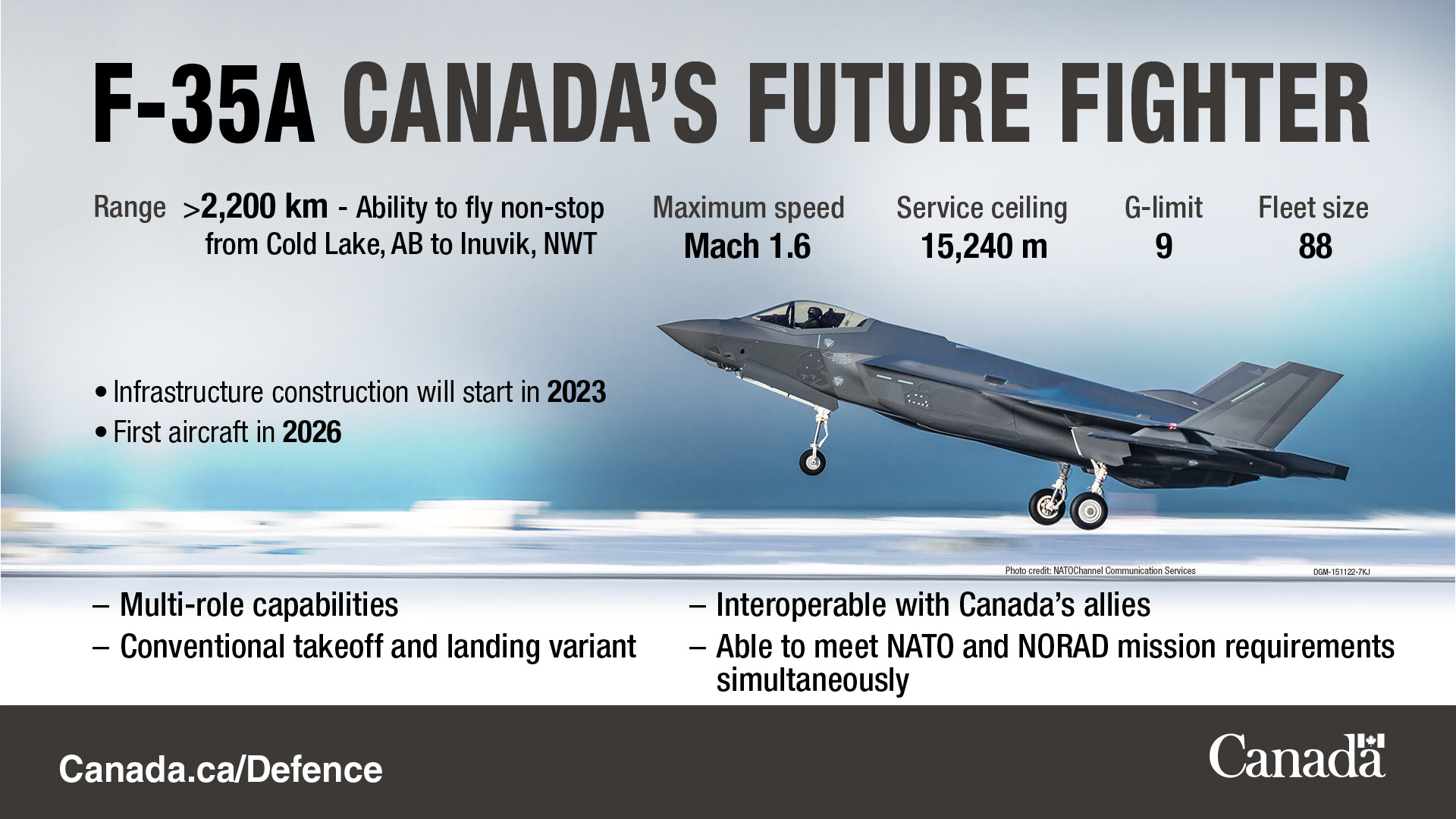 It may be noteworthy that Canadian military authorities and the federal auditor general have frequently emphasized the acute pilot shortage, raising concerns about the short and long-term effects on Canada's defense and security.
Since 2018, there have been initiatives to retain skilled personnel, including creating the role of air operations officer, which will keep pilots in the air rather than putting them on desk jobs.
While the RCAF has been trying to bring veteran pilots on board, only a few have decided to don the uniform.
If Anand's statement is anything to go by, a modern fifth-generation fighter could usher in newer talent and skill as it is an advanced stealth fighter jet with novel technologies not available to RCAF until now. She also hailed the deal as one that would create tremendous employment opportunities in the country.
Investing in new F-35 fighter jets will deliver clear economic benefits for Canadians. As I told @BNNBloomberg, this project has the potential to contribute over $425 million annually to our economy and close to 3,300 jobs annually for Canadian industry over a 25-year period. pic.twitter.com/TJPmBt8CUz

— Anita Anand (@AnitaAnandMP) January 10, 2023
Anand said the deal signed on January 9 has the "potential to contribute over $425 million annually to GDP, close to 3,300 jobs for Canadian industry and supply chain partners over 25 years."
"We have a very vibrant aerospace industry. Canadian components are already being placed in these aircraft worldwide, and Canadian businesses have already captured about $3 billion in this industry," said the defense minister.
The Royal Canadian Air Force (RCAF) has had trouble keeping its pilots, and the aging aircraft and protracted discussions over a prospective replacement didn't help. However, there is optimism within the ranks and files of the government and the military that the situation could drastically change the signing of the agreement.
Canada's Historic Decision To Go With The F-35
On January 9, the federal government completed a long-awaited agreement to modernize its fighter jet fleet. Officials stated in a technical briefing that the estimated cost for the lifecycle of the fighter jets is expected to be around $70 billion, despite the projected budget being $19 billion for now.
However, the agreement directly contradicts a 2015 declaration by Prime Minister Justin Trudeau that Canada "will not buy the F-35" after contentious cost estimates compelled the previous administration to halt an earlier F-35 agreement.
The Canadian government's U-turn on its previous anti-F-35 stance is a promising move that would allow the RCAF better coordination and integration with other aircraft operators in the West. Military experts believe it would significantly boost the North American Defense Aerospace Command (NORAD) amid Russia's rising threat.
However, the deal is also a significant snub to Swedish defense manufacturer SAAB which was competing against Lockheed Martin's F-35 with its top-notch Gripen-E fighter jet.
Last fall, Saab vocalized its concerns and protested the discussions and negotiations between Ottawa and Washington. The contractor even asserted that it was an unfair play where the US had an advantage.
Earlier, when these negotiations were being worked out, Defense Minister Anita Anand told reporters, "The F-35 is in operational use by NORAD and NATO partners in global missions. It has proven to be a mature, capable and interoperable aircraft, which is why we are moving to the finalization phase of this procurement."
Now that the Canadian government has finally signed the agreement for the F-35 fighter aircraft, it is looking to turn around more than just the fighter fleet.
The pilot recruitment pitch by the Defense Minister is, thus, significant. The first batch of fighters is expected to enter the Royal Canadian Air Force (RCAF) in 2026, with the entire fleet operational by 2033 or 2034.
Contact the author at sakshi.tiwari9555 (at) gmail.com