Russia faces a series of stringent sanctions from the US-led NATO following its invasion of Ukraine although the military alliance has categorically said it does not intend to enter the conflict.
NATO also denied Ukraine's request to declare a "no-fly zone" over the war-ravaged country but promised further sanctions on Russian President Vladimir Putin. NATO Secretary-General Jens Stoltenberg was quoted by Reuters as saying, "We are not part of this conflict."
Recently, there were reports of the US Air Force flying its F-35 in full stealth mode over Eastern Europe as part of the NATO air policing drill in the region. Even though NATO does not want to fight the war against Russia, it could be seen preparing for potential spill-over of the Ukraine conflict to the rest of Eastern Europe.
Amid all this, former President Donald Trump apparently suggested the deployment of the F-22 Raptor to the conflict zone. It is pertinent to mention here that the US Air Force has sent the F-22 Raptor stealth jets to the UAE and Australia in recent months.
Trump joked that the US should "put the Chinese flag" on F-22 fighter jets and "bomb the shit" out of Russia. The former president made this remark at the Republican National Committee's New Orleans conference.
Trump apparently suggested that America should blame China for "the offensive" and then watch as the two countries engage in a conflict, The Hill reported.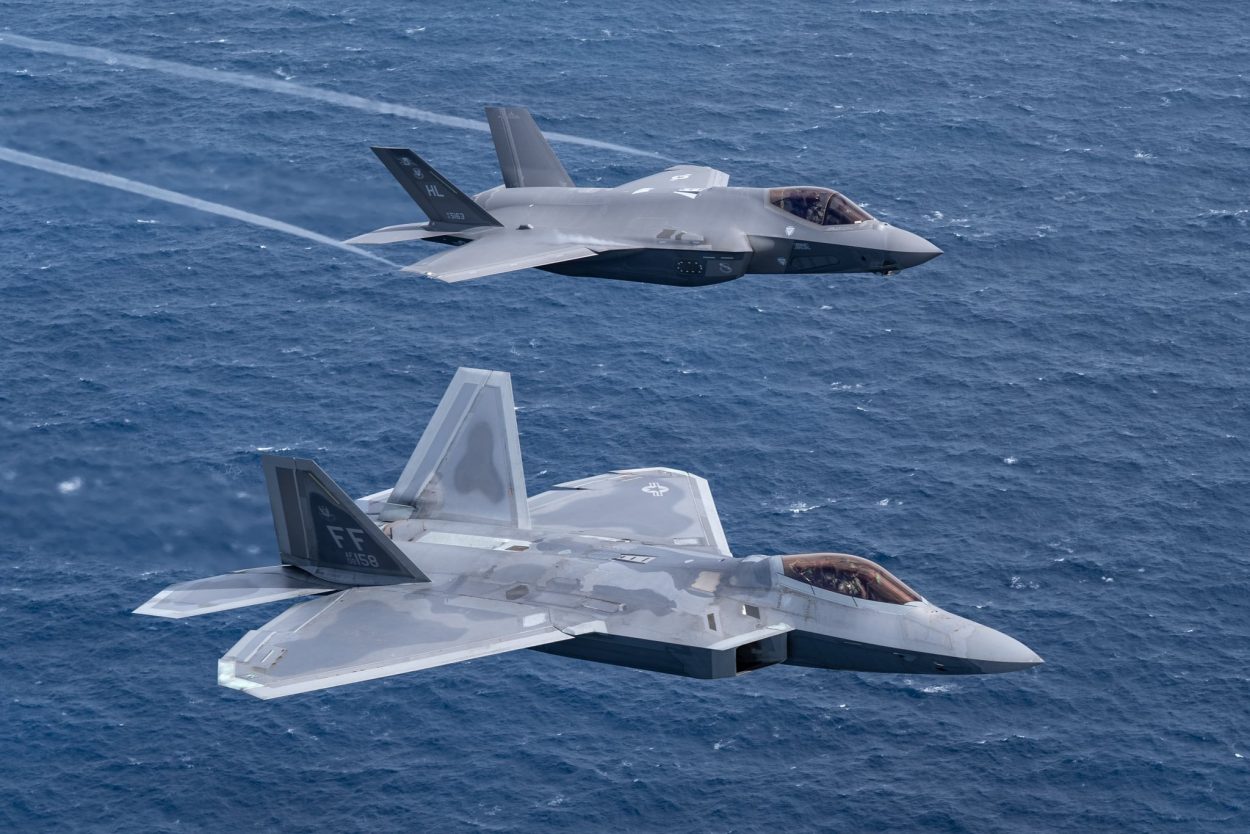 A squadron of F-22 Raptors was deployed to the UAE to thwart drone, missile attacks by Houthi rebels, USAF and the commander of CENTCOM confirmed last month.
US Air Force's central office tweeted: "F-22 Raptors arrived at Al Dhafra Air Base, in the UAE, today as part of a multifaceted demonstration of U.S. support after a series of attacks throughout January threatened U.S. and Emirati armed forces stationed at the host installation."
Prior to that, in November 2021, it was reported that the US would send extra fighter jets including F-22 Raptors, F-35 Lightning II, B2 stealth bombers to Australia to deter possible Chinese military aggression and threats from North Korea.
Trump's remarks led to everyone in the crowd breaking into a fit of laughter. The former President had earlier referred to Russian President Vladimir Putin as "smart" and "savvy".
Later, in an interview with Fox Business, he called the conflict in Ukraine a "Holocaust" and speculated that China would soon invade Taiwan. Interestingly, Trump was accused by the Democrats of illegally withholding military aid for Ukraine during his Presidency.
China, Russia Are Close Friends
Contrary to Trump's idea, Russia and China share a close relationship, primarily guided by their mutual contempt of, and, rivalry with the United States.
China has so far refrained from directly condemning Russia and has abstained from voting against it in the three resolutions passed at the UN so far. It has also taken the opportunity to blame NATO and the West for their eastward expansion in Europe.
In historic "Uniting for Peace" session, #UNGA adopts resolution demanding that the Russian Federation immediately cease its use of force against Ukraine and withdraw its military forces. https://t.co/xWc4QO8ruV pic.twitter.com/NZ5xG7Cfu2

— United Nations (@UN) March 2, 2022
China has been walking a tightrope between retaining its relationship with Russia and being seen as a state that respects the sovereignty and remains committed to the rules-based order which Russia has blatantly contravened.
President Putin had visited China before a full-scale invasion was launched and both sides had reaffirmed their support for one another's position with respect to Ukraine and Taiwan respectively.
In the meeting, the two leaders promised a new era in relations that will "know no limits" and be "superior to political and military alliances of the cold war era" in a joint statement.
Both Russia and China remain embroiled in a bitter rivalry with the US which has encouraged their cooperation in military, trade, space, energy transfer, to name a few.
Putin and Chinese President Xi Jinping oversaw an ambitious joint military exercise in China last summer, which, along with reported collaborations in aviation, undersea, and hypersonic-weapons technology, point to a solidifying defense alignment, according to Wall Street Journal.
In August 2021, Chinese and Japanese militaries held a combined army drill in the Ningxia Hui Autonomous Region of northwest China. Their navies came together for the first time in October for joint patrols in the Pacific waters near Japan.
In November, Russian and Chinese strategic bombers conducted their third joint strategic air patrol over the Sea of Japan and the East China Sea, demonstrating their willingness to work counter the US-Japanese alliance.
In addition, Russia and China are working in space, with plans to build their own lunar outpost by the end of this decade. President Putin has spoken out against American pressure on China, and Beijing's political leaders have referred to the US' activities as a "cold war mentality." For the two states, there are numerous areas of confluence.
Despite a barrage of criticism over Ukraine, China's relations with Russia are "rock-solid," Foreign Minister Wang Yi said on March 7, repeating calls for diplomacy to settle the conflict and accusing the US of constructing an "Indo-Pacific version of NATO", Nikkei Asia reported.
The latest Western sanctions on Russia, however, sparked some concerns in China. The China-backed Asian Infrastructure Investment Bank (AIIB) recently froze lending to Russia and Belarus, fuelling speculation that Russian expulsion from the SWIFT payments systems could actually give an impetus to the Chinese CIPS system that functions on a limited scale as of now.
It is still not clear if China would trade in arms with Russia given that the West has also sanctioned the Russian defense industry. In February this year, Russia agreed to a 30-year contract to provide gas to China through a new pipeline, with the new gas sales to be settled in Euros, reinforcing an energy alliance with Beijing.
With the ambitious Nord Stream 2 project now frozen by German Chancellor Olaf Scholz indefinitely, gas export to China could be Moscow's saving grace even though its economic gains would not be enough in comparison to the planned pipeline to Germany. Additionally, President Putin has himself threatened to cut off gas supplies to Europe through Nord Stream 1 pipeline.
Russia has openly threatened to halt gas supplies through the Nord Stream 1 pipeline for the first time since the invasion of Ukraine, in comments by Deputy Prime Minister Alexander Novak on state television. "We have the full right […] to impose an embargo," Novak said #ONGT

— Javier Blas (@JavierBlas) March 7, 2022
Some analysts speculated that Russia's action against Ukraine might embolden China to try a similar military operation against Taiwan, something Trump also speculated during his interview with Fox Business.
However, given the crippling sanctions imposed on Russia, it is far-fetched to say that Beijing would try a similar adventure or misadventure in the world's most hotly contested region.