An image of a downed F-16 fighter aircraft had been repeatedly shown by a section of Indian TV news channels earlier this week, creating a social media storm. 
The picture originated from an unverified Twitter handle claiming to be operated by Ahmad Massoud, the son of a legendary Afghan rebel commander, Ahmad Shah Massoud.
The viral tweet with the caption, "The Pakistani Jet Plane that was shot down by the lion cubs" gave the impression that the aircraft was shot down by the Afghan resistance fighters in Panjshir valley.
However, fact-checkers and independent journalists debunked the claim and said the image in question was a US Airforce F-16 Fighting Falcon.
Fact vs Fiction
A 2018 news report by the US-based publication Military Factory confirms that an F-16 had taken off from the Luke Airforce Base in Arizona following which it met with an accident near the Arizona-California border.
The report noted that the pilot had managed to eject in the nick of time and was stable. The jet in question was an F-16C assigned to the 56th Fighter Wing. It seemed the aircraft diverted from its predestined route as the pilot tried to land it inside the Lake Havasu Municipal Airport around 10:50 am local time.
Following the ejection, the pilot was rushed to the Havasu Regional Medical Center. Witnesses in proximity to the crash site posted pictures on social media. A Facebook group in particular called Air Force amn/nco/snco posted pictures of the crash.
Another F-16 operated by the 162nd Wing of the Air National Guard, which trained Iraqi pilots, had also crashed a year before this incident. This marked two F-16 crashes within a year.
The Fighting Falcon
America's Vietnam debacle led policymakers in Washington to consider designing and developing a light fighter aircraft. USAF's bulky F-4 Phantom delivered a lackluster performance against the North Vietnamese Airforce.
This led to some soul searching, which eventually resulted in the development of the F-16 Fighting Falcon by aerospace giant Lockheed Martin.
F-16s were USAF's first multi-role jet and have been considered one of the most prolific fighter platforms in military aviation history. The service currently has a fleet of over 2,000 F-16s while another 2,500 are operational in 25 countries including Pakistan.
Colonel Vinay B Dalvi (Retd), author, former Associate Editor of the Fauji Magazine and Chief Editor of Mission Victory India told The EurAsian Time, "While I have never operated aircraft, which is obvious given my humble background as an infantry officer, I have spoken to numerous Indian Air Force officers and aviation veterans during the research of my books. What I have learned is that the F-16 is a highly potent aircraft platform and an excellent war machine.
"Veterans from military aviation circles have often lauded its aerial performance in conversations. Based on this input, I have been able to gauge that the F-16 is incredibly fast, has extreme levels of operational agility, and whatever its pitfalls get made up by its lower cost."
The F-16 has earned the distinction of being one of the most sophisticated aircraft of its kind and has remained an economically viable option for air forces around the world.
While the F-16 falls short when it comes to range and payload capacities as compared to the specifications offered by twin-engine fighter jets like the F-15 Eagle, it is considered an acceptable tradeoff, given the aircraft's economic viability which plays a crucial role in procurement.
The F-16 has remained a trusted companion for flying aces since its inception in the 1980s. However, detractors have pointed out that the F-16 is quite old but nonetheless can still give its contemporaries a run for the money.
Supporters of the F-16 platform have often touted its service ceiling, height, thrust, speed, and turn rate. However, a counter-view presented is that those are outdated metrics for gauging a fighter aircraft's operational effectiveness. Instead, its radar, missiles, electronic warfare capabilities, multirole capabilities, and sensor fusion are what counts today.
Group Captain Johnson Chacko, KC (Retd), a highly decorated IAF fighter pilot, shared his take with The EurAsian Times, "One cannot assess the potency of a weapon system by just the platform. Factors that need to be included are the performance of the pilot, his ability, his exposure to training, ability of support like AWACS, AAR.
The command structure (freedom to innovate), the Air Force culture, and many more. The environment that the top leadership provides has a huge role to play."
When IAF Shot Down A Pak F-16?
The February 14, 2019, Pulwama terror attack orchestrated by Pakistan-based terrorist outfit Jaish-e-Mohammad had killed 40 Central Reserve Police Force (CRPF) personnel. India avenged this by launching Balakot airstrikes on terror camps on February 26, 2019.
The Pakistan Air Force launched a counter-attack, the result of which was a high-octane dog fight that ended up with an aging IAF MiG-21 Bison purportedly shooting down a more advanced PAF F-16.
Pakistan vehemently rejected the Indian claim while New Delhi also could not provide substantial evidence to back its assertion.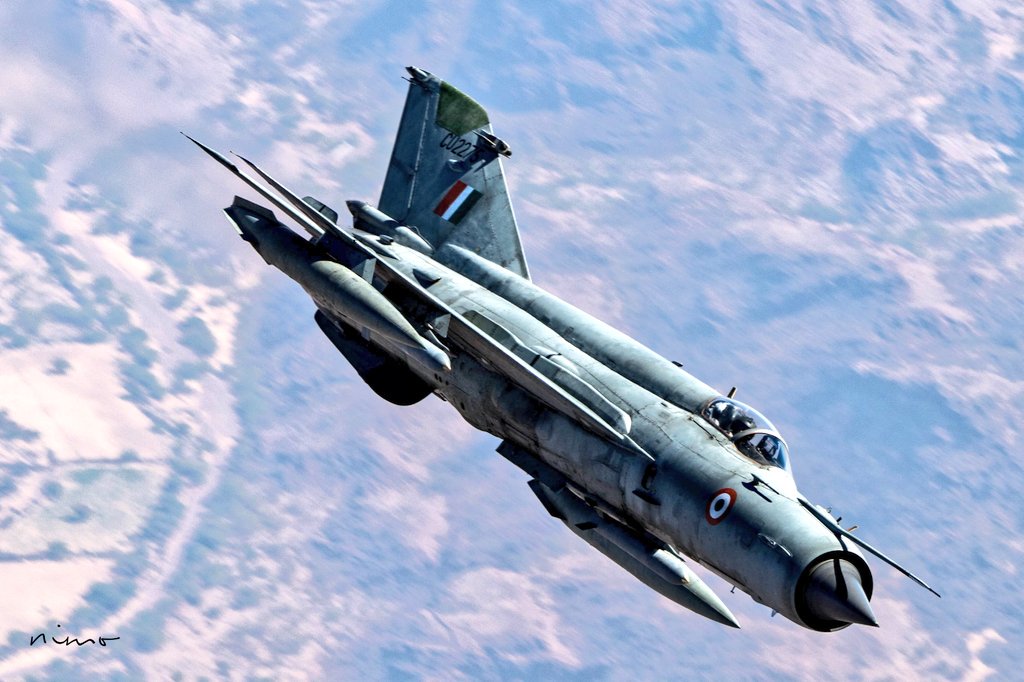 "Wing Commander Abhinandan shot down an F-16 from a MiG-21. That is proof enough that the man behind the machine is more potent in a reasonably equipped aircraft," insisted, Gp Capt. Chacko. 
A Recipe For Misinformation 
The tweet about the Pakistani fighter aircraft was identified as misinformation and speculated to be a part of elaborate psy-ops (psychological operations). A lot of social media users, including aviation enthusiasts and media professionals, fell for it given PAF operates the F-16AM/BM Block 15 MLU, F-16A/B ADF, and the F-16C/D Block 52+ variants.
This fact, coupled with the barren lands seen in the picture and the much-hyped meeting of Pakistan's Inter-Services Intelligence (ISI) chief, Lieutenant General Faiz Hameed with the Taliban leadership, may have contributed to the viral post.
More shocking was the fact that the popular video game ARMA-3 was run as exclusive footage from the ongoing armed conflict going in Afghanistan's Panjshir valley. Several Indian television news channels were called out by independent fact-checkers, accusing them of airing fake news.
Interestingly, all these Indian channels had cited a UK-based Afghanistan news channel as its source. The fact-checkers found that the original video was actually an edited version of the ARMA-3 gameplay uploaded on YouTube.
Commenting on this development, author and strategic affairs analyst Joseph Chacko said, "Misinformation, mistrust, and misguiding amid the fog of war is common.
The Taliban claimed thrice that they have captured Panjshir which turned out to be misinformation. The Internet speeds up both misinformation and clarification. In this case, the original image poster clarified that it was not from Afghanistan. The biggest culprit, in this case, was the Indian media, which were running these stories aggressively rather than wait for verification" 
Aritra Banerjee is a defense journalist who has worked in both online and print media. He has laid an emphasis on issues related to military human resources, tactical psychology, military-media relations, professional military education, and combat fitness. He can be reached on email: aritrareporter@gmail.com.