The Ukrainian Air Force has released a video featuring Ukrainian pilots training on an aircraft flight simulator to familiarize and enhance their abilities in operating the US-made F-16 fighter jet. 
The Air Force Command of the Ukrainian Armed Forces posted the video on their official social media accounts on September 27. 
The description below the YouTube video uploaded by the Air Force reads, "Of course, our goal is to have complete F-16 flight simulators, trainer aircraft, and flight crew training centers in Ukraine. But everything starts small. While our brothers master the F-16s abroad, the Ukrainian Air Force fighter pilots continue to protect the Ukrainian sky and destroy the occupiers on the ground." 
"In their free time, the pilots get to know the cockpit of the F-16 in virtual reality and perform joint missions over the territory of Ukraine in sections, flights, and squadrons while being in different regions of Ukraine," it added. 
In the video, a pilot is shown using an airplane simulator while employing virtual reality goggles, an engine control knob, pedals, and a monitor to become acquainted with the functioning of a United States-made fighter aircraft. 
Utilizing air simulators, pilots can now undergo training for both solo and group flights, with the added flexibility of conducting this training from various locations across Ukraine. 
The video featured a Ukrainian pilot who highlighted the difference between their Soviet-era fighter jets, equipped with many switches, and the F-16 cockpit, boasting a blend of digital and analog instruments.
Additionally, the pilot emphasized that the F-16s would significantly extend the range of available weapons.
The Ukrainian Air Force spokesperson Yuriy Ihnat has revealed that flight simulators are already in place within nearly all tactical aviation brigades. This technological infrastructure will significantly expedite the process of pilots becoming proficient in Western fighter aircraft.
Additionally, Ihnat pointed out that the software includes accurate maps of Ukraine, encompassing regions currently under occupation.
Training Of Ukrainian Pilots
Initially, the US hesitated to fulfill Ukraine's requests for advanced Western aircraft. However, Ukrainian pilots are set to commence F-16 flight training this fall, facilitated by the Arizona Air National Guard's 162nd Wing. 
So far, three nations—namely, the Netherlands, Denmark, and Norway—have officially affirmed their commitment to supply Ukraine with F-16 fighter jets following pilot and engineer training completion.
President Volodymyr Zelenskyy has stated that while Ukraine has agreements to procure 50 to 60 F-16s, the country requires approximately 160 of these aircraft to safeguard its airspace effectively.
Meanwhile, multiple countries, including Canada, have pledged to train Ukrainian pilots in operating F-16 fighter jets. The duration of flight training, as disclosed by Air Force Lt. Gen. Michael Loh on September 16, may span from three to nine months, contingent upon the pilots' prior experience with fighter aircraft.
In a similar line, Ukraine's former defense minister, Oleksii Reznikov, previously indicated that it would be approximately six to seven months before F-16s are dispatched to Ukraine, considering the time required for training the nation's pilots and essential support personnel, which implies that these aircraft will not be involved in Ukraine's ongoing counteroffensive at the moment.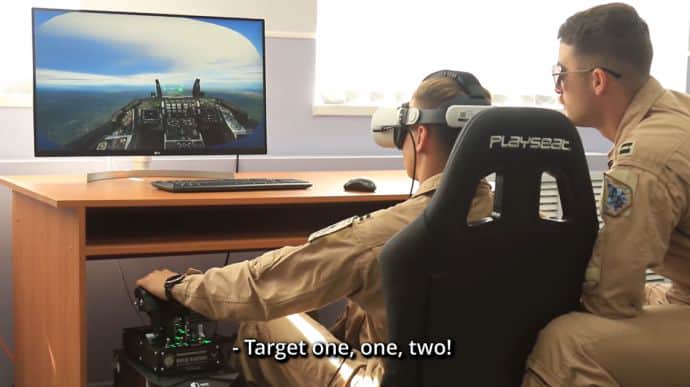 The Ukrainian pilots will initiate their training with English-language instruction at Lackland Air Force Base in San Antonio, Texas. Their training curriculum will include various courses, including fundamental flight maneuvers, weapons handling, and advanced combat tactics.
Notably, a limited number of Ukrainian pilots had undergone training in the United States. However, following President Biden's decision, it was only in May that European countries with US-made F-16s were granted permission to train Ukrainian aviators.
The US Air Force previously hosted two Ukrainian pilots who had operated Soviet-era jets to assess their adaptability to the F-16. 
An evaluation conducted over 12 days at the Morris air base in March concluded that some Ukrainian pilots could potentially complete F-16 training within four months. 
However, these pilots would still need to acquire specific technical skills, such as familiarity with Western cockpit instruments and the ability to operate within American-standard formations alongside other aircraft.
After finishing their flight training in the United States, Ukrainian pilots will continue to need specialized training upon integration into their respective units, focusing on the specific missions they will be assigned, which could encompass tasks such as conducting combat air patrols, executing night precision strikes, and carrying out the suppression of enemy air defenses.