The US Army has commenced a three-week test of an improved air and missile defense sensor called Sentinel A4 AN/MPQ-64A4, which can detect Rocket, Artillery, and Mortar (RAM) threats. 
---
The Limited User Test (LUT) involves 30 soldiers and 85 government contractors and is being carried out at White Sands Missile Range. 
The US Army announced on April 18 that the test's purpose is to evaluate whether the Sentinel A4 AN/MPQ-64A4 is suitable to replace the Sentinel A3 AN/MPQ-64A3 as the US Army's main intermediate air and missile defense sensor. 
Soldiers from multiple units and the Air and Missile Defense Test Directorate (AMDTD) of the US Army Operational Test Command (USAOTC) are conducting the test to assess Sentinel A4's readiness for field deployment. 
The objective of the test is to verify if the Sentinel A4 is prepared for deployment. This will be accomplished by examining the sensor's effectiveness in different environments and scenarios, including detecting and tracking simulated threats.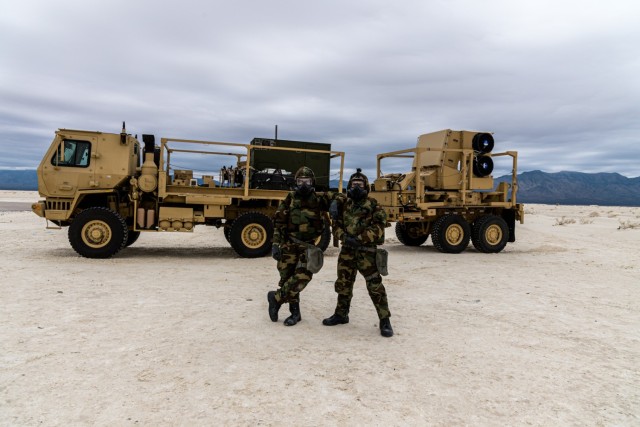 Colonel Josh Moon, who heads the Air and Missile Defense Test Directorate (AMDTD) of the US Army Operational Test Command (USAOTC) based in Fort Bliss, Texas, stated that the Sentinel A4 is the initial sensor modernization project to be tested this year. 
The Sentinel A4 will integrate into the Army's top priority, Integrated Air and Missile Defense (AIAMD), via the Integrated Battle Command System (IBCS).
During the Limited User Test (LUT), the tactical setup of the Sentinel A4 involves a section-sized element, with two Sentinel A4s operating for several 72-hour Mission Pulses (MP) under varying day and night conditions.
Capt. Matthew Altenberg, a test officer with AMDTD, stated that during the test, soldiers would utilize the Sentinel A4 in a range of operationally realistic missions, which will encompass Integrated Fire Protection Capability (IFPC), Short Range Air Defense (SHORAD) and Counter Rocket Artillery Mortar (C-RAM).
Testing the Sentinel A4 is crucial as it plays a significant role in the Army's air and missile defense systems. The sensor's primary function is to provide accurate and timely information to soldiers in the field, essential for effectively detecting and interception of airborne threats.
Eyes on The Skies ?

The Sentinel A4 radar provides improved surveillance, detection, and classification capabilities against aerial threats. That's why it was selected to replace the legacy radar in the U.S. Capitol region's Integrated Air Defense System. pic.twitter.com/zRNGiJEIaq

— Lockheed Martin (@LockheedMartin) March 29, 2023
By conducting this test, the Army can ensure that the Sentinel A4 lives up to its high expectations for performance and dependability. 
Sentinel A4 Air And Missile Defense Radar
The Sentinel A4 is an advanced version of its predecessor, the Sentinel A3 (AN/MPQ-64A3) air and missile defense radar. It substantially enhances Sentinel's capability to counter cruise missiles, unmanned aerial systems, and rotary-wing and fixed-wing threats. 
In addition, the Sentinel A4 can detect Rocket, Artillery, and Mortar (RAM) threats and pinpoint their Point of Origin and Point of Impact while increasing protection against electronic threats.
In May 2022, Lockheed Martin delivered the first batch of five Sentinel A4 AN/MPQ-64A4 radars.
CPL Jordan A. Wierzbicki, an Army Air Defense Battle Management System Operator, said, "The difference between the Sentinel A3 and A4 is like night and day."
He believes that these enhanced capabilities will be highly advantageous for all Short Range Air Defense (SHORAD) units in the Army.
The Sentinel A4 offers a significant benefit in its streamlined setup, which enables quick and easy emplacement and march order. This feature is particularly crucial in combat situations, as it has the potential to save lives by facilitating swift movement and positioning of the system.
The anticipated outcome for the Sentinel A4 is to fulfill the operational needs and overcome the obsolescence issues of the Sentinel A3 while also providing a foundation for future expansion and development.
It can seamlessly integrate with existing defense systems like IFPC, NCR-IADS, NASAMS, Aegis Combat Management System, and NORAD. 
Using a digital Active Electronically Scanned Array (AESA) architecture, the Sentinel A4 offers full hemispheric coverage, from ground to zenith, with no cone of silence, while providing Fire Control Quality Track Data. 
This technology allows for a greater than 75% increase in range compared to the legacy system. The Sentinel A4 provides 360-degree and stop-and-stare capability, enabling it to precisely detect and track airborne threats.
Furthermore, the Sentinel A4 employs gallium nitride (GaN), which has been used in Lockheed Martin radars since 2015. This technology improves the warfighter's range, power efficiency, and dependability.